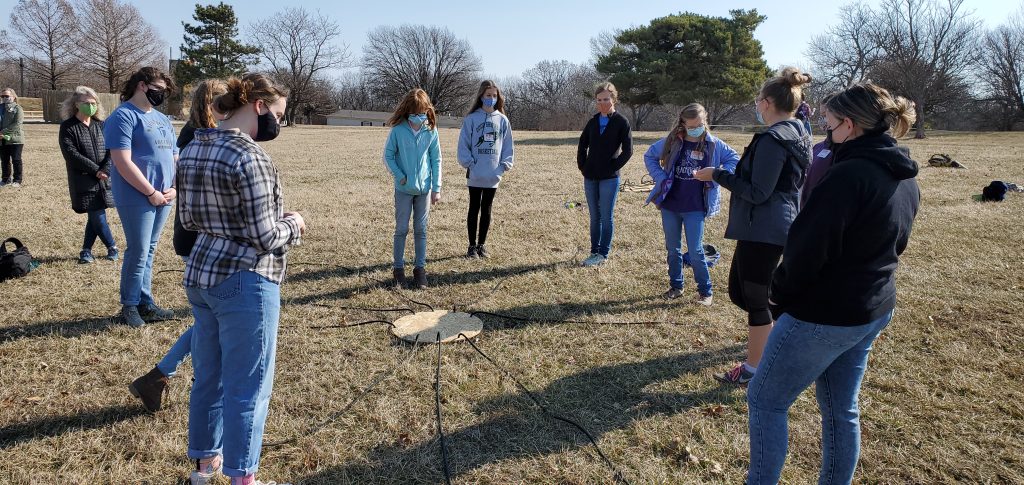 ---
2023 Kenosis Retreat details
The Archdiocese of Kansas City in Kansas's Catholic Committee on Scouting presents the annual SCOUTING RETREAT at Prairie Star Ranch in Williamsburg, Kansas.
THE KENOSIS LEADERSHIP RETREAT format focuses on equipping and empowering missionary disciples! Find out how Kenosis works here.
Catholic boys & girls in scouting are invited to spend some time with Christ while having a great time. Leadership and faith lessons are paired with great activities, which vary year to year, but include low ropes course, horseback riding, high ropes, gaga ball, and more!
Mass is scheduled for Saturday night 7:15pm – pack your Class A uniforms.
Prairie Star Ranch: 1124 California Rd, Williamsburg, KS 66095
ARRIVE: Saturday, February 4th, 2023 – 9:00am registration opens, go to the Main Lodge to check in.
DEPART: Sunday, February 5th, 2023 – 10:00am
OVERNIGHT OPTIONS: Cabins or Tent Campsites (Scouts must provide their own tent). Detailed instructions on overnight options here: CLICK HERE
DAY ONLY OPTION: When you register, you can choose to attend the day only. The cost is the same. Check out and depart ~ 8:30pm after mass.
MEALS: Saturday dinner and cracker barrel (late night snack) and Sunday breakfast are provided. There is plenty of space to spread out to eat and we can go outside if weather permits. All food will be served by adults wearing masks and gloves.
REGISTRATION CHECKLIST
Each participant and adult needs to register with one of these links.
YOUTH REGISTRATION: Coming Soon
ADULT REGISTRATION: Coming Soon
Bring all forms and payment with you to the registration table.
Cost: TBD per scout, TBD per adult. Write checks to ArchKCK CCS or bring exact cash. The ArchKCK Youth Office and CCS supplement the actual cost of the retreat to bring you this event at a family friendly price. Free will donations are accepted at the registration if you are able.
Print and fill out the appropriate Prairie Star Ranch Waiver. One per person is required at check in.
Bring a sack lunch for Saturday.
Bring pillows and sleeping bags (or bedding) for the bunk beds. Campers bring all of their own gear (tents, sleeping bags, etc.)
Pack light as this is a short event, but be prepared.
Bring appropriate and modest clothing for outdoor activities – long pants for climbing, boots for horseback riding (some are available to borrow if needed), jackets, etc. depending on the weather forecast.
Wear your Class A uniform for mass Saturday evening.
Bring a daypack to carry your personal belongings including a water bottle (refill stations available), notebooks, pencil, hand sanitizer, sun screen, etc.
SAFETY:
There will be no fee due to cancellation for health and safety reasons. Please do NOT attend if you have any health concerns.
PSR requires that only members of the same household share a tent.
All Adults must be VIRTUS trained to attend the retreat and spend the night.
All BSA adults should be YPT (Youth Protection Trained) and all AHG adults should be KEYS (Knowledge for Establishing Youth Safety) trained.
Campsites and dorms will have (at least) 2 deep registered adult leadership. Wherever youth are sleeping, there must be at least 2 adult chaperones (and wherever BSA girls are present, there will be at least one BSA registered female leader). We will take a team approach and help chaperone all youth.
The final Retreat Schedule will be available a few days before the event. Please direct any question to archkckccs@gmail.com.