share your prayer intentions with Archbishop Naumann.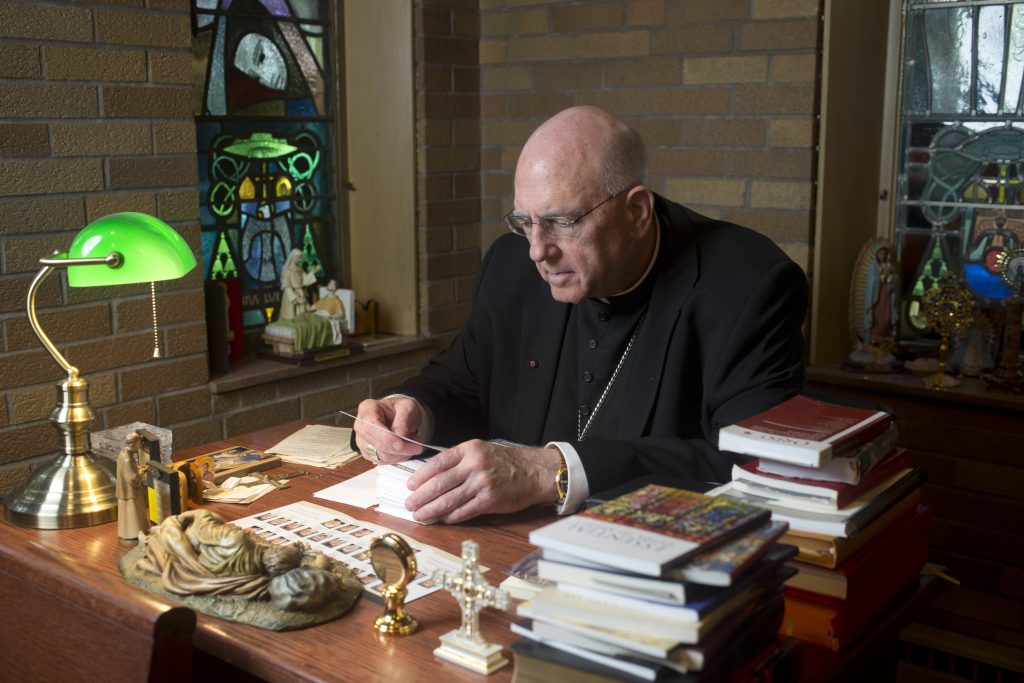 Dear Friends in Christ,
Have you ever struggled with making a life decision when suddenly the answer became crystal clear?
In the summer of 1969, between my sophomore and junior year of college seminary, the world was in turmoil. There were race riots in many cities. Protests against the Vietnam War were common. The Sexual Revolution was in full bloom. The Church was absorbing the reforms of Vatican Council II. Popular bumper stickers read: Question Authority! and Don't Trust Anyone Over Thirty!
Our class was required to participate in a six-week formation seminar that began with an 8-day silent retreat. I met with the Retreat Director and shared that I was very confused about what I believed and if I was called to the priesthood.
The Retreat Director pointed me to the 11th Chapter of St. Luke's Gospel, where Jesus teaches His disciples how to pray. He shares with His Apostles the parable of a neighbor who comes in the middle of the night, banging on a man's door, asking for some bread to feed unexpected guests. The man gets up and responds to the request, not out of generosity, but because of the neighbor's perseverance.
Jesus tells His disciples that if human beings, out of imperfect motivation, will respond to a persistent request, how much more will our Heavenly Father who loves us, provide what we truly need. Our Lord invites His Disciples to ask, to seek, and to knock. The Retreat Director asked me to spend as much time as possible during the next 8 days, in the presence of the Blessed Sacrament, banging on God's door asking Him to reveal Himself to me and to make known his will for me.
During those 8 days, I experienced God's presence and love for me in a more profound and powerful way than ever before. From that experience, I was convinced of our Lord's love for me, and that the most important thing I could do with my life was to help others encounter and experience Our Lord's loving presence in the Eucharist. From that time on, I was confident that I was called to be a priest. Fortunately, on May 24, 1975, the Church confirmed my conviction with my ordination to the Priesthood.
This past June, the Church in the United States embarked on a three-year pastoral initiative to revive and deepen in the hearts of American Catholics, love and devotion for the Real Presence of Jesus in the Eucharist. I encourage each of you to enter into this Eucharistic Revival by spending time in the presence of the Blessed Sacrament. Persevere in spending time prayerfully, banging on God's door with your questions, your needs, and your petitions. Expect answers!
After receiving Jesus in Holy Communion at Mass, when Our Lord is uniquely present to us, praise and thank Him for His many blessings. Also, ask Jesus what He desires for you and from you. What is His dream and plan for you?
I am humbled and grateful for your responses to my invitation each year to share with me your special prayer intentions. By reading and praying for your requests, I receive insight into what is happening in the lives of the people that I am called to serve. It is a privilege while in prayer to carry your burdens and to intercede for your intentions.
This year, I also invite you to share with me those things for which you are grateful so that I might praise the Lord with you for His abundant blessings. Please, again this year, share with me your hopes and desires as well as the needs of your families and friends, that I may beg God to hear the cries of your hearts.
You can submit prayer requests to me by returning the enclosed card or by using this form. I will keep your requests in the Chapel in my Residence. During my time of Adoration, I will read a few each day, praising the Lord for His blessings as well as interceding for your intentions. Thank you for the privilege of entrusting your prayers to me.
Together, let us praise Our Lord and bang on His door, confident in His love for us. Let us accept His invitation to ask, to seek and to knock.
Sincerely yours in Jesus, the Lord of Life,

Archbishop Joseph F. Naumann