share your prayer intentions with Archbishop Naumann.
Archbishop Prayer Intentions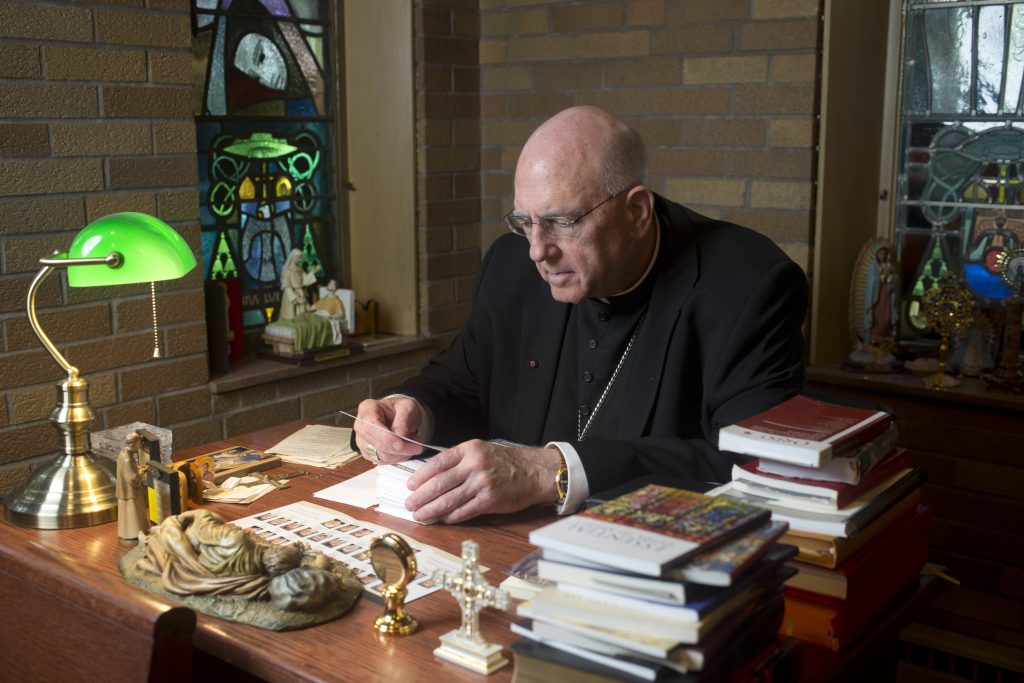 Dear Friends in Christ,      
Today, as I reflect on the miraculous birth of our Blessed Virgin Mary, I am reminded of the deep connection between her life and prayer. Mary was chosen by God to be the mother of Jesus, our Savior. Her birth was a divine plan – a testament to God's infinite love and mercy for humanity. Mary's life was marked by unwavering faith, humility, and a profound willingness to submit to God's will.
We can surrender our intentions to Mary's loving care, finding solace in the knowledge that she, as our heavenly mother, intercedes for us before God, presenting our prayers to Him with a mother's love and compassion. She is a vessel of grace and a source of hope for each of us.
A few years ago, a woman approached me at the Kansas City airport and asked if I was a priest. I said I was, and she proceeded to tell me and those around us about her devotion to Mary. She said, "I have convinced my family that praying to Mama Mary can be so powerful! I had recently prayed to her that my mother would get admitted into a care facility that she desperately needed. My prayer was answered around 3:00pm yesterday when we got the call that they had a place for her. My answered prayer will be life saving for her! Mama Mary always gives me, and now my family, a sense of peace. When things seem hard, she is my hope."
In this woman's remarkable story, we are reminded of the power of prayer made possible by Mary's birth and the miraculous ways in which God works in each of our lives. No prayer is too small or insignificant in the eyes of our Heavenly Father. He listens to our cries, knows the deepest longings of our hearts, and responds to our prayers in ways that surpass our understanding.
As we celebrate the birth of Mary, let us take a moment to reflect on our own prayer intentions. Let us entrust them to Mary's loving intercession, knowing that she stands alongside us offering her support and guidance. Whether our intentions are for healing, reconciliation, guidance, or any other need, we can be confident that Mary's prayers join with ours, amplifying our petitions before God.
I am humbled and grateful for your responses to my invitation each year to share with me your special prayer intentions. By reading and praying for your requests, I receive insight into what is happening in the lives of the people that I am called to serve.  It is a privilege, while in prayer, to carry your burdens and to intercede for your intentions.
Once again, as in years past, I extend my invitation to share with me your prayer intentions as well as what you are grateful for, so that I may intercede for you and praise the Lord with you for His abundant blessings. Prayer requests may be returned to me using  by visiting: https://archkck.org/prayerintention.
Thank you for the privilege of entrusting your prayers to me. As you share your intentions, I hope you take comfort in knowing that I will keep your requests in the Chapel in my Residence, reading a few each day during my time of Adoration.
May the birth of Mary inspire us to deepen our prayer lives and draw closer to God. May her example of faith and surrender guide us in our own journey of discipleship. May the power of prayer bring about transformation, healing, and blessings in our lives and in the world around us.
Sincerely yours in Jesus, the Lord of Life,
Archbishop Joseph F. Naumann