"A society will be judged on the basis of how it treats its weakest members; and among the most vulnerable are surely the unborn and the dying."

ST. JOHN PAUL II, ADRESS TO THE NEW AMBASSADOR OF NEW ZEALAND TO THE HOLY SEE MAY 25, 2000
Click on the section to view:


Pregnant? Need Help?
How to Reverse the Abortion Pill
Hurting after an abortion?
End of Life Decisions:
End of Life Planning
Current Pro-Life Issues

New Pastoral Letter by Archbishop Cordileone. Archbishop Salvatore Cordileone of San Francisco has written a new Pastoral Letter titled "Before I Formed You in the Womb I Knew You". It is a Pastoral Letter on the "Human Dignity of the Unborn, Holy Communion, and Catholics in Public Life." If you have not already read it, it is an important read for all of us and for every Catholic as there is much confusion about abortion and about protecting the integrity of the Eucharist. Archbishop Cordileone writes very clearly and with a pastoral heart. This letter educates us on how to respond to disinformation from our culture as well. You can access the document, supporting Q&A, and recording of Archbishop's Cordileone's homily and more at: https://sfarch.org/inthewomb. Please help to share this letter widely.
---

For almost 50 years, there has been bipartisan agreement not to fund abortion with taxes. Unfortunately, the recent passage of the 2021 American Rescue Plan Act ended that stretch. Previous COVID relief legislation had prohibited abortion funding.
Bishop Peter Christiansen of the Diocese of Boise, Idaho, devised a response to this distressing development entitled, "I Will Give Half." Archbishop Naumann is also promoting this initiative which encourages those who can afford to do so, to give at least half ($700) of their Covid relief assistance to a pro-life organization. Specifically he urges parishioners to consider giving their donation to a local pregnancy resource center or to the efforts for the passage of the "Value Them Both" state constitutional amendment in August 2022. The importance of this campaign is to communicate and educate to dispel the disinformation campaign that is already coming from the abortion industry.
Statement of USCCB President and Bishop Chairmen in Response to Passage of the American Rescue Plan Act
"Put COVID relief dollars to work for pro-life causes, if you can" Leaven Article by Archbishop Naumann
Video Clip of Explanation of the "I Will Give Half" campaign by Archbishop Naumann at the Solemnity of the Annunciation Vigil Mass, March 24, 2021
TAKE ACTION!
To support a local pregnancy center or maternity home, click HERE for a list.
Click HERE to donate to efforts to help pass the Value Them Both Amendment (please note that contributions of $50 or more will be disclosed in February of 2022).
---

The Equality Act may sound harmless but its dangerous implications are broad and far-reaching. To learn more about the Equality Act and its repercussions for families, faith, and freedom, listen to the recorded nationwide webinar from last Monday evening. Ryan T. Anderson, whose book on gender ideology was recently censored by Amazon – a dire signal that diversity of thought is no longer protected – facilitated the discussion. Hear presentations from knowledgeable speakers including Mary Hasson, Susan Muskett, and Gregory Baylor and become equipped to take action at a grassroots level. A one-hour national briefing about the Equality Act brought to you by the Archdioceses of Los Angeles and New York, the Dioceses of Arlington and Green Bay together with the Catholic Conferences of Colorado and Virginia and in collaboration with Catholic dioceses throughout the country. For more information, and to TAKE ACTION, go to http://www.HumanLifeAction.org.
Watch and Share the Webinar Here: https://www.youtube.com/watch?v=AVkYnG7EY14
"To correct the grave injustice imposed by the Kansas Supreme Court, the Value Them Both Constitutional Amendment needs to be adopted by the citizens of Kansas. We need elected officials who will take action to defend the innocent life of the unborn and their mothers."

~ Archbishop Joseph Naumann
Dustin Colquitt, Former KC Chiefs Punter, is featured in this powerful video that educates on the KS Supreme Court's decision on abortion and inspires Kansans to be a voice for the voiceless.
Pro-Life Action Alerts
STOPPING TAXPAYER-FUNDED ABORTION
Congress is trying to force Americans to pay for abortion.

The Hyde Amendment and similar laws have protected taxpayers from funding elective abortion for 45 years. Now, powerful members of Congress want to take away these laws that both Democrats and Republicans have supported for nearly half a century. Billions of taxpayer dollars could be used to pay for abortion.
It is critically important for Catholics to send a strong message before Congress moves forward to impose taxpayer-funded abortion.
Click HERE for tools that can be used within your networks, to raise their awareness and urge Catholics to sign the petition.
STOP INFANTICIDE
The Born-Alive Abortion Survivors Protection Act (H.R. 619) has again been introduced in Congress to protect babies from infanticide.
But efforts to bring the bill to a vote in the House are being blocked. Your action is needed to urge your Representative to sign a discharge petition that would allow this vote to occur.
Some states have passed laws to expand abortion and to repeal laws providing specific protections for babies born alive after surviving an attempted abortion. The Born-Alive Act would provide these specific protections nationwide to help prevent newborns from being killed or left alone to die.
We must continue to push Congress to pass the Born-Alive Act, so babies born alive following an abortion attempt are treated the same as any other newborn baby. PLEASE ACT TODAY!!!
Click here for more information
THE EQUALITY ACT
Everyone deserves to be treated with respect and dignity. The Equality Act, which is being voted on in the U.S. Senate soon, in many ways does the opposite and needs to be opposed. Instead of respecting differences in beliefs about marriage and sexuality, the Equality Act would discriminate against people of faith. The Equality Act would: punish faith-based organizations, such as charities and schools who serve everyone in their communities, simply because of their beliefs; force girls and women to compete against boys and men for limited opportunities in sports, and to share locker rooms and shower spaces with biological males who identify as women; risk mandating taxpayers to fund abortions; force people in everyday life, and especially health care workers, to support gender transition; and expand what the government considers a "public" place, forcing even some parish halls to host functions that conflict with Catholic beliefs.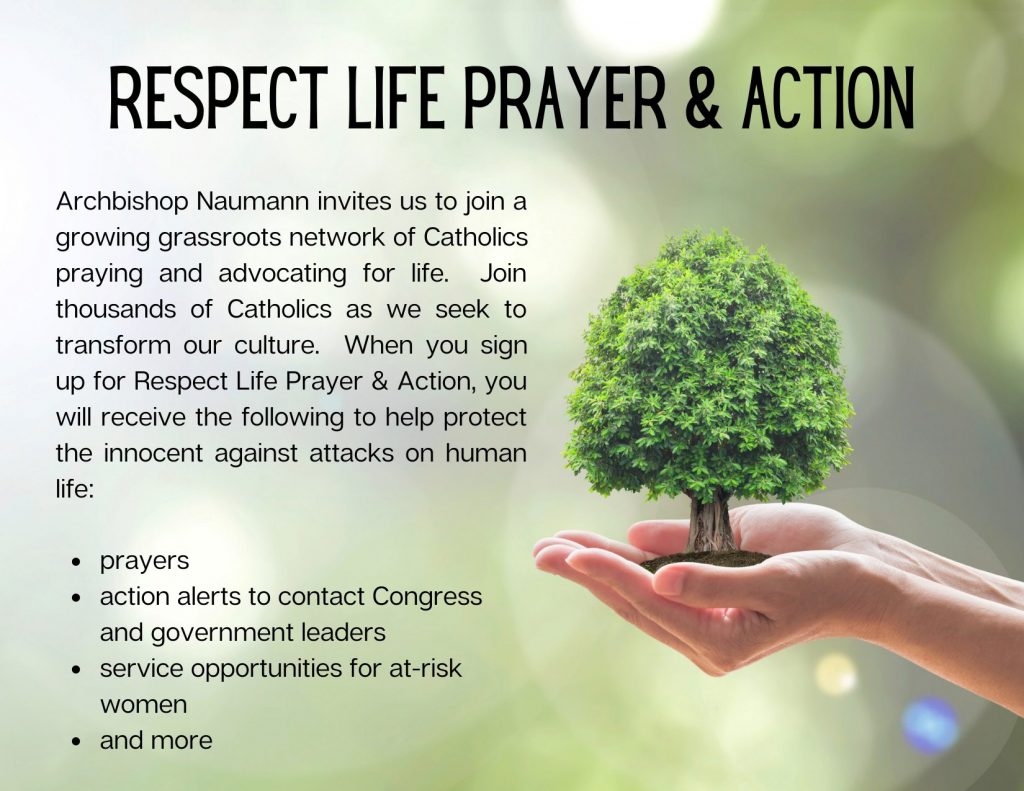 To subscribe to Respect Life Prayer & Action, click here.
Upcoming Pro-Life Events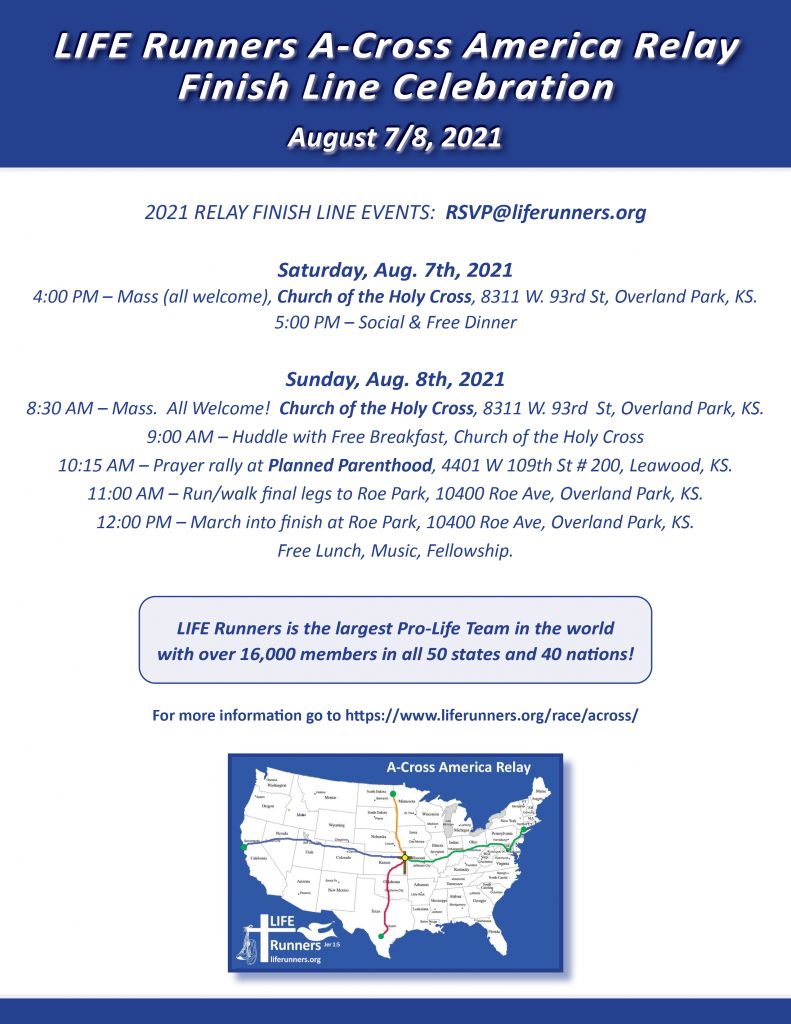 Ongoing Pro-Life Events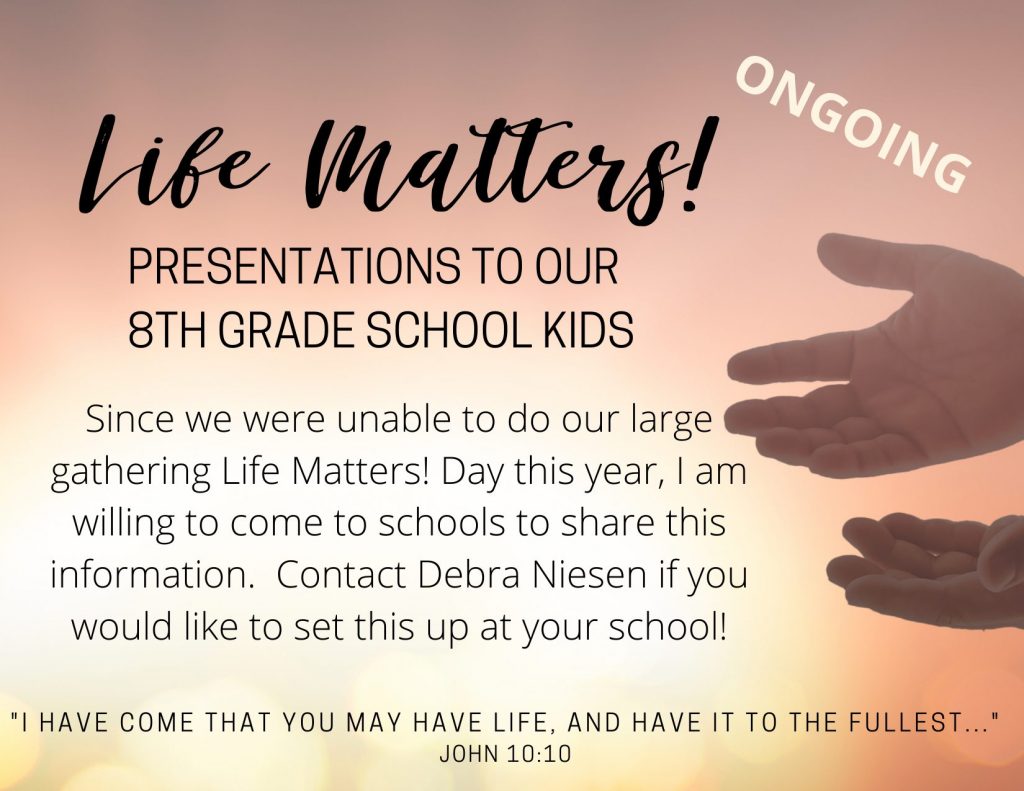 Debra Niesen dniesen@archkck.org
---