Click on the section to view:
---
CURRENT KEY ISSUES
Value Them Both Amendment
Click HERE to learn about Value Them Both and for educational resources.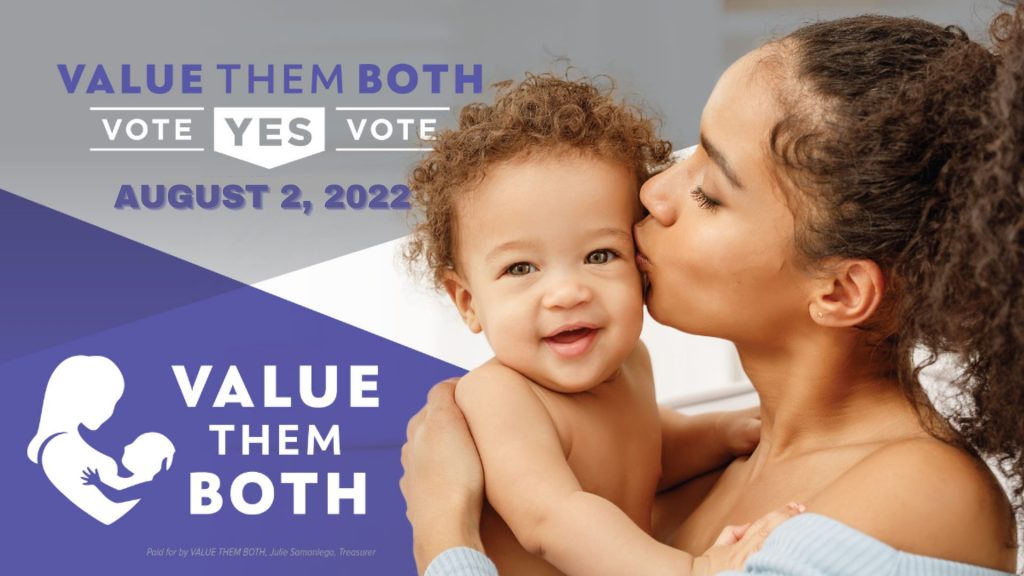 "In their 2019 decision, the Kansas Supreme Court actually stated that all current pro-life legislation in Kansas is now presumed unconstitutional. This opens the door for taxpayer funded abortion, the return of late term abortions, teens receiving abortions without parental knowledge – much less consent and women not receiving information about the physical, emotional and psychological risks from abortion. Fortunately, there is hope. The Kansas Senate and House of Representatives, by super majorities, approved placing the Value Them Both Amendment on the August 2, 2022 ballot. The passage of the Value Them Both Amendment will return to the citizens of Kansas the ability to determine abortion public policy through their elected representatives and allow our current laws that limit and regulate the industry to remain in place. Kansas is at a crossroads. With your support, we can make Kansas a place of hope where mothers and children are cherished and protected rather than an abortion destination."

~ Archbishop Joseph Naumann
Supporting Kansas Women

Pro-Life Action Alerts
Click HERE for Pro-Life Action Alerts
Archdiocesan Respect Life Donation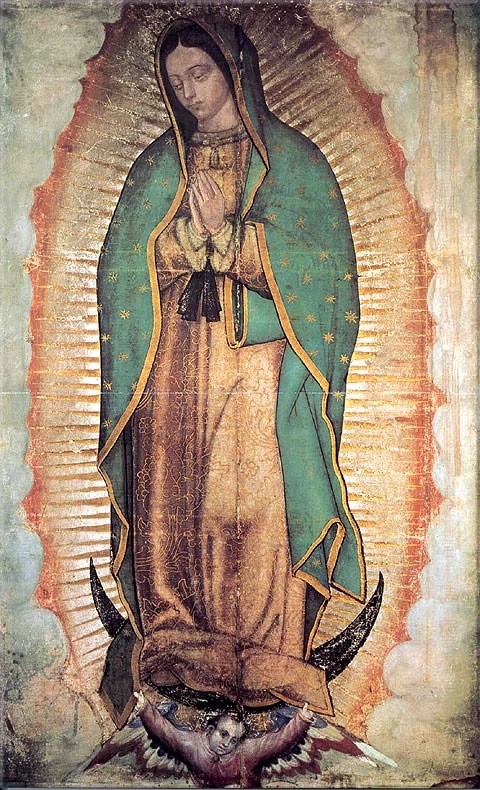 "Dear Friends in Christ, We are at a critical moment in the effort to foster a Culture of Life and build a Civilization of Love. It is a time of great opportunity to protect both the lives of unborn children as well as mothers and fathers from the inevitable emotional, psychological and spiritual scars of abortion. Kansas is at a crossroads. With your generous support, we can make Kansas a place of hope where mothers and children are cherished and protected rather than an abortion destination." ~ Archbishop Joseph F. Naumann
The Church of Kansas is facing a defining moment. Kansas is becoming a "haven" for unlimited abortion due to a 2019 Kansas Supreme Court ruling. We are working to pass the Value Them Both Kansas Constitutional Amendment on August 2, 2022 which will protect existing pro-life laws and allow Kansans to regulate the abortion industry. This amendment is critical as the Supreme Court deliberates Dobbs vs. Jackson Mississippi which could render states more freedom to protect women and babies. Read Archbishop Naumann's full November 5, 2021 letter below and prayerfully consider giving generously to our Respect Life efforts.
Money raised will support the following Archdiocesan Respect Life programs:
Walking With Moms in Need Parish Initiative
Gabriel Project – Crisis Pregnancy Ministry
Project Rachel & Project Joseph – Post Abortive Healing
Value Them Both Educational Efforts
Foster Care Ministry
Thank you for your generous support. Our Lady of Guadalupe, please pray for us!
---
Upcoming Pro-Life Events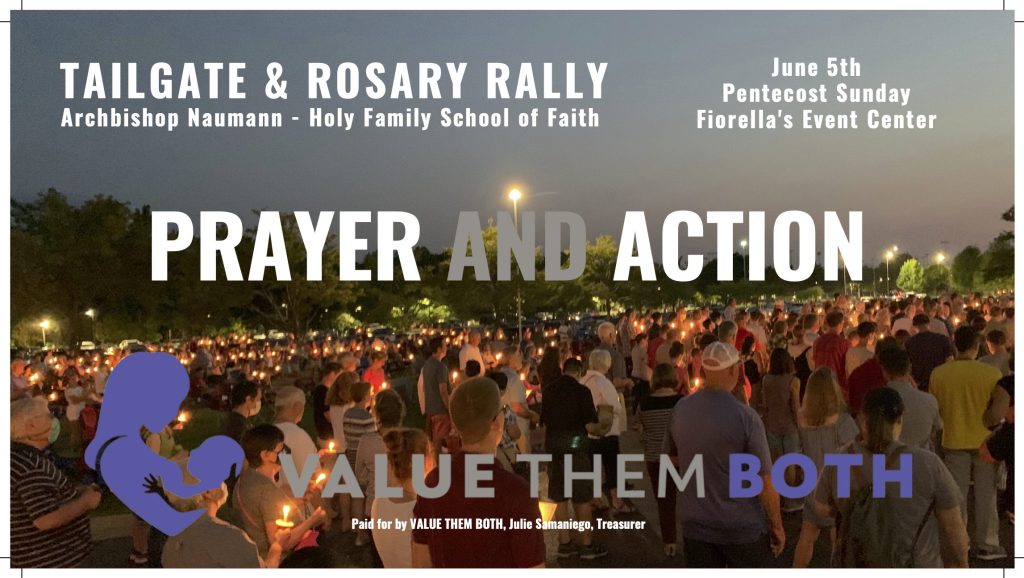 VALUE THEM BOTH TAILGATE AND ROSARY RALLY
Sunday, June 5, 2022
4:00 PM  7:30 PM
Fiorella's Event Center9000 West 137th StreetOverland Park, KS, 66221United States (map)
4:00pm – Tailgating, friendship, and good conversation
VALUE THEM BOTH campaign materials available + learn how you can help
Adorn Our Lady w/ flowers *Bring flowers for Mary*
6:00pm – Program begins
6:30pm – Rosary & Eucharistic Holy Hour
---

Pregnant? Need Help?
How to Reverse the Abortion Pill
Hurting after an abortion?
End of Life Decisions:
End of Life Planning
Mental Health
---
Ongoing Pro-Life Events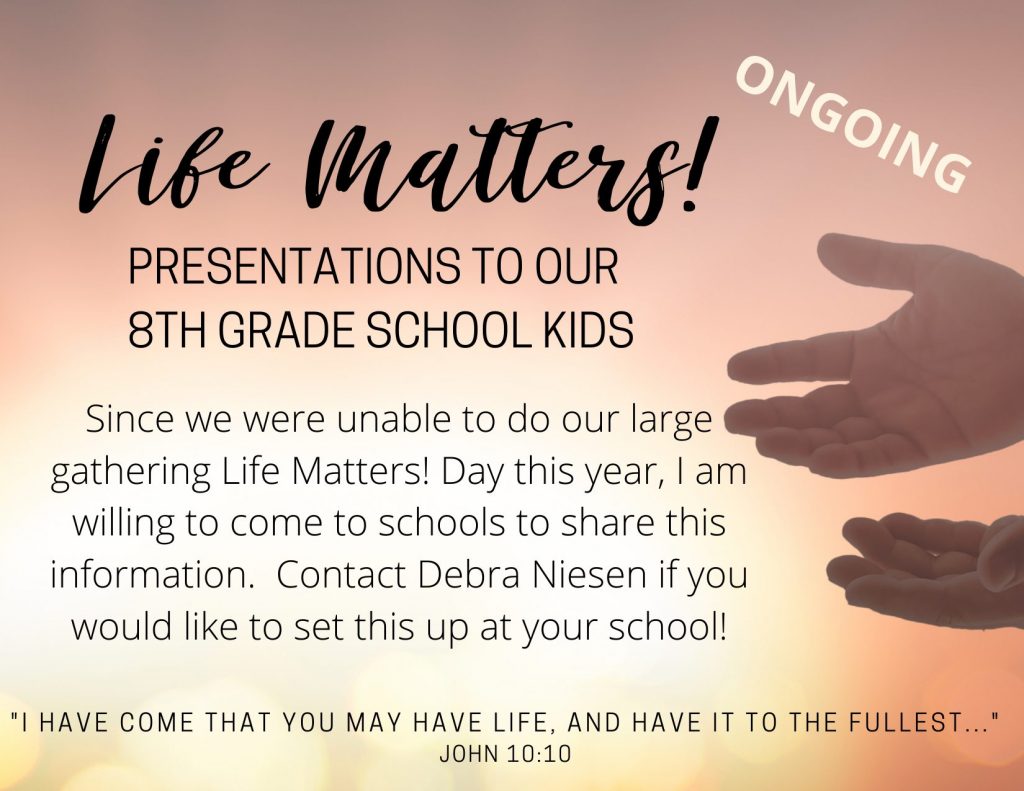 Debra Niesen dniesen@archkck.org
---