Hola,

Soy el Padre Ramiro Sanchez Chan C.S. Director del Ministerio Hispano de la Arquidiócesis de Kansas City en Kansas y junto con Edith Montes, encargada de Formación y evangelización, queremos ofrecerles en este espacio las informaciones sobre nuestra misión y las actividades que podemos brindarles en esta Arquidiócesis.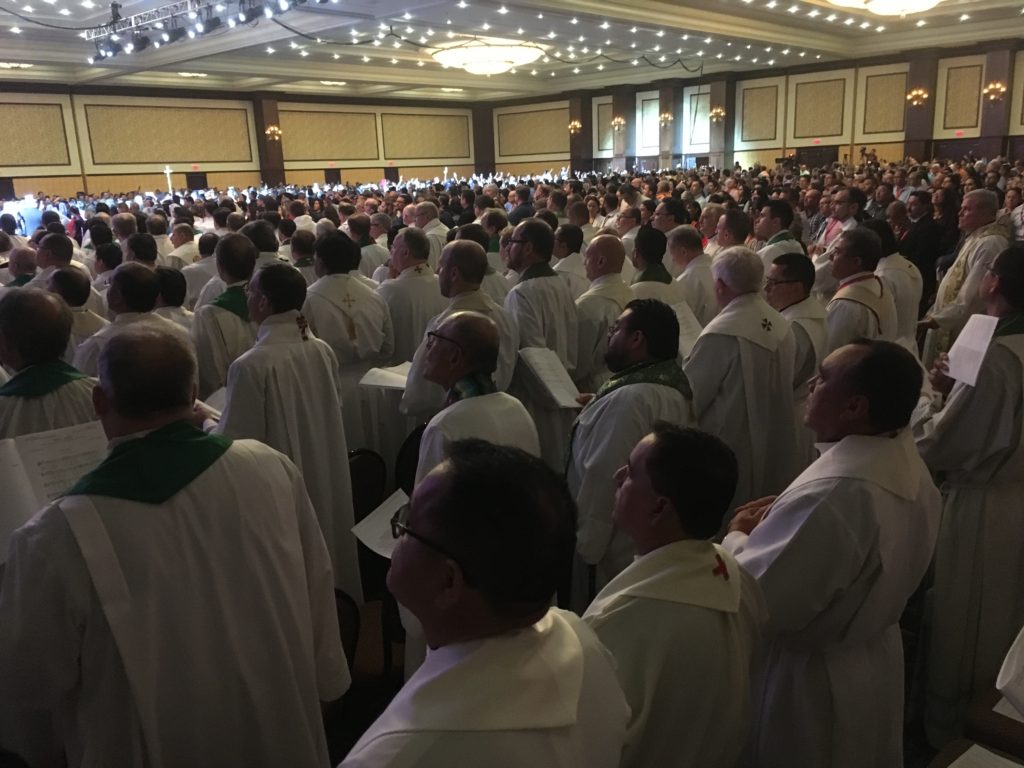 REPORTE DE NUESTROS DELEGADOS AL V ENCUENTRO
ARQUIDIOCESIS DE KANSAS CITY EN KS
El 20 de setiembre 2018 7 delegados de nuestra arquidiócesis de Kansas City en Kansas viajaron al V Encuentro Nacional en Grapevine TX. Los 7 delegados representaban a 6 parroquias Latinas y la Oficina del Ministerio Hispano.
Los delegados fueron:
Fr Gianantonio Baggio CS Office of Hispanic Ministry
Lety Díaz Blessed Sacrament
Oscar Fernández Our Lady of Unity
Carmen Oregel St Peter Cathedral
Carlos Torres St Paul
Angélica Valenzuela St Patrick
Lidia Gutiérrez All Saints

Todos estos fueron comprometidos en el proceso de 3 años del Encuentro que llevó a este evento final. Todo lo que pasó en este evento fue grandioso: el hotel, el centro de conferencias, la organización, el número de los voluntarios que nos guiaban y ayudaban durante el evento… Y lógicamente el sorprendente número de delegados que llenaron el centro de convenciones.
La atmosfera en las intervenciones, la música y cantos, las celebraciones litúrgicas, fueron impresionantes. La NCR reporta que asistieron 3400 delegados y 130 obispos, que quedaron los 4 días; yo también conté más de 180 sacerdotes concelebrando las misas.
También fue sorprendente que cerca de 1100 participantes tenían menos de 30 años. Este grupo fue el alma del Encuentro, de echo representaban 60% de los jóvenes católicos de USA.
El sentido de camaradería era extraordinario, como estar con la familia de uno, y tuvimos oportunidad de intercambiar reflexiones con decenas de laicos católicos comprometidos de todo el país. Vimos como las necesidades que tenemos en nuestra arquidiócesis tenían eco en todos los grupos… Formación y acción evangelizadora, especialmente con familias y jóvenes.
Jóvenes, familia y evangelización; estos fueron los 3 puntos de interés de los católicos latinos, pero privilegiando la juventud. Los representantes de los jóvenes desafiaron directamente a los obispos ahí presentes de comprometerse en un apoyo concreto a los jóvenes hispanos, con fondos para crear programas de formación, espacios y trabajos en las diócesis!
También la situación migratoria fue un punto presentado por los jóvenes, porque tienen miedo de perder sus familias, por DACA, porqué se sienten divididos entre culturas y no aceptados por quienes son de verdad.
Nosotros somos discípulos misioneros del amor de Dios, construimos puentes, no muros, comunión y no asimilación. El objetivo de encontrar 25000 nuevos laicos comprometidos fue alcanzado y ahora miramos al futuro. Estamos esperando el documento final del USCCB que nos va a guiar en los objetivos pastorales del futuro, y la próxima formación pastoral para los nuevos discípulos misioneros en nuestras parroquias.