Interested in the Diaconate?
The Office of the Permanent Diaconate is offering a series of Information Nights this fall at the following locations:
All information nights begin at 7:00 p.m.
Everyone who is interested in learning more about the diaconate is welcome to attend. Those who believe the Lord may be calling them to serve as deacons will be given resources to assist in their discernment. Spouses are strongly encouraged to attend.
Attendance at an information night is required for those who intend to apply for admission to the diaconate program this coming year.
Contact: Leon Suprenant
Email: leons@archkck.org
Phone: (913) 647-0358
Those who may be interested in becoming a deacon are encouraged to complete our online Inquirer Form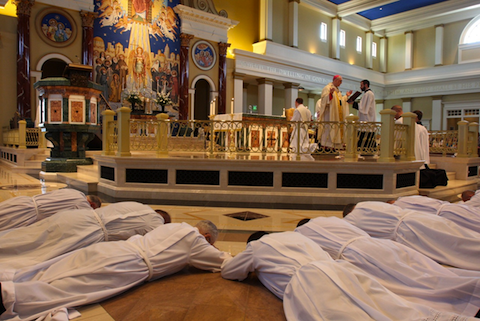 Welcome
Under the direction of the Archbishop of Kansas City in Kansas and in fidelity to Vatican and national norms, the Office of the Permanent Diaconate invites, forms, and supports deacons, who are called to serve the Church in Northeast Kansas through the ministry of the Word, the ministry of the altar, and above all, the ministry of charity.
If you are seeking answers to your questions regarding the diaconate, you have come to the right place!
If you cannot find the information you are looking for, submit your question via email to leons@archkck.org.
"For the Son of Man did not come to be served but to serve and to give his life as a ransom for many." — Mark 10:45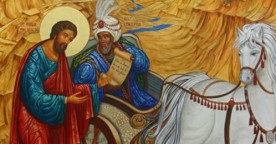 Philip ran to him, and heard him reading Isaiah the prophet, and asked, "Do you understand what you are reading?" And he said, "How can I, unless someone guides me?" And he invited Philip to come up and sit with him. . . . Then Philip opened his mouth, and beginning with this scripture he told him the good news of Jesus. . . . And he commanded the chariot to stop, and they both went down into the water, Philip and the eunuch, and he baptized him.
–Acts 8:26-40
"Dedicated to duties of charity and of administration, let deacons be mindful of the admonition of Blessed Polycarp: 'Be merciful, diligent, walking according to the truth of the Lord, who became the servant of all.'"
–Vatican II, Dogmatic Constitution on the Church, no. 29 (1964)