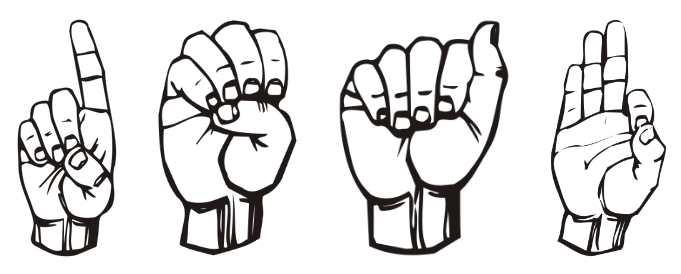 Sign up here to stay up to date with the Deaf Ministry
YOUCAT IS LIVE!
New videos are posted each Friday.
CLICK HERE TO WATCH ASL YOUCAT VIDEOS
BREAKING NEWS:
Upcoming retreat on October 23rd! Check out flyer for details!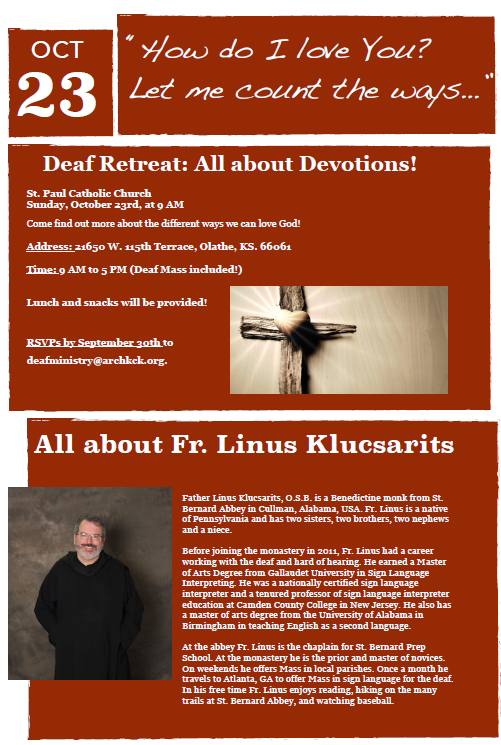 Bible Study is starting tomorrow, September 29th! Check out the flyer for more details!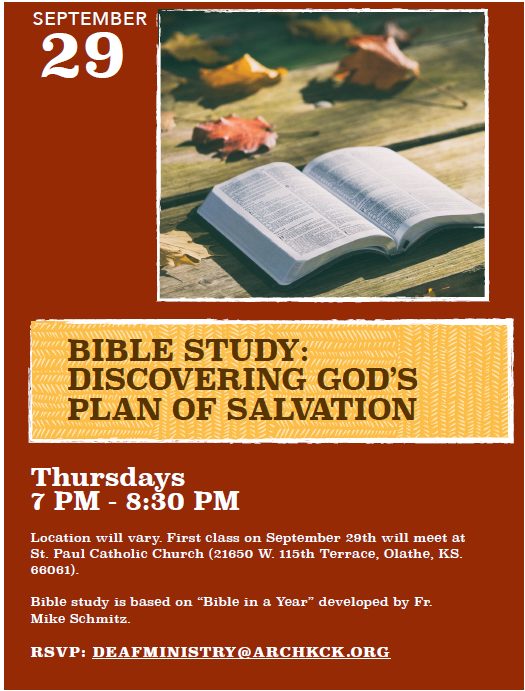 Check out this AMAZING article from the Leaven about Pat Richey and her awesome service to the deaf community in the Archdiocese of Kansas City in Kansas!
The Leaven: Deaf ministry office takes ASL Youth Catechism to video
http://theleaven.org/deaf-ministry-office-takes-asl-youth-catechism-to-video/
Ep. 84: More Than Words (from Catholic News Agency!)
Monday, October 26 2020
The deaf Catholic community in the US is eager for the faith. In this episode, we take a look at some of the latest resources available to them, and a deaf Catholic priest shares his vocation story. This episode is available in American Sign Language (ASL): https://youtu.be/NW2deh1EEs4
Mission Statement
The mission of Deaf Ministry is to facilitate opportunities for people to encounter Jesus, be fully included in the life of the Church, and participate in programs that foster spiritual growth, leadership and family enrichment.
The Office of Deaf Ministry seeks to. . .
Assist persons deaf or hard of hearing in realizing God's presence in their lives through:
Signed and interpreted liturgies
Sacramental preparation
Spiritual direction
Annual retreats
Cursillo and group reunions
Marriage encounter
Arranging for interpreters for special occasions – baptisms, weddings, funerals and other events when requested.
Provide ongoing educational opportunities through:
Adult religious education
Bible study groups
Rite of Christian Initiation
Religious education for students attending the Kansas School for the Deaf
Assistance to teachers and/or parents of deaf students involved in parish programs
Provide support and assistance through:
Pastoral visitation to homes
Pastoral counseling
Support and referral services
Visitation to the sick, shut-ins and hospitalized
Ephpheta Newsletter and monthly bulletins
Awareness programs about deafness and other disabilities
Workshops on religious signs
Service to late-deafened adults
Resource center
Advocacy at Archdiocesan and parish levels
Retreats
Deaf Retreats are held annually during the second weekend in October. For more information contact Katie Locus (913) 324-5378 videophone (VP).
Resources:
Interpreters needed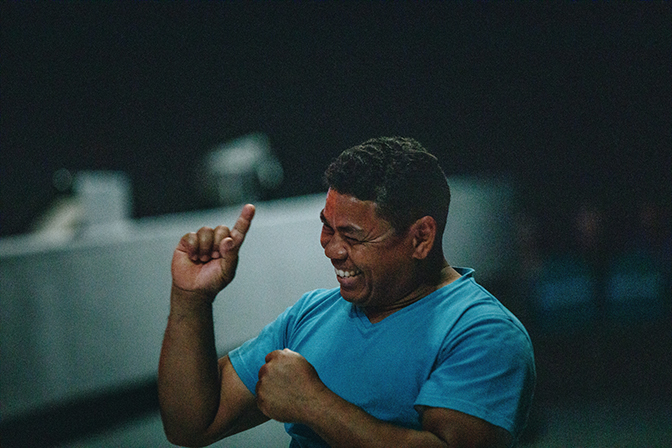 We have requests for interpreted masses throughout the Archdiocese. If you know of someone who has some sign skills and would be interested in signing the Liturgy, please have them contact Katie Locus.

Funding for this ministry is made possible through the Annual Appeal of the Archdiocese and organizational and private donations.