CHRIST'S PEACE HOUSE OF PRAYER
THANK YOU FOR SUPPORTING OUR MINISTRY!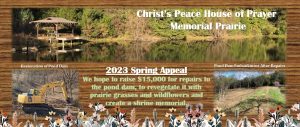 Make a donation toward our 2023 Spring Appeal
Memorial Prairie
---
Support Christ's Peace House of Prayer
We at Christ's Peace are grateful for the prayerful and financial help we receive from our friends and supporters. The generosity of our friends has allowed us to provide a prayerful and peaceful environment for our guests to encounter Christ.
In 2023 with your help, we would like to see the following come to be:
Repair and paint the exterior of the main building
Install new siding on one of the cabins
Repair the main building roof
Install a new furnace and A/C unit in the Great Room
Clear brush around the lagoons and the pond dam
Paint Meadowlark exterior
Paint kitchens and bathrooms at the cabins (SC, MS, BS, WB, EG, ML)
Repair, stain and poly the main building interior doors
Repair, stain and poly kitchen cabinets
Purchase new sleeper sofa for Evergreen
We have been striving to make improvements to Christ's Peace House of Prayer and were able to accomplish much this year though the help of many donors and volunteers. Click here to see a list of all our 2022 Accomplishments.
In 2022, with your help we were able to make the following improvements:
Renovated the conference room
Installed vinyl plank flooring in the chapel and sacristy
Widened the rustic trail
Replaced the bad windows at several of the spaces
Repaired and painted the ceilings at several of the spaces
Fabricated and installed entrance mailbox signpost
Installed electric fireplace in Great Room
Installed new mattresses at the cabins and courtyard rooms
Made misc. repairs
Mulched trail down to pond, the shrines and around main building
Purchased and installed signage for the property
Renovated the small office into Parlor 3 and reconfigured the main office
Repaired bridge at the pond
Repaired chapel roof
Stained decks at CY1, CY2 and CY3
Thank You!
---
If you are inspired to help fund one of our specific needs or just want to support us in our ministry of bringing others to Christ, please do what you can. Any amount is deeply appreciated and tax-deductible.
If you prefer mailing your donation, please make your check out to Christ's Peace.
Our mailing address is:
Christ's Peace House of Prayer
22131 Meagher Road
Easton, KS 66020
---
Consider also donating your time and talent, contact us and let us know how you can help. Take a look at our Volunteer Opportunities page to see a list of specific ways you can help!