WHAT'S HAPPENING AROUND THE ARCHDIOCESE?
Rosary at KCK Planned Parenthood
With Archbishop Naumann
Saturday, November 19, 2022

Pray the Rosary with Archbishop Naumann in front of KCK's new Planned Parenthood
Christians in Action Sidewalk Witness: Please join Archbishop Naumann in prayer on the sidewalks in front of Planned Parenthood in KCK. Out-of-state-resident abortions are expanding rapidly in Kansas.
Your prayerful, peaceful witness on the sidewalks is urgently needed to help these women choose life.
Planned Parenthood in KCK
6013 Leavenworth Rd
Saturday, November 19th
9:00 am to 10:00 am
For more details contact Ron Kelsey, Planned Parenthood Exposed at ronkelsey10@gmail.com .
Thrive FOSTER CARE Event
Wednesday, November 16, 2022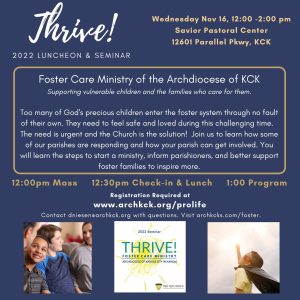 Click HERE to register.
March for life pilgrimage
January 19-22, 2023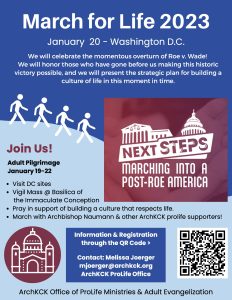 Register today for the ArchKCK March for Life Pilgrimage. 
Click HERE to register or for more information.