Scroll down for the following Vaccine-Related topics:
Moral Considerations Regarding the New COVID-19 Vaccines & the Call to Advocate for Ethical Vaccines
In the document Moral Considerations Regarding the New Covid-19 Vaccines (www.usccb.org/moral-considerations-covid-vaccines), the U.S. bishops addressed the moral concerns raised by the fact that all the vaccines have a connection, some more remotely than others, to cell lines that originated with tissue taken from abortions. Though they concluded receiving a COVID-19 vaccine "is morally permissible and can be an act of self-love and charity toward others" given the gravity of the current pandemic and the lack of availability of alternative vaccines, they also warned that Catholics "must be on guard so that the new COVID-19 vaccines do not desensitize us or weaken our determination to oppose the evil of abortion itself and the subsequent use of fetal cells in research."
Therefore, the bishops believe it is the responsibility of Catholics and all people of good will to advocate to pharmaceutical companies and the government for the ethical development, production, testing and distribution of all vaccines and medicines. To assist with this advocacy, the Archdiocese is providing a sample letter below for people to use as a template to send to pharmaceutical companies.
Please read the original USCCB document for a detailed explanation of the moral permissibility of taking the vaccines and to learn why the Pfizer and Moderna vaccines are preferred over the other currently available vaccines.
USCCB Statements on COVID-19 Vaccine:
Additional resources on vaccines…
Summary of the COVID-19 Vaccine Candidates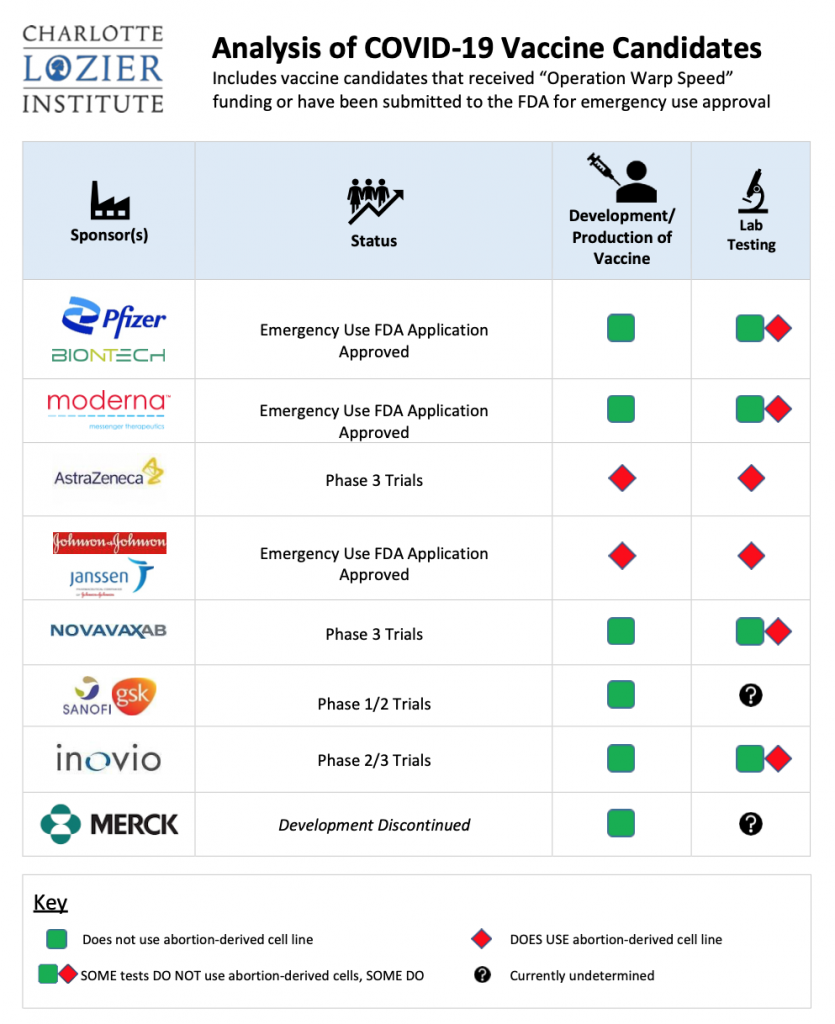 Last Updated March 3, 2021
---
TAKE ACTION!
Contact the pharmaceutical companies to encourage the ethical development, production, testing and distribution of all vaccines and medicines. See sample letter and contact information below.
Contact your representatives and senators and say: "I object to the use of the remains of aborted children in vaccines or any other biomedical product, and I will back this up with my vote and my money."
Dear ________________________________________,
I/we are writing to thank you for the outstanding work your company has done in vaccine research and development. I/we appreciate and support your ongoing efforts to develop effective, safe and widely available vaccines against serious, potentially fatal infectious diseases.
However, I/we — along with many Americans — must also strenuously object to the unethical and unnecessary use of tissue, cells, or cell lines derived from voluntary abortions or human embryos in vaccine design, development or production. While many will consent to receiving such morally tainted vaccines for the common good, we do so under duress due to their association with the exploitation of innocent human life, no matter how remote.
As Americans, we must all work to restore the fundamental principle that the dignity of every human life must be defended from its inception to natural death. This duty is particularly significant for the pharmaceutical industry, whose mission is to safeguard human life and health without compromising fundamental ethical standards.
I/we implore you to work expeditiously toward the goal of developing safe and effective vaccines for the welfare of all without human exploitation and thereby avoid placing anyone in the position of having to choose between being vaccinated against a serious disease or violating his or her conscience. It is important for all of us to show our respect for the remains of those children whose lives were taken prematurely, and one way we can do this is by avoiding these cell lines in scientific research and pharmaceutical development.
Sincerely,
Vaccine Contact Resources and Links
Pfizer Biopharmaceuticals
https://www.pfizer.com/contact/email?inquiry=General+Company+Information
Angela Hwang, President
Pfizer Biopharmaceuticals
235 East 42nd Street
New York, NY 10017
Moderna
IR@modernatx.com
Colleen.Hussey@modernatx.com
Lavina.Talukdar@modernatx.com

Stephen Hoge, MD, President Moderna Global Headquarters
200 Technology Square
Cambridge, MA 02139
AstraZeneca
https://www.astrazeneca-us.com/contact-us/product-information.html
Johnson and Johnson
https://www.ccc consumercarecenter.com/UCUConfiguration?id=a0758000004NIaL