Ignite for Life: Kansas Youth Rally, Mass and March for Life
Contact the Pro-Life Office at prolife@archkck.org with any questions or concerns!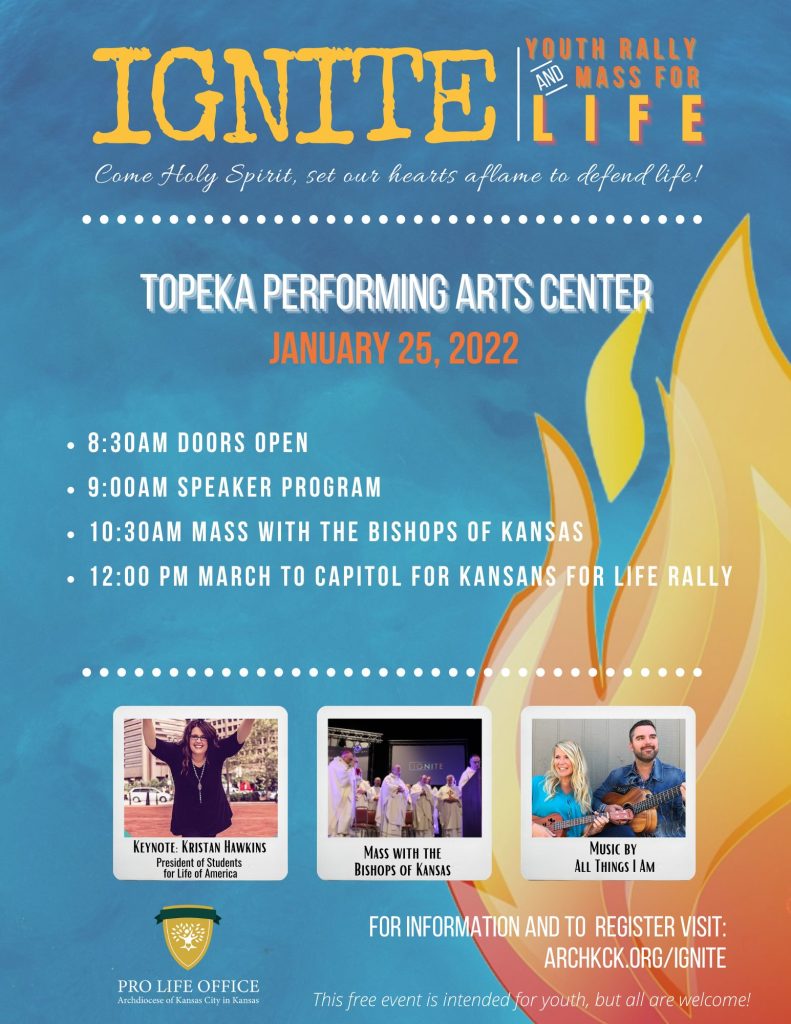 Click HERE for printable flyer
Click HERE for printable poster
January 25th Eucharistic Adoration has been canceled. We apologize for the change, but Mater Dei – Assumption Church is not able to accommodate us this year due to unexpected circumstances. Thank you for your understanding!
Livestream of Event:
If you cannot join us in person, please consider viewing the livestream link HERE!
Event Details:
What Is IGNITE for Life? IGNITE for Life is an opportunity for all of those who believe in the sanctity of life from the moment of conception to come together to pray and stand in public witness for the defense of unborn children in Kansas and throughout the United States. The IGNITE for Life event takes place every year near January 22nd which is the National Day of Prayer for the Legal Protection of Unborn Children. We are praying this year specifically for the passage of the Value Them Both Kansas Constitutional Amendment on August 2nd, 2022.
IGNITE will kick off with Praise & Worship music from the band All Things I Am, followed by dynamic messages from pro-life speakers including our keynote speaker, Kristan Hawkins, President of Students for Life. We will then celebrate the Holy Sacrifice of the Mass with the Bishops of Kansas along with many Kansas priests. Finally, all are invited to march to the state capitol to join the Kansans for Life Rally. Stay tuned for an additional opportunity to join in Eucharistic Adoration at a nearby Catholic Church.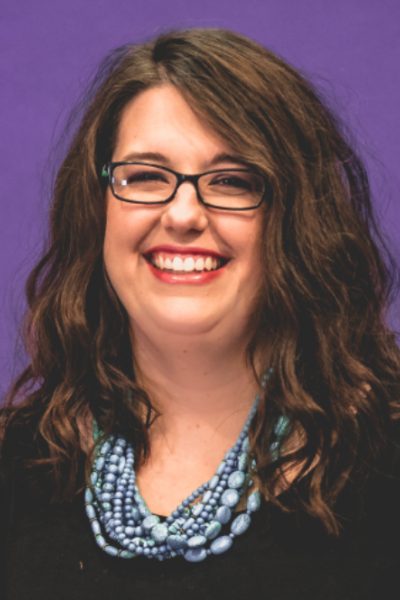 Kristan Hawkins Bio:
Kristan Hawkins is a Christian, wife, mother, author, speaker, Podcast host and a human rights advocate. President of Students for Life of America, Kristan will share how her faith has inspired her to defend life by building up an organization that serves 1,200+ Students for Life chapters in all fifty states and has trained over 100,000 young people. Under her leadership, Students for Life exists to transform our culture by recruiting, training, and mobilizing this pro-life generation, who are the direct targets of today's abortion industry. No entity has more mind-changing conversations about abortion, on-campus or online, everyday than Students for Life. A frequent speaker and media analyst, she has interviewed on Fox News, CNN, MSNBC, the Today Show, CBS, ABC, and HBO.
Kristan hosts a weekly podcast "Explicitly Pro-Life" found on iTunes and YouTube. Her proudest accomplishment is being a wife to her high school sweet heart (Jonathan), raising her four children (Gunner, Bear, Maverick and Gracie), and, in her free time, building awareness for cystic fibrosis, a disease shared by both her son, Gunner, and daughter, Gracie.
Since launching Students for Life, the Pro-Life Generation has been given a voice in Kristan, and with her help, they are using that voice to demand an end to the injustice of abortion as well as support for mothers and their children, born and pre-born.
Lunch Options:
There will be a 15-20 break between Mass and the start of the march to the Capitol. Unfortunately, no food is allowed inside the Topeka Performing Arts Center per our contract. Thank you for your understanding and cooperation. We realize that some will need to eat something if planning to march to the Capitol and take part in the Kansans for Life Rally or a Capitol tour. Here are some options to consider:
Encourage your students to eat a hearty breakfast before coming to IGNITE or provide a snack on their drive to the event.
Have your students pack a snack or sandwich in their coat pocket to eat during the march to the capitol.
Use the 20 minute break after Mass to eat a sandwich in your bus/cars or outside the TPAC before the March.
Mater Dei-Assumption Church (across from south steps of capitol) will also offer sack lunches for a freewill donation from 11:00 am – 2:30 pm. Please contact Jeanne Gawdun at jeanne@kfl.org for details and reservations.
Parking
TPAC-parking-map

Map
Google Maps Link https://g.page/tpactix?share
Gallery