You are encouraged to contact the various community's vocation director for information, a visit, or spiritual direction as you discern your vocation. Please take a few minutes to view the profiles of some consecrated religious, read their story, and see what their day is like.
Men Religious
St. Benedict's Abbey – Benedictine Monks
The journey of a Benedictine monk is one of commitment to a life of joy in prayer and work within a community of Catholic men under the Rule of St. Benedict. It is within the monastery that the monk understands his life's purpose of seeking God. He walks with his brother monks in obedience to their spiritual father, the abbot, always preferring "nothing whatever to Christ."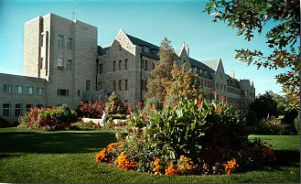 As sons of Saint Benedict, we seek holiness as we strive to live the virtues through our monastic vows of Stability, Obedience and Conversion. At the heart of our lives is a commitment to pray the Divine Office together and share in common work. Through this healthy balance our prayer is offered for the sanctity of the Church and that of our community, while our labor is for the common good of all, valued itself as an offering of prayer.
By common work in education, craftsmanship, pastoral care and formation, we cooperate in God's plan to make all things new. In particular the monks of St. Benedict's Abbey provide service in our schools of Benedictine College and Maur Hill – Mount Academy, in parishes in the Archdiocese of Kansas City in Kansas, as chaplains to religious sisters, and as missionaries in our monastery in Brazil. Whether in prayer or in work the monk of St. Benedict's Abbey is called to offer all glory to God.
Take a look at a Typical Day
Other Men's Orders in the Archdiocese
Capuchin Franciscan Friars
St. Conrad Friary
745 Tennessee St., Lawrence, KS 66044
Phone: 785-760-5035
Email: Fr. Curtis Carlson at friarcac@yahoo.com
Website: www.midamcaps.org
Carmelites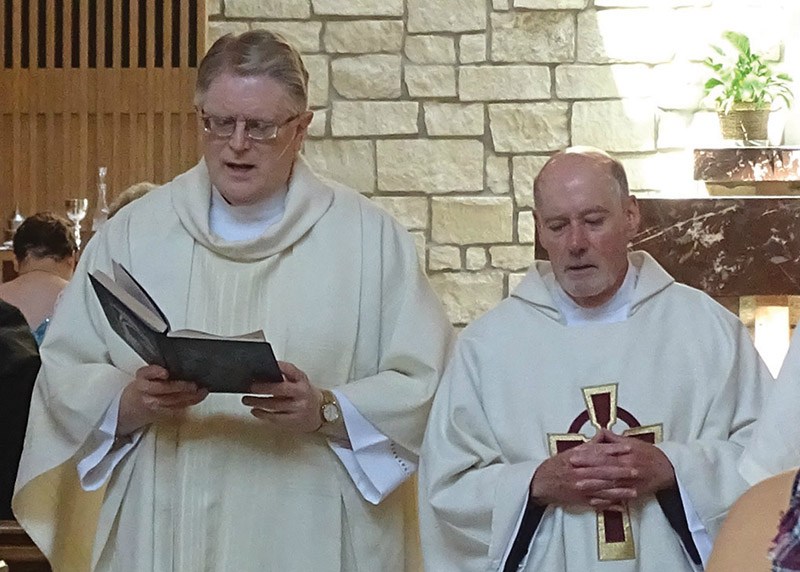 Leavenworth and Scipio
Fr. Paul Henson, Vocation Director 520-325-1537
phenson@carmelite.net
The Carmelites have been a part of the Archdiocese of Kansas City in Kansas since 1864 when two Carmelite friars arrived from Straubing, Bavaria, and asked permission of Bishop John Baptiste Miege to settle there. With the bishop's approval, the first foundation of the Carmelite Order in the United States was established in Leavenworth.
Women Religious
Sisters of Charity of Leavenworth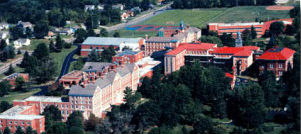 The charism of the Sisters of Charity of Leavenworth comes to us from St. Vincent de Paul and St. Louise de Marillac. One of Vincent's gifts to the Church was the care of the poor, especially widows and orphans. He also had the ability to be a bridge-builder between the rich and the poor, thereby empowering more people to be involved in ministry and living out the gospel.
Today our community carries on this same Vincentian charism "that of offering to our neighbor, especially the poor, every loving service in our power." SCL Constitution We live this mission out in a variety of ways: through our sponsored ministries which include Cristo Rey Kansas City High School; the University of Saint Mary in Leavenworth; Mount Saint Vincent Home in Denver; and our SCL Health System. We also live out our Vincentian mission in our individual ministries in parishes, schools, and social agencies.
Benedictine Sisters – Mount St. Scholastica
The Benedictine Sisters of Mount St. Scholastica are women rooted in the Benedictine charism who seek God and share our living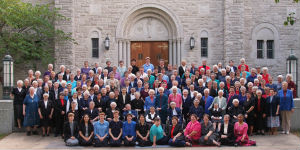 tradition. We are a community of 160 women called by our monastic profession to a balanced life of community, prayer, and ministry. Our ministry flows out of monastic living and focuses on empowering women. Our hunger and thirst for justice and peace focuses on works of charity as we respond to the root causes of injustice.
Sister Servants of Mary
We are a Religious Congregation, the Servants of Mary, Ministers to the Sick, consecrated and called by God to dedicate our entire lives to Him in the service of others. We want to make a difference in the world by our love and compassionate caring for the sick and suffering according to the values and life style of Christ, living the motto of our Congregation: "I was sick and you visited me" (Mt. 25:36)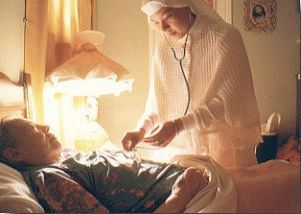 We go out to the abandoned, sick and dying, discovering the face of Christ in all we serve with the sole desire of alleviating the suffering of others for the love of God. Our mission is to care for the physical and spiritual needs of the sick, preferably in their own home environments, free of charge. This we believe is the uniqueness of our mission and calling.
Apostles of the Interior Life
Consecrated women and men who dedicate themselves to evangelization and to offering a service of spiritual assistance for the Interior formation of all who seek to know and love Jesus Christ.

The community of the Apostles of the Interior Life is distinguished in two branches, the priestly branch and the branch of consecrated women. Both constitute only one "association of the faithful, and originate from the same founder, Father Salvatore Scorza. Both the men and women have their charism, apostolic end, and rule of life in common.

The evangelical episode that inspires the community is Jesus' encounter with the Samaritan woman at Jacob's well (Jn 4). The Apostles of the Interior life want to realize their specific vocation (that finds its roots in a priestly spirituality) by means of meeting directly with the brethren to announce to them Jesus Christ, the Way, the Truth and the Life. They want to help them to discover Him as the "spring of water that wells up to eternal life" (Jn 4: 14).

In order to be able to fulfill this special kind of ministry, the Apostles of the Interior Life dedicate their lives to their personal and community formation. This formation consists of four fundamental pillars: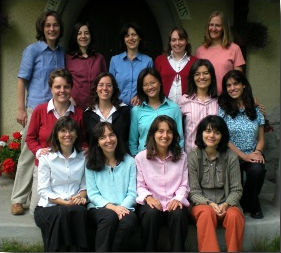 An Intense Prayer Life
The Cultural Preparation
Apostolic Activity
Community Life
Their main ministry includes providing Spiritual Direction and what is known as 're-evangelization'. They are often invited to preach spiritual exercises and days of recollection in parishes and retreat houses or to offer parish missions. Because they dedicate all their lives to prayer and to this ministry, they depend exclusively on God's Providence.

They are currently present in Italy, in Rome (where they were founded and the Mother house is) and in two campuses in the US: at the St. Lawrence Catholic Campus Center (University of Kansas) and at St. Mary's Catholic Center (Texas A & M).
The Poor of Jesus Christ
Our lives our centered around Our Lord Jesus Christ, and we spend time in adoration daily, Mass, community prayer, individual prayer, and seek to serve Christ in the poor. Community life is very important to us.
We are sustained by God's providence through friends and benefactors. We receive financial donations and food that allows us to give our lives completely to serving the Lord. We also hand-make rosaries and bracelets we sell to support ourselves.
We go out to the homeless on the streets to take lunches, juice, clothing, personal hygiene items, friendship and the love of the Lord. Each week we visit the Wyandotte County Juvenile Detention Center, praying, singing, and talking with the youth. We go to the homes of families with a statue of the Blessed Virgin Mary. We call it a Pilgrimage of the Blessed Mother. We pray the rosary together with the family and their friends and relatives. Then the statue of the Blessed Mother stays one week at their home while they pray the rosary daily as a family. The next week the statue goes to a different home. We have 9 different pilgrimage groups, 7 in Spanish, and 2 in English.
The Lord has provided us with a much bigger home, and we welcome women to stay with us who have whatever type of difficulty that would lead them to seek a place to stay.
We welcome others to join us in the Religious Life, or as an Associate. We currently have approximately 40 Associates, who receive formation, serve the poor together with us, and follow our Franciscan spirituality.