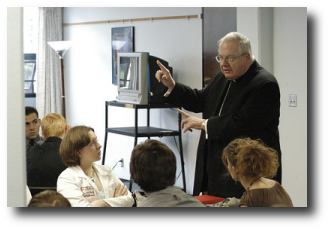 10 Suggestions for Vocation Discernment
Make a daily resolution in response to how Jesus is asking you to follow Him in your prayer. Keep a journal of these resolutions.
Share with others how you are becoming more open to what Jesus wants you to do with your life. Find out who will support you in your discernment. 
Remain chaste and only date those who understand discernment of God's will and who are willing to pray with you and for you.
Be close to Jesus the Eucharist. Go to daily Mass if you can, and take advantage of any chances to pray before the Blessed Sacrament through Adoration or Exposition. Give Jesus a chance to speak to you in silence. 
Rely on Mary. Pray the rosary if you can and ask Mary to give you her humility, generosity, gratitude, readiness and courage in responding to God's will. She will help you to 'Do whatever He tells you' (Jn 2:5).
Teach your faith. Get involved however you can in sharing your faith with others. This will not only stretch your faith, but also increase your thirst for knowing it better.
Go to confession regularly. Jesus loves you uniquely as your Savior, so you must rely on His love and call upon it regularly so that you will never give in to despair or discouragement. The habit of going to confession keeps sin from gaining any momentum in your soul.
Use the grace of your Confirmation. Know that Jesus is counting on you to make His love more real and visible in the world. Be generous in getting involved, serving the poor, and showing people the love of Christ. Don't be lazy and live your faith only for yourself.
Go to a discernment event or retreat. Check out our events page for ideas.
Share your discernment with your pastor, spiritual director or vocation director. Do not be overly secretive about your discernment. Try instead to get as much guidance as you can.