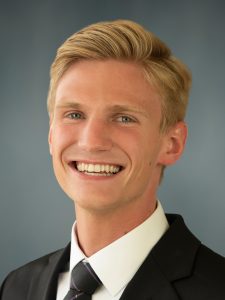 Date of Birth: May 2nd 1997
Sponsoring Parish: Sacred Heart in Shawnee
High School: Saint James Academy
Favorite saint: St. Stephen, St. Charbel, St. Thomas More, St. John the Baptist
Hobbies/Interests: Disc golf, enjoying the outdoors, reading, playing board games with friends, watching college football
My advice to men considering the priesthood:
Receive the sacrament of Reconciliation and the Eucharist often. The voice of God is much clearer when we are in a state of Grace. God is very intentional when He calls men to the priesthood, and we should respond promptly and with intentionality, like James and John who "left their father Zeb′edee in the boat with the hired servants, and followed [Jesus]" (Mark 1:20). Make time in your day or week for silence, so that you can hear the Lord speak.
Why I want to be a priest:
Primarily I want to do what God has planned for me and I believe that He is calling me to be a priest. I believe that He has given me many talents and qualities compatible with the priesthood as well as a strong desire to help others on their journey to the Lord. I also want to be able to bring Jesus to people through Mass and through the Eucharist.
Those who influenced my vocation:
Many married couples living out their vocations faithfully: my parents, my grandparents, John and LeAnn Hecke, Deacon Dana and Debbie Nearmyer, and many others. My older sister, Abby. Priests including Fr. Ken Riley (KC-St. Joseph), Fr. Pat Sullivan and Fr. Dan Morris, Fr. Scott Wallisch and Fr. Gale Hammerschmidt (Salina). As well as many seminarians.