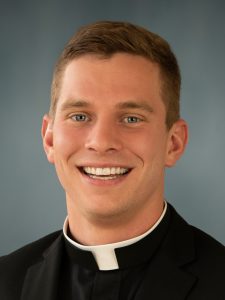 Birthday: April 30
Parish: St. Mary's in St. Benedict
High School: St. Cecilia HS – Hastings, NE
University: Kansas University
Seminary: St. John Vianney Seminary, Denver
Year in Seminary: Theology II
Favorite Saint: St. Philip Neri, St. Thomas More & St. John Paul II
My advice to men considering the priesthood: This may sound cliché, but always distinguish what your mind is telling you to do and what your heart desires you to do. This can easily be done through prayer – such as reading scripture and meditation. In addition, I recommend frequenting the sacraments. Chase after the Eucharist. Research and pray to the saints. Finally, surround yourself with good friends and have good accountability partners.
Why I want to be a Priest: My heart is always the happiest when I picture myself as a Catholic priest. God willing, if I am to be ordained one day, I think it would be pretty special to have Jesus Christ as my main companion every day that I wake up. Also, when I was on a FOCUS conference, Seek 2013 in Orlando, it was incredible to see the procession of over 100 priests. The beauty of the Catholic Church is endless and I want to be in the heart of it.
Hobbies & Interests: Most sports, running, music (guitar and piano), reading and the Catholic faith.
Influenced my vocation: My mother, father, and six siblings. Many priests from the Lincoln Diocese including: Fr. Christopher Goodwin, Fr. Joseph Walsh, Fr. Joseph Faulkner, and Fr. Thomas Brouillette. Mr. Larry Ernst from Hastings, Neb. Fr. Steve Beseau from the St. Lawrence Center.