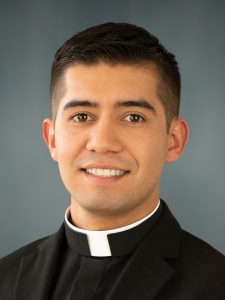 Birthday: November 26
Parish: Cathedral of St. Peter – KCK
High School: In Mexico
University: Conception Seminary College
Seminary: Kenrick Glennon, St. Louis
Year in Seminary: Theology I
Favorite Saint: Padre Pio; St Faustina
My advice to men considering the priesthood: If you feel that God is calling you to the priesthood, spend time with the Blessed Sacrament and He will speak in the silence of your heart. also, I recommend you to consecrate your life to the Virgin Mary and pray the Rosary.
Why I want to be a priest: I would like to be a priest because I want to serve the Catholic church with all my life, and I want to participate in the salvation of souls.

Those who influenced my vocation: I remember when I was 13 years old I knew a priest who was joyful and a good pastor, and some of my friends who have a strong faith encouraged me to respond to the call of God.
Hobbies & Interests: I like to read spiritual books.