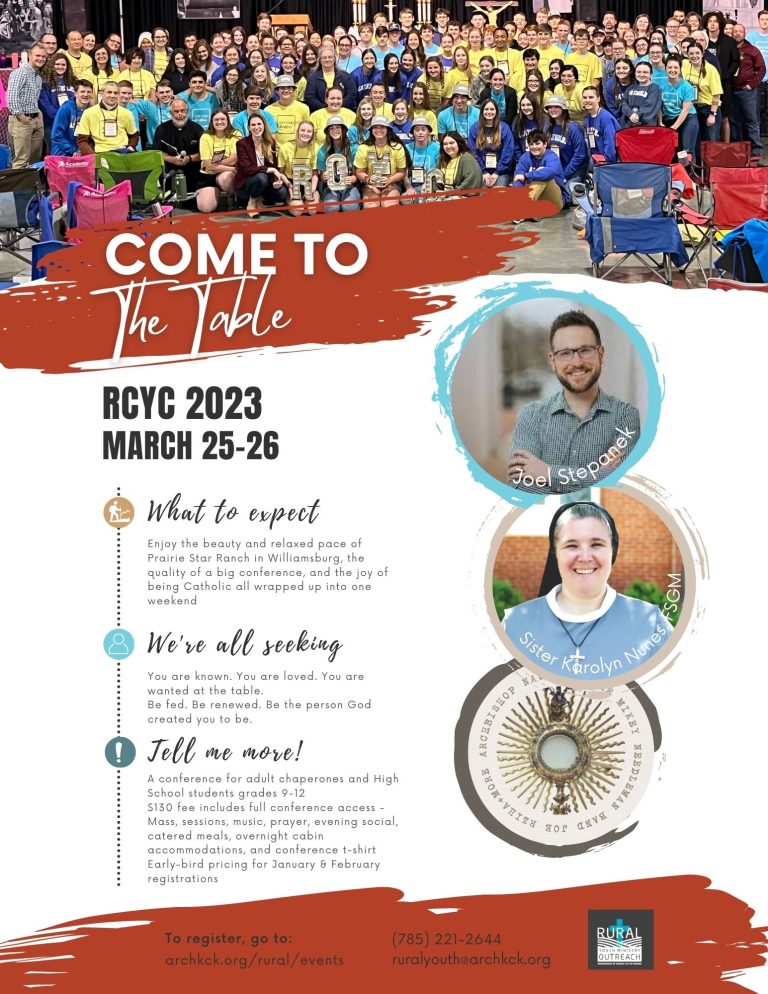 Conference Schedule info
On-site check-in begins 9 am Saturday, March 25

Conference concludes with lunch Sunday, March 26

Conference includes The Mikey Needleman Band; prayer; catered meals; coffee & snack bar; Mass; lady, guy, and adult breakouts; evening social with entertainment; conference emcee Sister Karolyn Nunes, FSGM; keynote speakers Joel Stepanek (Life Teen) and Joe Rziha; and so much more.
Accommodations
Bunkhouse and tent accommodations (we'll ask for those who would like to sleep in tents on individual registration forms and will use only if we exceed our cabin capacity)
Registration
Opens January 10, 2023

Group Registration button (below) is for the parish leader only

Individual Registration button (below) is for all participants – adults and youth

Weekend registration is $130 and includes meals, accommodations, all sessions, conference t-shirt & packet

Deposits are $50 per person and are non-refundable

Final payments are due March 20

Early bird discounts


$20 off with registrations completed and deposits postmarked in January

$10 off if registered with deposits postmarked in February

Yes-I-want-to-stay-in-a-tent bonuses available

Please contact Angie (ruralyouth@archkck.org) if you need to coordinate a custom payment arrangement

Please send all payments directly to the ArchKCK Youth Office, ATTN: RYMO, 12615 Parallel Parkway, Kansas City, KS 66109
Planning
We will have an optional parish group shirt contest on Saturday

Saturday evening's social theme is The Wedding Feast – country or country club attire requested. Prizes given!

Sunday, participants will be encouraged to wear their conference shirt and/or dress nicely for Mass

We ask that participants dress modestly (and comfortably). Please, no leggings and keep shorts at an appropriate length

Service opportunity: Bring personal hygiene items to share with our neighbors in need. Suggestions: shampoo, body wash or bar soap; deodorant; chapstick.

This is a BYOLC event (Bring Your Own Lawn Chair)

Our number one focus is to provide an opportunity for our kids to encounter our Lord throughout this conference. Adults, please pray for your kids and for patience before and during the conference.
Extras
Space is limited, so make plans with your group now

Each group needs to provide their own gender-specific chaperones (suggested ratio for this event 1:8)

Please let us know if you have any extra needs so that we may make appropriate accommodations

Questions or more info: ruralyouth@archkck.org or call/text (785) 221-2644

All are welcome, and we can't wait to see you!!