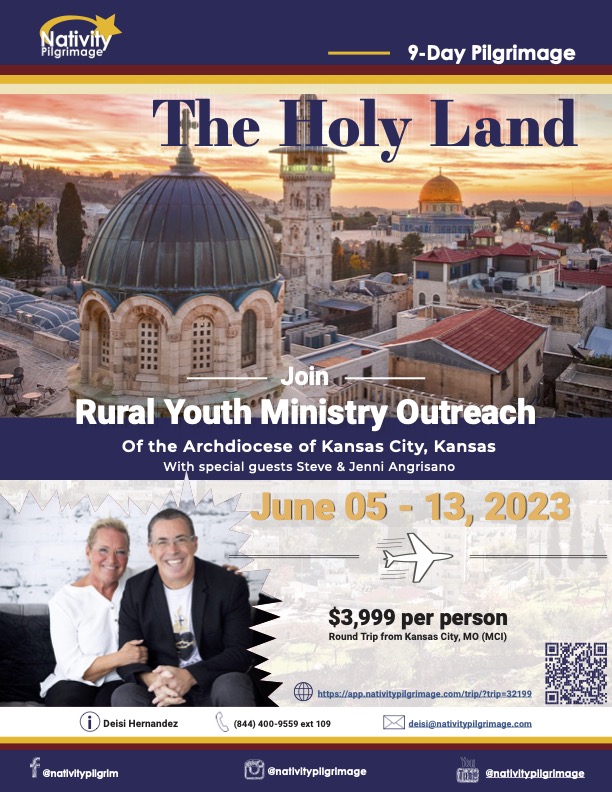 Registration for the Holy Land is closed, but we'd love to pray for you! 
We're gathering prayer intentions and carrying them with us as we travel to all the Holy Sites of the Holy Land! Just fill out this simple google form, and I'll pray for you along the journey!
Holy Land Pilgrimage details:

This trip is open to any age. Participants under 18 must be accompanied by a parent or guardian. Non-Catholics are very welcome to join us on this trip; we will be participating in daily Mass, prayer, & sacramental opportunities as a group. All are welcome.
We will walk in the footsteps of Christ, his Blessed Mother, and the apostles. Scripture stories will become reality for you as you visit Cana, Capernaum, The Sea of Galilee and so much more.
Initial registration and a $300 deposit is required to hold your spot.
Spots are not guaranteed, but will be filled on a first-come, first served basis. Don't wait! Our registration deadline is September 15, 2022.
Cost is $3999 per person which includes:

Round trip air from MCI (Kansas City)
Professional tour guide (we'll have George and he's the best)
First class hotels (double occupancy). Single occupancy is available for addition cost – see brochure
Daily breakfast and dinner
Program as per itinerary (includes land transportation, entrance fees and taxes)
Private motor coach
Daily mass
Protection Plan (medical insurance during trip)
The beauty, music, and inspiration of Steve Angrisano. Steve and his wife, Jenni, will join us on this pilgrimage. (His story of being in the tomb of Jesus was what inspired my momma to have a burning desire to go to the Holy Land)

Non-inclusions

trip insurance – this is highly recommended and based on your age – see below
lunches and items of personal nature
Gratuities ($100 will be added as a line item to the invoice and handled by the tour host)
Initial flights out of a different airport (other than MCI) are possible – contact Angie for more details.
Payments: Initial deposit and registration due by September 15, 2022. Payment in full is due February 24, 2023. You may set up any set of schedule you wish to make payments. For suggestions, email ruralyouth@archkck.org.
Fundraising is up to you and your family / parish. We can assist with ideas.
Please send all payments directly to Nativity Pilgrimage I 1300 N. Sam Houston Pkwy E, Suite 125, Houston, TX 77032
You must have a valid American Passport or obtain necessary visa/re-entry permit. Passports must be valid for 6 months after the scheduled return date.
COVID-19 specific information:

Israel has lifted their vaccination mandate – so, no vaccination required
The US has lifted their mandate that requires a negative test before re-entering the US
Should our trip dates be impacted due to Covid, our pilgrimage will be postponed to a later date
We will update here if Covid information changes!
A nurse will be traveling with us and will have test kits if needed
---