Adult Mini-Retreats / enrichment with Mike Patin February 25, 2023
Re-kindle your love for the Eucharist and re-center your lives on Him.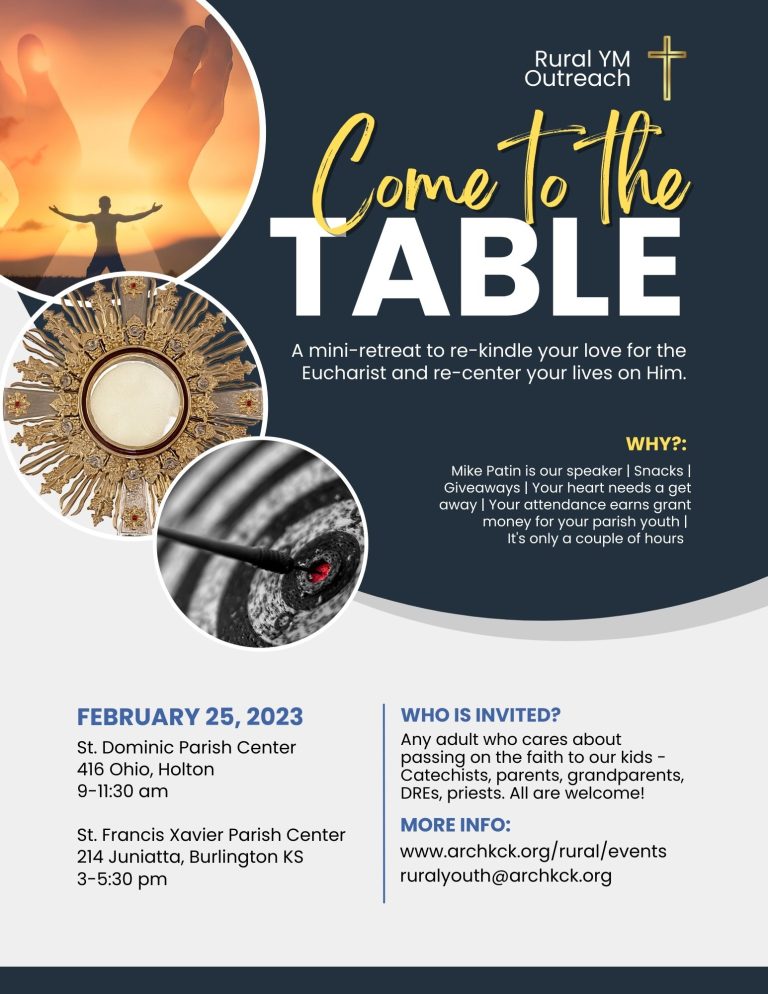 Rural outreach offers Fall Kickoff as well as spring semester Adult Enrichment opportunities each year. 

For the opportunities that include invite all adults from the parish, grants are offered based on rural parish attendance. RYMO sets aside a certain amount and it's divided by # of attendees. Parishes have earned several hundred dollars with effort given to inviting parishioners who care about kids.

We ask that grant money be used for the youth of the parish – however the pastor and youth leader see fit.

For February 25th evening session, St. Teresa, Westphalia offers a 6 pm Mass (just 20 min from Burlington) if anyone is interested in combining the evening with Mass.

Read more about Mike Patin here

No RSVP required. Come as you are. All are welcome (non-rural parishioners always welcome)
NATIONAL ADULT TRAINING CONFERENCES AND OPPORTUNITIES
Catholic Youth Ministry Convention – June, Phoenix, AZ
Lifeteen has an initiative to help you get your kids closer to Christ through resources, training, and teen events.
You can receive an all expense paid scholarship for one youth leader from your parish and your priest to attend CYMC in June with rural outreach.  This St. John Paul II Initiative also includes registrations for 5 teens and 2 adults to attend a Life Teen Steubenville AND online Life Support Resources for one year at no cost.
Please contact Angie (ruralyouth@archkck.org) for more details and the link to this LifeTeen Scholarship application.
OTHER
There are many other adult training conference and workshop opportunities available. 
If you find a good one, please share with us!
Apply for assistance to attend an adult youth ministry training event: ADULT YM CONFERENCE SCHOLARSHIP APPLICATION