Adult Enrichment February 2022
When we know how much we're known and loved by our Creator, life falls into place no matter what the secular world pressures us to believe. We all need this message. We need to embrace it and pass it on to our youth. Please join us.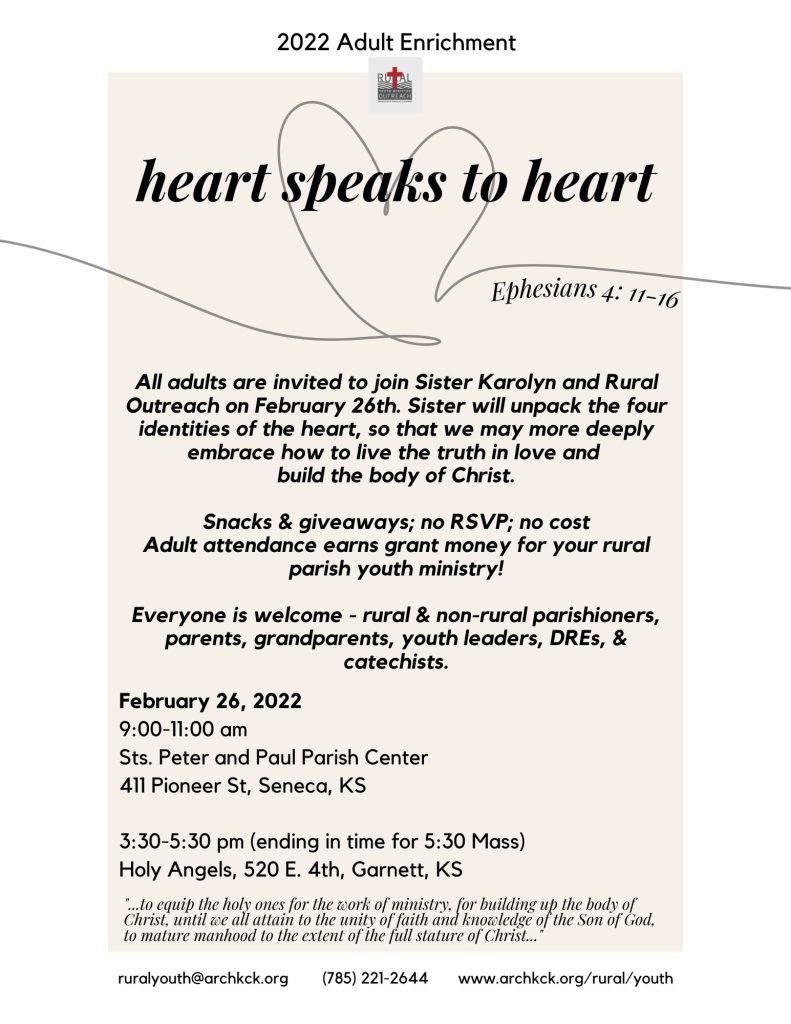 The southern enrichment session will be held just east of Holy Angels church in the gym of St. Philippine Duchesne School at 530 E 4th.
If you're interested in the information, but are unable to attend, we will provide an opportunity to view via Facebook Live @Saints Peter and Paul Parish – Seneca, KS or @ruralyouthkck.
ADULT TRAINING CONFERENCES AND OPPORTUNITIES
Catholic Youth Ministry Convention – June, Phoenix, AZ
Lifeteen has an initiative to help you get your kids closer to Christ through resources, training, and teen events.
You can receive an all expense paid scholarship for one youth leader from your parish and your priest to attend CYMC in June with rural outreach. This St. John Paul II Initiative also includes registrations for 5 teens and 2 adults to attend a Life Teen Steubenville AND online Life Support Resources for one year at no cost.
Please contact Angie (ruralyouth@archkck.org) for more details and the link to this LifeTeen Scholarship application.
OTHER
There are many other adult training conference and workshop opportunities available.
If you find a good one, please share with us!
Apply for assistance to attend an adult youth ministry training event: ADULT YM CONFERENCE SCHOLARSHIP APPLICATION
Upcoming WEBINARS:
National Federation for Catholic Youth Ministry (NFCYM)
Webinar Wednesdays with Life Teen
Center for Ministry Development Webinar Series