Vicar General
The position of vicar general is an appointed office in the administrative structure of the Archdiocese which is established to assist the Archbishop in the governance of the whole Archdiocese.  Every diocese is required to have at least one vicar general as prescribed in the Code of Canon Law, canon 475.  In the Archdiocese of Kansas City in Kansas the Archbishop has appointed two priests to serve as vicars general; one as Vicar General and the other as Vicar General-Vicar for Clergy.  The diocesan bishop freely appoints a priest to serve as vicar general and can freely remove him from office.  By virtue of office, the vicar general has the executive power over the whole diocese which belongs to the diocesan bishop by law, namely, the power to place all administrative acts except those, however, which the bishop has reserved to himself or which require a special mandate of the bishop by law.  The vicar general must report to the diocesan bishop concerning the more important affairs which are to be handled or have been handled, and he is never to act contrary to the intention and mind of the diocesan bishop.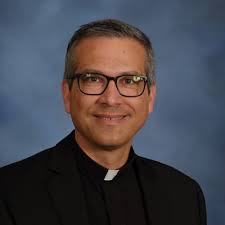 Fr. Brian Schieber, Vicar General-Vicar for Clergy
Office Phone: 913-402-3900   
E-mail: frschieber@stmichaelcp.org
Fr. Brian Schieber, one of the two vicars general, in addition to serving as the pastor of St. Michael the Archangel Parish in Leawood, also occupies the role of the Vicar for Clergy.  He is a member of the Archbishop's Administrative Team, but most often works out of his office at St. Michael the Archangel Parish.  
Vicar for Clergy
The Vicar for Clergy is responsible for personnel matters related to priests incardinated in the Archdiocese, as well as religious priests or extern priests who are serving in Archdiocesan ministries.  The Vicar for Clergy advises the Archbishop concerning clergy assignments and chairs the Archdiocesan Priests Personnel Committee.  He also chairs the Priestly Life Committee of the Presbyteral Council.   Comments or concerns related to the ministry or professional conduct of a priest should be directed to the Vicar for Clergy (see contact information below).
The Vicar for Clergy advises the Archbishop on policies concerning priests, both active and retired, and works closely with the Archdiocesan Human Resources Office concerning immigration regulations for foreign priests who minister in the Archdiocese.  The Vicar for Clergy also works closely with the Director of the Office of the Permanent Diaconate, who oversees the ministry of the Archdiocese's permanent deacons, and with the Archdiocesan Vocation Director and Director of Seminarians, who work to recruit and form men called to priestly ministry.
Additionally the Vicar for Clergy works with the Priests Continuing Education Committee to insure the ongoing formation of priests and collaborates with others in the Archdiocese to ensure that policies and programs exist to promote the spiritual, emotional and physical health and wellbeing of priests and deacons.