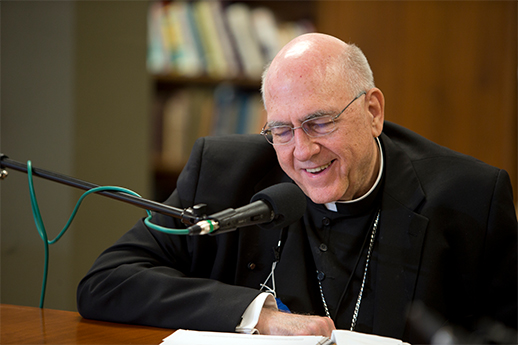 Radio Show and Podcast
Archbishop Joseph Naumann teaches the Catholic Faith by Interviewing those who live it.

Archbishop Naumann interviews Ruth Tisdale, the executive director of Advice and Aid pregnancy resource centers.  They discuss the issue of abortion, and how these centers help women in crisis pregnancies with information and support; and dispel some common myths about pregnancy resource centers.


Archbishop Naumann dialogues with Vince Anch, Executive Director of the Catholic Education Foundation and their upcoming gala event that celebrates the heroism of our Catholic school teachers: Gaudeamus which happens Saturday, October 23rd.


Archbishop Naumann dialogues with Marco Casanova, of Desert Stream Ministries about the Living Waters program.
"Living Waters provides a thoughtful and safe place to look at the ways we've become ensnared. Through weekly times of worship, teaching and small group prayer, our program leaders walk with participants in their struggle so they can live in freedom and truth. We pray for God's healing to restore broken areas of life so that people can "love well" as God intended.