MUTUALLY SHARED VISION
our sacred purpose:
Under our Heavenly Father's providential care, guided by the Holy Spirit and in humble response to the call of Jesus to go and make missionary disciples, we the Catholic Church of Northeast Kansas are committed to embody the life and mission of Jesus through Word, Sacrament, and Service so that all God's people in the Archdiocese may hear and encounter the living Christ and the Joy of the Gospel.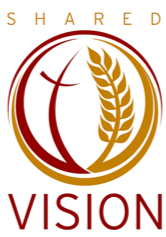 our ten Year Statement of vision:
The Catholic Church in Northeast Kansas: Growing as disciples of Jesus, making disciples for Jesus.
our five Overall pastoral priorities
Conversion – Evangelization – All forms of catholic education – Outreach to those in need – Stewardship
OUR THREE KEY INITIATIVES:
What we will address and develop through 2022.
Build a culture of evangelization across the Archdiocese
Goals:
With guidance from the Archdiocesan Office of Evangelization, parishes will accelerate the cultural shift to individual missionary discipleship by fostering Eucharistic amazement, scriptural engagement, personal prayer, and intentional accompaniment through October 2022. Parishes will submit annual reports documenting evangelical activity and progress on the "Enflame Plan".  

Using resources from the Enflame Initiative, parishes and schools will grow and equip missionary disciples by offering experiences that prepare and empower individuals to enflame hearts, homes and communities through October 2022.

Foster the living of a simple way of life that includes friendship, good conversation and the Rosary by expanding the School of Faith's Movement of the Holy Family to 11,000 subscribers and 1,000 members by October 31, 2020.
Strengthen the vocation of marriage and family life
Goals:
By Advent 2021 the Office of Marriage and Family Life will help parishes to enflame homes across the Archdiocese by providing practical tools for enriching marriages, strengthening Catholic identity, fostering family prayer and family relationships, promoting better spiritual conversations, as well as enabling Catholic homes to better celebrate religious seasons.

The Office of Children's Catechesis will help parishes better equip parents to be the primary teachers of the faith by completing and distributing all approved materials, including the "Parents as First Teachers of the Faith" video series, and supplying the appropriate directions for their use by June 01, 2021.
CULTIVATE relationships by engaging in the Corporal and Spiritual Works of Mercy
Goals:
In order to grow as companions in faith, by Pentecost 2021, all parishes within the Archdiocese will have entered into an intentional partnership with at least one other parish to engage in projects of mercy and support in order to better encounter Christ in one another.  For parishes that are currently twinned, a climate of collaboration will be fostered through coaching and sharing of best practices.

By June 01, 2021, each parish, alone or in collaboration with other parishes, will commence outreach that is inclusive and supportive of parishioners with disabilities beginning with participation in faith formation programs (including sacramental preparation) and participation in the liturgy.