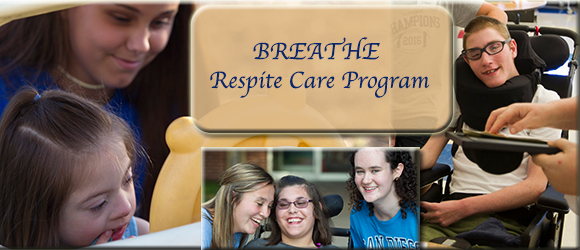 To register your loved one, click on the following link:
To register as a volunteer, click on the following link:
---
The BREATHE staff includes highly trained individuals who provide a fun and safe environment for our participants. The goal is that every parent or caretaker feels confident leaving their loved one in a safe, fun and exciting environment.
The BREATHE staff includes 2 Registered Nurses who are on staff to handle all medical needs such as G-Tube feedings, medication distribution, toileting, and any other medical needs.
BREATHE also has an Adaptive Physical Education (PE) Teacher who provides exciting and fun physical activities to get participants moving. Additionally, we have a Music Therapist who engages participants through music. Finally, we have a large staff of loving and caring volunteers of all ages.
Each event has a flexible yet consistent schedule.
4:00pm – 5:30pm: Activity Choice
5:30pm – 6:15pm: Meal*
*BREATHE provides a well-rounded meal that includes meat, vegetables, and a dessert. Individuals must provide a special diet meal if needed.
6:15pm – 7:30pm: Activity Choice
7:30pm – 7:45pm: Clean Up
7:45pm – 8:00pm: Prayer
8:00 pm: Dismissal
Choices for activities can vary from week to week. Typical activities are:
Basketball
T Ball
Bean Bag Toss
Parachute
Spin Disc
Outdoor Play (weather permitting)
Seasonal Craft Project
Painting
BREATHE also provides special activities that range week to week such as:
Therapy Dogs
Face Painting
Balloon Artist
Fire Truck Visit
Ambulance Visit
Visit from Santa Claus