Liberated by Truth:
Pro-Life Conference
---
Saturday, October 2, 2021
9:00 am – 1:00 pm
---
St. Michaels the Archangel Catholic Church
14251 Nall Ave, Overland Park, KS 66223
---
Adults – $15; Students – $10; Religious – Free
Though the fee helps to cover the conference material, continental breakfast and boxed lunch, we do not want it to prohibit anyone from attending. If you would like to attend, but are unable to cover the registration fee at this time, scholarships are available. Please contact mjoerger@archkck.org.
You are also invited to the "Life Will Be Victorious" Celebration later that day which includes a complimentary dinner. Click HERE for details.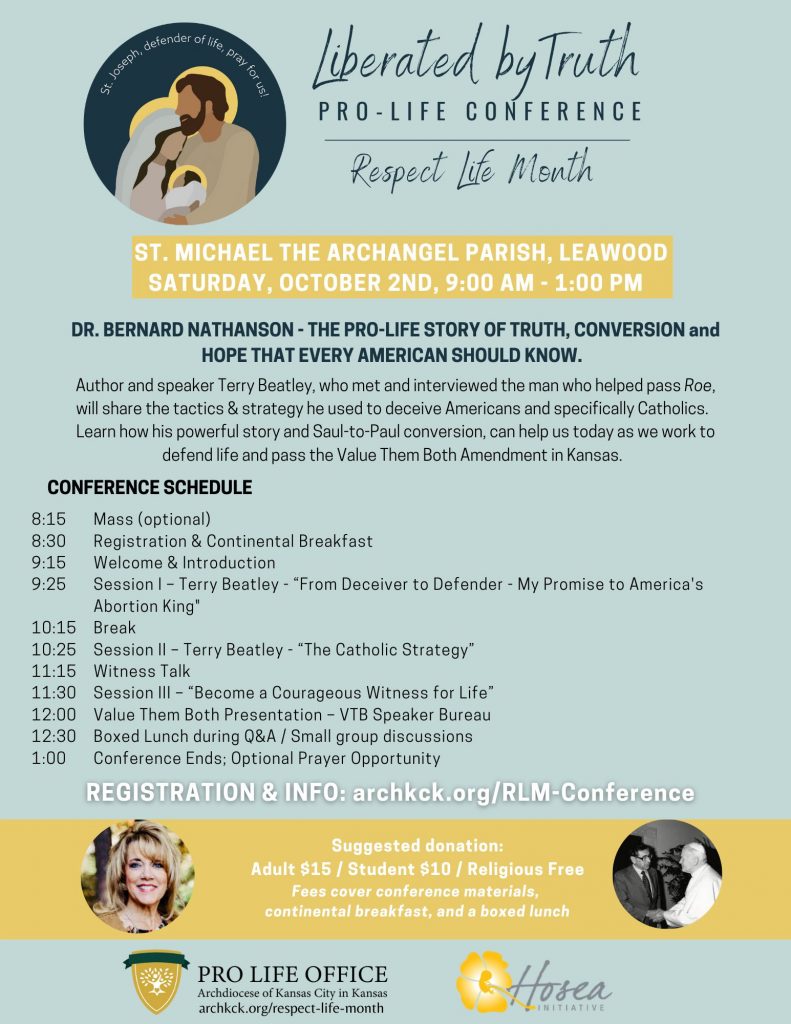 ---
Click HERE to download flyer (full page)
Click HERE to download flyer (half page)
Click HERE to see video message from Terry Beatley about the upcoming conference.
---

Event Details
8:15 am Mass (optional)
8:30 am Registration & Continental Breakfast
9:15 am Welcome & Introduction
9:25 am SESSION I: Terry Beatley – "From Deceiver to Defender – My Promise to America's Abortion King"
Commissioned by Bernard Nathanson, MD to teach the little-known history of how he unleased abortion onto America and to deliver his personal parting message, Terry Beatley presents NARAL's 8-point propaganda strategy that ended America's historical protection of the unborn. Hear what made Dr. Nathanson, once known as "America's Abortion King," pivot from despair to becoming a staunch defender of life, and ultimately to receiving forgiveness and redemption in Jesus Christ.
10:15 am Break
10:25 am SESSION II: Terry Beatley – "The Catholic Strategy"
This presentation investigates the infamous Supreme Court case that legalized abortion on demand, Roe v Wade, This presentation explains the strategy NARAL co-founders, Dr. Nathanson and Lawrence Lader, used to deceive Catholics into rationalizing the legalization of abortion, by undermining the moral authority of the Church. Included in this talk are actual minutes from NARAL Board of Director meetings and personal reflections from Dr. Nathanson's writings. The "Catholic Strategy"…stealthy, effective and deadly.
11:00 am SESSION III: Witness Talk
11:15 am SESSION IV: Terry Beatley – "Become a Courageous Witness for Life"
The main mission of the Liberated by Truth Conference is a call to action. This session will teach us how to leverage the pro-life and Christian conversion story of Bernard N. Nathanson, M.D. and motivate us to become bold witnesses for the sanctity of human life. Hosea Initiative's own Counter Catholic Strategy is presented highlighting God's beautiful gift of human life and our call to protect the unborn.
11:50 am SESSION V: Value Them Both Presentation by Value Them Both Speaker Bureau
Recent Court rulings have paved the way way for unlimited abortion, paid for with your tax dollars. You can reverse this course by voting for VALUE THEM BOTH in August of 2022. Learn how the many ways you can help make this happen.
12:30 pm Boxed Lunch; during Q&A / Small group discussions
1:00 pm Conference Ends; Optional Prayer Opportunity
"The Hosea Initiative is a great fit to assist those in the Church to proclaim the dignity of every human life. I pray God's blessings upon Mrs. Beatley and her ministry. May it be used to transform the hearts of many and save the souls of millions." — Archbishop Joseph F. Naumann of the Archdiocese of Kansas City in Kansas Chairman, USCCB Pro-Life Activities Committee
---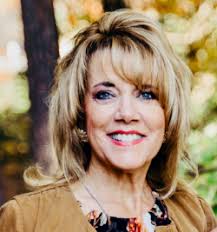 Terry Beatley
Terry Beatley is the author of What If We've Been Wrong? Keeping my promise to America's "Abortion King." In a rare interview in 2009, Terry accepted the pro-life mantle of Dr. Bernard Nathanson, cofounder of NARAL. She promised to arm Americans with the truth of how he deceived America with the lie that abortion is healthcare. Terry is president of Hosea Initiative, a 501(c)(3) educational organization, focused on changing hearts and minds about abortion by bringing this healing truth. She also consults political candidates on how "life" is the winning issue through Broaden the Base Communications, LLC.
EWTN Interview with Terry Beatley on 7/15/2021
---

Hosea Initiative Mission
Unify Catholics around a culture of life ethic by fulfilling the promise made to Dr. Bernard N. Nathanson, once known as America's "Abortion King" who cofounded NARAL and trained Planned Parenthood.
---

Please also join us for our evening event!
(Also at St. Michael the Archangel Catholic Church)
Event Details
5:00 pm Mass with Archbishop Joseph Naumann
6:00 pm Complimentary Meal & Live Music by Noah Baniewicz Band
Coolers welcome, bring picnic blankets & chairs, yard games provided
7:00 pm Holy Family School of Faith Candlelight Rosary
7:30 pm Bella Movie shown in the SMA School Gym
FREE! Bring your own chairs and blankets