"Value Them Both" Kansas Amendment
The "Value Them Both Constitutional Amendment needs to be adopted by the citizens of Kansas. We need elected officials who will take action to defend the innocent life of the unborn and their mothers."
~ Archbishop Naumann in his "Voting is a Moral Responsibility" message
Dustin Colquitt, Former KC Chiefs Punter, is featured in this powerful video that educates on the Kansas Supreme Court's decision on abortion and inspires Kansans to be a voice for the voiceless.
Why do we need the "Value Them Both" Constitutional Amendment?
Since 1973, there has been an estimated 62 million lives lost to abortion in the U.S. Over the last 20 years, thanks to the work of pregnancy resource centers and through the passage of pro-life laws which place "life-saving limits" on the abortion industry in Kansas, our state's abortion rate has been reduced by almost 50%, to roughly 6,000 per year.
Some of these common-sense and well-supported pro-life laws include providing women with information about a baby's development and potential health risks associated with abortion, ensuring parents are informed about minors seeking an abortion, and bans on horrific late-term, partial-birth, and taxpayer funded abortions.
In April of 2019, the Kansas Supreme Court issued a ruling on Hodes & Nauser vs. Schmidt that "discovered" a right to an abortion in the 1859 Kansas Constitution. This decision puts at risk all existing pro-life laws that protect women and their unborn children, and clears the way for a nearly unfettered abortion industry in Kansas. This ruling also stripped Kansas citizens of their voice to pass reasonable laws regarding this issue.
The "Value Them Both" state constitutional amendment is the only response that can reverse the ruling. This amendment will not ban abortion altogether, but it will once again allow Kansans, through their elected officials, to enforce reasonable laws restricting abortion and safeguarding the health of mothers.
To read the text of Kansas Bill SCR 1613 – "Value Them Both Amendment", click here.
Current Situation of the "Value Them Both" Amendment
On Friday, February 7, 2020, the "Value Them Both" Amendment failed to reach the necessary 2/3 majority vote in the House. It received 80 YES votes, but needed 84. Thank you to everyone who prayed, fasted, and contacted their Representatives in support of the Amendment. We are disappointed that it did not pass and will continue to work to educate and change hearts of the Representatives who voted NO. "Value Them Both" will likely come up for a vote again in the next legislative session with the new Legislature.
List of Representatives and Senators who voted NO on the Value Them Both Amendment:
House Representatives who voted NO (Districts in the Archdiocese)
Mike Amy (Lawrence) 785-296-7632 mike.amyx@house.ks.gov
Barbara Ballard (Lawrence) 785.296.7697 barbara.ballard@house.ks.gov
David Benson (Overland Park) 785.296.7680 David.Benson@house.ks.gov
Tom Burroughs (KCKS) 785 296-8153 tom.burroughs@house.ks.gov
Stephanie Clayton (Leawood, OP, Prairie Village) 785.296.7548 stephanie.clayton@house.ks.gov
Pam Curtis (KCKS) 785-296-7430 pam.curtis@house.ks.gov
Stan Frownfelter (KCKS)785 296-7630 stan.frownfelter@house.ks.gov
Jim Gartner (Topeka) 785-296-7673 jim.gartner@house.ks.gov
Broderick.Henderson (KCKS) 785-296-7697 broderick.henderson@house.ks.gov
Dennis Highberger (Lawrence) 785-296-7122 dennis.boog.highberger@house.ks.gov
Cindy Holscher (Olathe) 785-296-7659 cindy.holscher@house.ks.gov
Eileen Horn (Lawrence) 785-296-7652 eileen.horn@house.ks.gov
Jan Kessinger (Leawood/OP) 785.296.7436 Jan.Kessinger@house.ks.gov
Annie Kuether (Topeka) 785-296-7669 annie.kuether@house.ks.gov
Nancy Lusk (O.P) 785-296-7651 nancy.lusk@house.ks.gov
Cindy Neighbor (Shawnee) 785-296-7690 cindy.neighbor@house.ks.gov
Jarrod Ousley (Merriam, Mission, OP) 785-296-7366 jarrod.ousley@house.ks.gov
Bill Pannbacker (Marysville,Summerfield,Blue Rapids) 785.296.7637 Bill.Pannbacker@house.ks.gov
Brett Parker (O.P.) 785-296-5413 brett.parker@house.ks.gov
Jeff Pittman (Leavenworth) 785.296.7522 Jeff.Pittman@house.ks.gov
Louis Ruis (KCKS) 785-296-7885 louis.ruiz@house.ks.gov
Susan Ruiz (Shawnee, Lenexa) 785-296-7482 susan.ruiz@house.ks.gov
Jerry Stogsdill (Prairie Village) 785-296-7692 jerry.stogsdill@house.ks.gov
Freda Warfield (Topeka) 785-296-7656 freda.warfield@house.ks.gov
Virgil Weigel (Topeka) 785-296-7104 virgil.weigel@house.ks.gov
Valdenia Winn (KCKS) 785-296-7630 valdenia.winn@house.ks.gov
Kathy Wolfe Moore (KC) 785.296.0424 Kathy.Wolfemoore@house.ks.gov
Brandon Woodard (Lenexa, Olathe) 785-296-5593 brandon.woodard@house.ks.gov
Rui Xu (Mission, P.V.) 785-296-7686 rui.xu@house.ks.gov
Senators who voted NO (Districts in the Archdiocese)
Barbara Bollier (Mission Hills)
Marci Francisco (Lawrence)
David Haley (KCKS)
Anthony Hensley (Topeka)
Tom Holland (Baldwin City)
Vic Miller (Topeka)
Pat Pettey (KCKS)
John Skubal (Overland Park)
Dinah Sykes (Lenexa,Olathe,OP,Shawnee)
Click Here for the full voting record of this Bill. To find out who your representative is and contact information, visit openstates.org/ks/legislators/.
What can you do to help?
1. Join the Kansas Rosary Crusade! Our Lady of Guadalupe, please pray for us!
Please join in the Kansas Rosary Crusade until we succeed in the passage of the "Value Them Both" Amendment. To join: https://kansasrosarycrusade.org/
2. Become Educated! Help us share the following resources on "Value Them Both" to raise awareness and help educate your family, friends, and parish community on the amendment.
3. Invite a speaker to come talk to your group. Please contact Debra Niesen in the Pro-Life Office (dniesen@archkck.org) or Chuck Weber at Kansas Catholic Conference (chuck@kansascatholic.org) to schedule a speaker to present on the "Value Them Both" Amendment.
4. VOTE! While the Catholic Church does not tell people how to vote, you as an individual can research the candidates to know their position on pro-life issues and how they have voted on "Value Them Both". Educate your friends and family with this information and encourage them to vote pro-life!
Educational Resources on VTB
1. "Value Them Both" flyer/bulletin inserts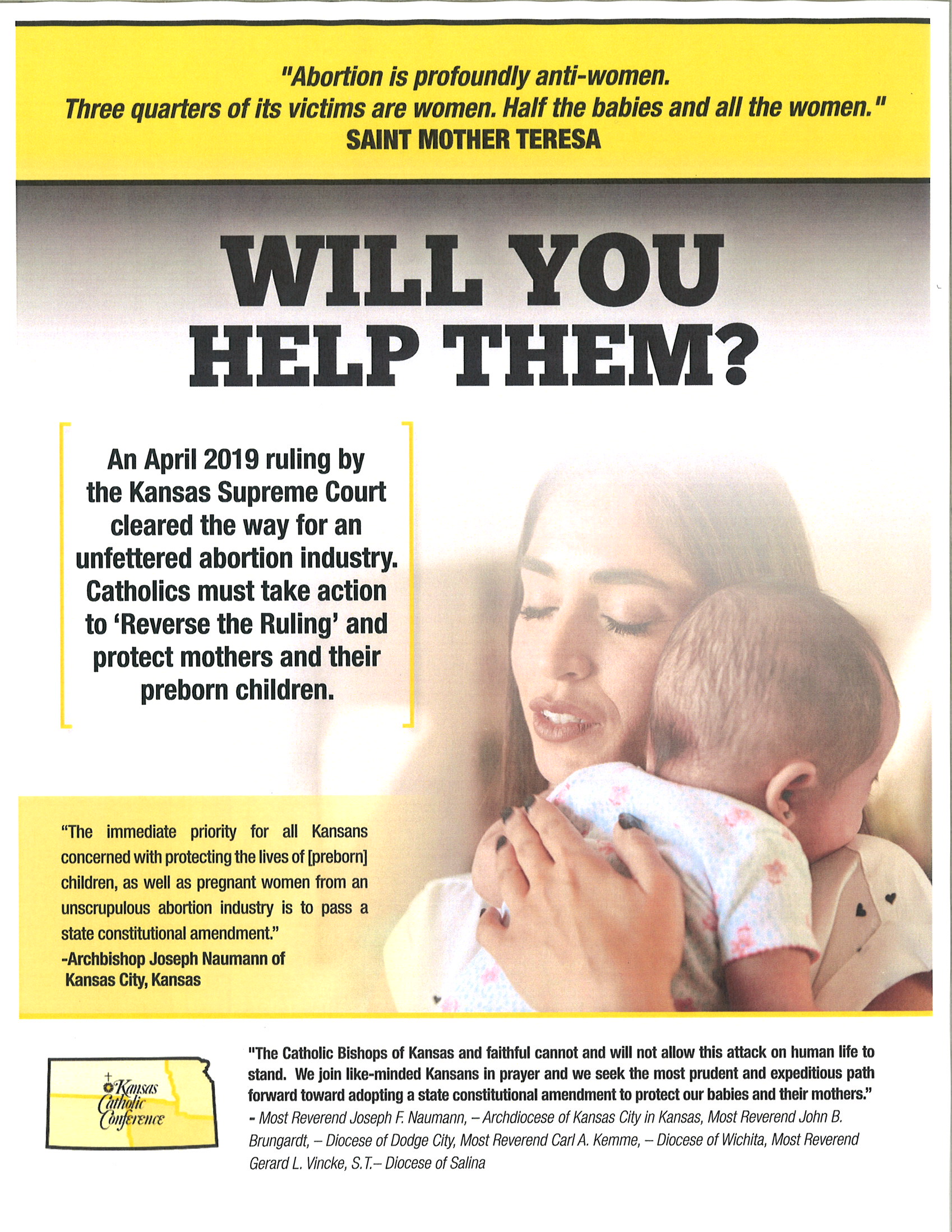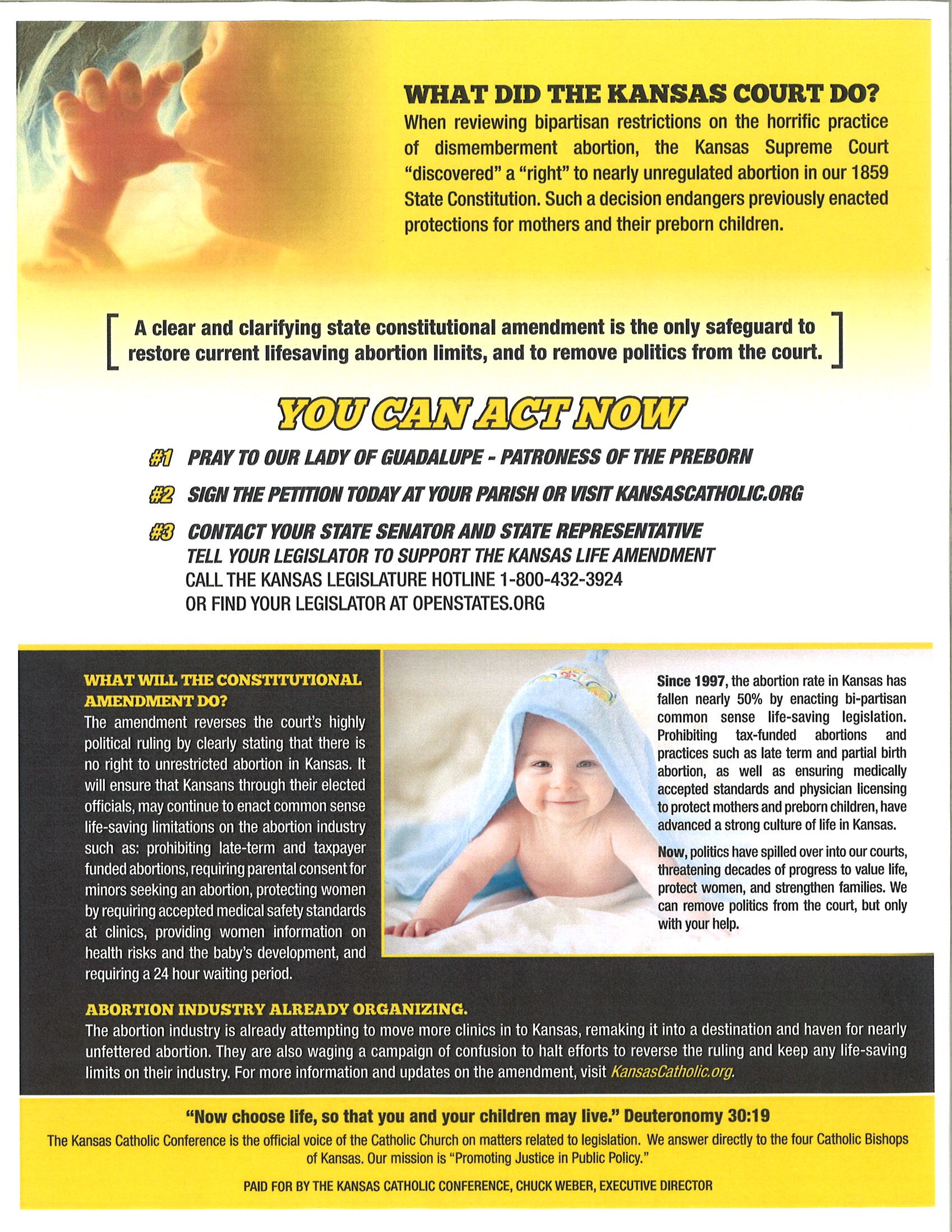 Click Here for a Printable Version of the above flyer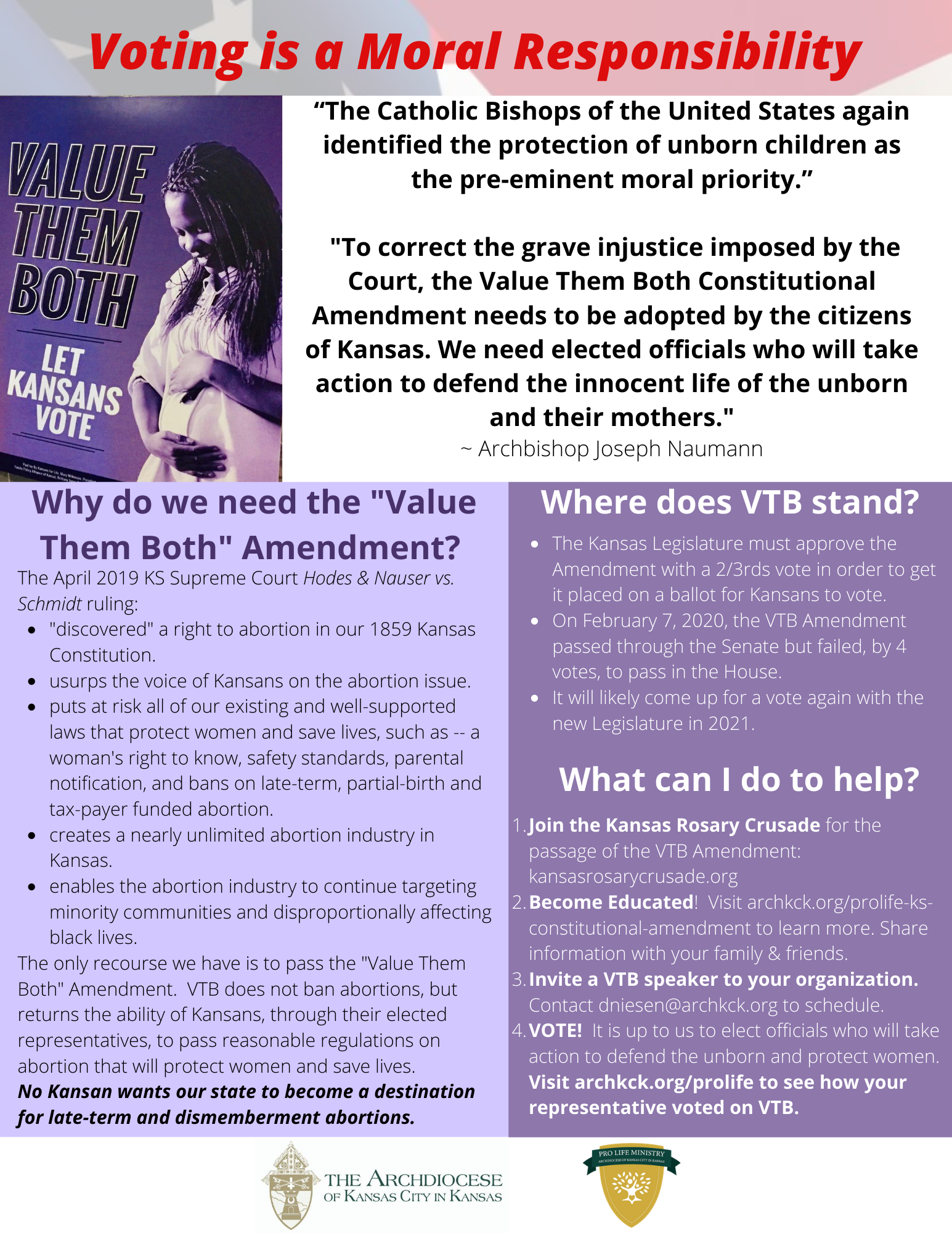 Click Here for a printable version of the above flyer.
2. Statement By Archbishop Joseph F. Naumann
Kansas Supreme Court Ruling Discovering a Right to Abortion in the Kansas Constitution
April 27, 2019
Sadly, while the Kansas Supreme Court's claim to discover a right to abortion in the Kansas Constitution is not surprising, considering the composition of the Court, it is nevertheless shocking. Today's decision is just the most recent example of an effort to change the very nature of our government. Similar to the United States Supreme Court Roe v. Wade and Doe v. Bolton decisions in 1973, the Hodes & Nauser v. Schmidt decision is an example of imperial courts usurping the role of duly elected representatives to decide public policy on key social issues.
The Court's claim of a right to abortion lying hidden in the Kansas Constitution for more than 150 years is absurd. The Court's ruling is more an exercise in creative writing than a serious effort to examine the constitutionality of a statute restricting dismemberment abortions.
Ironically, the Court cites the section of the Kansas Constitution that affirms clearly a right to life, not a right to destroy human life. With the advancements of embryology and ultra-sound technology providing a window into the womb, the scientific evidence affirming the humanity of the unborn child is even stronger than in 1973. The Court's decision has no basis in law or science.
As the movie"UnPlanned" — which depicts the true story of Abby Johnson's conversion from a former Planned Parenthood clinic director to pro-life advocate — makes clear, abortion is no friend to women. Abortion providers prey on women at a time of great vulnerability to make a choice that not only kills their child but inflicts deep scars on the hearts of mothers. For women and men who have participated in the abortion of a child, I encourage you to contact the Project Rachel Ministry at 913-621-2199 or projectrachelkc@archkck.org to assist you in finding healing and peace.
The immediate priority for all Kansans concerned with protecting the lives of unborn children, as well as pregnant women, from an unscrupulous abortion industry is to pass a State Constitutional Amendment aimed at making it impossible for future Courts to contort the Kansas Constitution in an effort to claim it contains a right to abortion. I urge Catholics to join with thousands of other concerned Kansans to work for the passage of a Constitutional Amendment to correct the grave error of the Kansas Supreme Court's ruling.
Eventually, Kansans who do not wish to be ruled by a judicial oligarchy must also reform the selection process for judges that masquerades as non-partisan, while producing judicial candidates who appear intent on imposing an ideology that was not in the minds of those who wrote the Kansas Constitution, nor is consistent today with the values of most Kansans.
3. Shepherd's Voice Podcast with Archbisohp Naumann
Listen to the Shepherd's Voice with Archbishop Nauman and Chuck Weber with an Update on Value Them Both Amendment (recorded March 27, 2020). Click Here To Listen
4. May 14, 2020 LEAVEN Article
5. Value Them Both video featuring former Kansas City Chiefs punter Dustin Colquitt:
Click here to view the video. Please share widely!!
6. Kansans For Life: Common Misconceptions and Conversation Points
The abortion industry, and some of the legislators who oppose Value Them Both, have used deceptive tactics to try and confuse Kansans. Our friends with Kansans for Life put together the following to arm readers with information to fight back against the deceptions:
Deception #1: "I'm pro-life but will only support Value Them Both if it is placed on the November 2020 Ballot instead of August."

Answer: Let's be honest, the abortion industry has unlimited financial resources and a sympathetic media. The August 2020 ballot gives Value Them Both the best possible chance of winning (also, despite what some are saying, every registered voter can cast a ballot in August on the amendment). The abortion industry is fully behind placing the measure on the November ballot.
With an estimated 15 lives a day at stake, why are these so-called "pro-life" legislators not linking arms with the pro-life community? Instead they are playing politics and disregarding human life.
Deception #2: "Value Them Both bans all abortion and does not grant exception for rape, incest or to save the life of the mother."

Answer: Value Them Both is not a ban on abortion. It simply returns to the people, through their elected officials, the ability to place limits on the abortion industry. It would also keep common sense measures in place, like prohibition on late-term and taxpayer funded abortions, parental notification requirements, informed consent and other lifesaving measures.
Deception #3: "I could support Value Them Both if it enshrined a right to abortion in cases of rape, incest and life of the mother."

Answer: These situations are incredibly heartbreaking and the mothers involved are incredibly vulnerable. Once again, opposition legislators are playing "Gotcha politics." However, opposition politicians are the ones who are endangering women. Creating a "right" to abortion in these difficult cases could remove all regulations on the abortion industry in these circumstances. Can't we all agree that a teenager who has been assaulted deserves the protection of parental notification? This is just one example of the dangers this situation poses for women.
Deception #4: "Recent court rulings would not lead to taxpayer funded abortion."

Answer: Currently, 16 states pay for abortions out of their state Medicaid funds. Nine of these states were forced to pay for abortions due to court rulings. In Connecticut, for example, court rulings paved the way for public funding of abortions and in 2018, 75% of their state's abortions were paid for by Medicaid. Kansas state courts used the Connecticut court case to justify its own ruling, thus clearing a path for taxpayer funded abortion in our state.
Deception #5: "The Federal Hyde Amendment would stop state taxpayer funded abortions"

Answer: The Hyde Amendment only deals with federal tax dollars. It does not stop state dollars from being used for abortion. Even Planned Parenthood admits this.
Now that you have been armed with this information, please contact the following legislators and urge them to stop late-term and taxpayer funded abortions from coming to Kansas. Tell them to support the Value Them Both Amendment!
The Link between the Value Them Both Amendment and Medicaid Expansion
Statement made by Speaker Ron Ryckman,Kansas House District 78 – Olathe

On February 7th, the House fell four votes short of putting the Value Them Both Constitutional Amendment on the ballot for voters to decide. Some have said Medicaid Expansion and the constitutional amendment are not related to each other.
However, based on what's occurred in other states, there is concern at the Statehouse that passage of Medicaid Expansion, without passage of the constitutional amendment, would create a loophole in Kansas that would allow for taxpayer-funded abortions.
Here is how that could happen.
Expanding Medicaid in Kansas is estimated to move 55,000 Kansans from private insurance to taxpayer funded Medicaid. Under the Kansas Supreme Court decision in Hodes & Nauser v. Schmidt, any state restriction on abortion must pass the highest hurdle of constitutional scrutiny, known as strict scrutiny. Almost no regulations will survive this standard and funding restrictions have already been struck down in other states applying this standard. In fact, our court already cited those decisions favorably in its Hodes decision.
So with 55,000 people moving to taxpayer funded Medicaid, and our existing restrictions on using those state Medicaid dollars for abortion in jeopardy, there is a very real risk that expanding Medicaid without first addressing the Hodes & Nauser decision results in taxpayer funded abortions in Kansas.
This isn't just hypothetical.
Consider Alaska, their state expanded Medicaid in 2015. Since that time, the number of taxpayer-funded abortions steadily climbed from 33 % in 2015 to 44% in 2016. By 2017 51% of the abortions in Alaska were taxpayer-funded. This has been attributed to the fact that, once Medicaid was expanded, Alaskans opted to leave the private insurance they had and switch to taxpayer-funded Medicaid coverage.
Constitutional scholar and attorney Paul Linton testified to the House Health and Human Services Committee on the issue this week. He said, "Given the overwhelming weight of state constitutional authority, it is a virtual certainty the Kansas restrictions on public funding of abortion would be struck down, if challenged on the basis of the opinion in Hodes."
While others have argued that federal law would prohibit the scenario Linton described, Linton dismissed that argument. He explained that under federal law, in what's known as the Hyde Amendment, federal taxpayer dollars cannot be used to pay for abortions. However, since Medicaid is funded by a mix of both federal and state taxpayer dollars, the Hyde Amendment does not prevent the use of Kansas taxpayer dollars for abortions if Medicaid expansion were to be implemented without passage of the Value Them Both Constitutional Amendment first.
Some have called the linkage of expansion and the Constitutional amendment a scare or bullying tactic.
But, the fact is, we don't have to look far to see what has happened in other states.
It's important for the Legislature to do its due diligence on this issue, and every funding issue, to make sure our decisions represent the intent of how Kansans want their taxpayer dollars spent.