You may order brochures customized for your parish to invite stewardship participation. A sample brochure has been provided. This brochure is meant to be distributed at Mass during a stewardship commitment weekend, or can be mailed to those who receive weekly envelopes. The Archdiocese will underwrite the cost to prepare the artwork, the parish will pay for the printing and delivery.
STEP ONE
View the sample brochure and decide what parish ministries and activities you wish to list.
Prepare a list by category. Your list may not exceed the number of items shown in the sample, but can be different activities as you wish.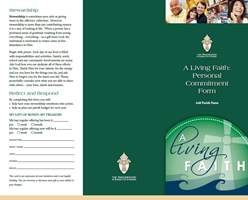 STEP TWO
Decide how many brochures you need. A price list is shown below.
Mail a check to the address below. Make check out to the Archdiocese of Kansas City in Kansas.
STEP THREE
Place your order request including the quantity desired by email to stewdev@archkck.org. Only the quantity breaks listed are available.
Attach a list of ministries and activities to be listed.
Once the order is received a proof will be prepared and emailed to you for approval.
Then mail a check for the printing and shipping to Office of Stewardship and Development, Archdiocese of Kansas City in Kansas, 12615 Parallel Parkway, Kansas City, KS 66109. ONLY WHEN THE CHECK HAS BEEN RECEIVED WILL YOU ORDER BE CONFIRMED AND PRINTING ORDERED. Please allow 3 weeks from the time your check is received.
For more information please contact the Stewardship and Development Office at 913-647-0325 or stewdev@archkck.org.
PRINTING AND DELIVERY COSTS
| | |
| --- | --- |
| Quantity | Printing |
| 100 | $185 |
| 250 | $265 |
| 500 | $385 |
| 1,000 | $625 |
| 1,500 | $650 |
| 2,000 | $675 |
| 2,500 | $700 |
| 5,000 | $815 |
| | |
| --- | --- |
| Delivery Cost | |
| 100-500 | $TBD |
| 1,000-2,000 | $TBD |
| 2,500-5,000 | $TBD |