Search Engine Optimization – SEO
Once these steps are followed; search returns on our website will be much more useful with:
Much better page listings after a search

A well thought our 'Excerpt' that is the paragraph Google and our own internal search will show

In the future: This is easily amended to drop in keywords that may have been missed
Writing a professional excerpt in WordPress isn't rocket science. You just need to remember that simplicity is the key to writing a good one. Click on the 'Excerpt Writing Guide' button in the right and column and read through it carefully.
Remember search engines. Consider, for a moment, the descriptions you see when you do a search at Google; two lines, 150 characters (including spaces), totaling about 25-30 words. That is all the room you get to compel a reader to your site and the same should be applied to excerpts. If this is not enough please contact Don to find out more options (Usually just add a descriptive paragraph at the top of your page).
Follow these directions to make your pages easy to find by both Archkck.org and Google. First log into archkck.org,  goto your page, and select 'Edit' (DO NOT choose 'Edit with Elementor').
Step One: Create and enter an Excerpt for your page
Select the top right gear 'Settings' icon if it is now already open:

In the settings, about third from the bottom expand the Excerpt section.  Now add your carefully crafted excerpt for this page.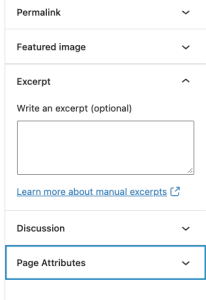 Update your page once complete.
Step Two: Yoast entries
Yoast is where we insert our focus phrase and Meta Description. Once you enter 'edit' (not Edit with Elementor), scroll to the bottom of the page and you should see this: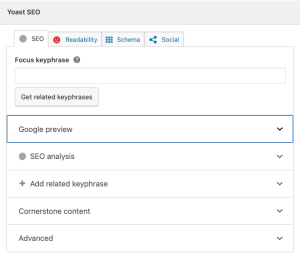 There are just two entries we will make into this.
Enter a keyphrase of just a few words (most likely search phrase you can think of, keep it very short)

Copy your Excerpt: Enter %Excerpt% as shown, code completion should popup to help you:
When complete correctly you will then see:

UPDATE YOUR PAGE
When your page is complete
Update the 'list of every webpage' spreadsheet and move on to your next page.