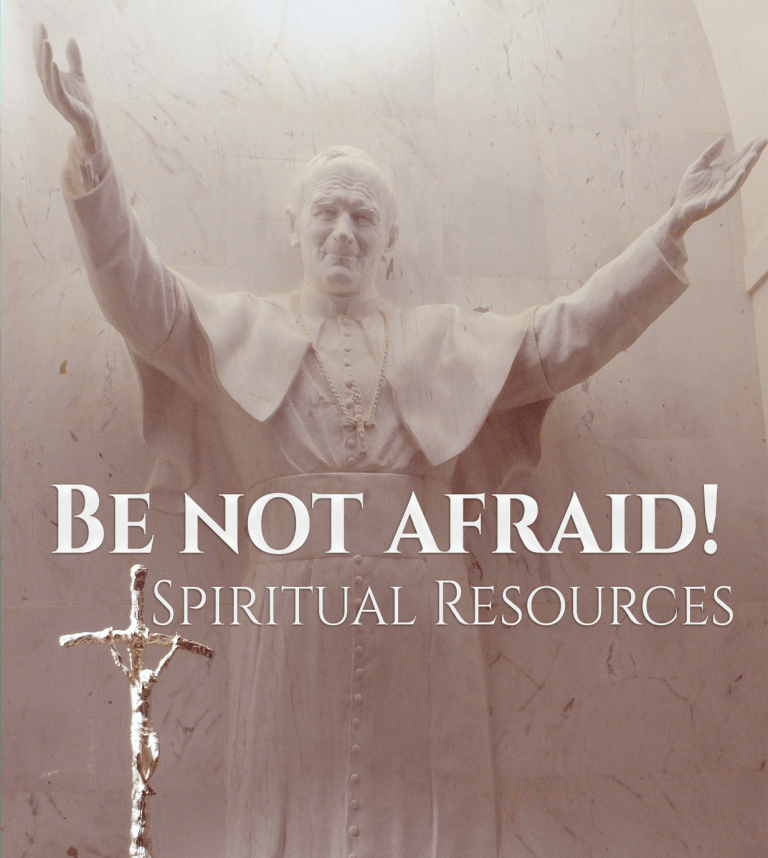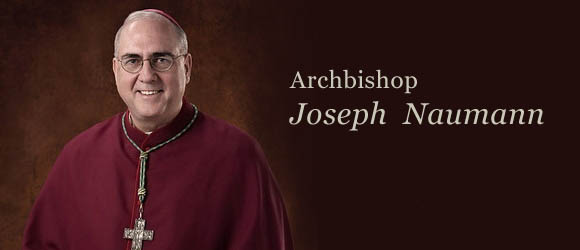 Be Not Afraid"I think it is an important time for us to be really more aware of the needs of others, and not to be afraid; not to be acting out of fear. As Catholics we are not immune to the Corona virus but we should be immune to fear, because we are never alone. The Lord is with us. He is with us in this moment and this time."
– Archbishop Joseph F. Naumann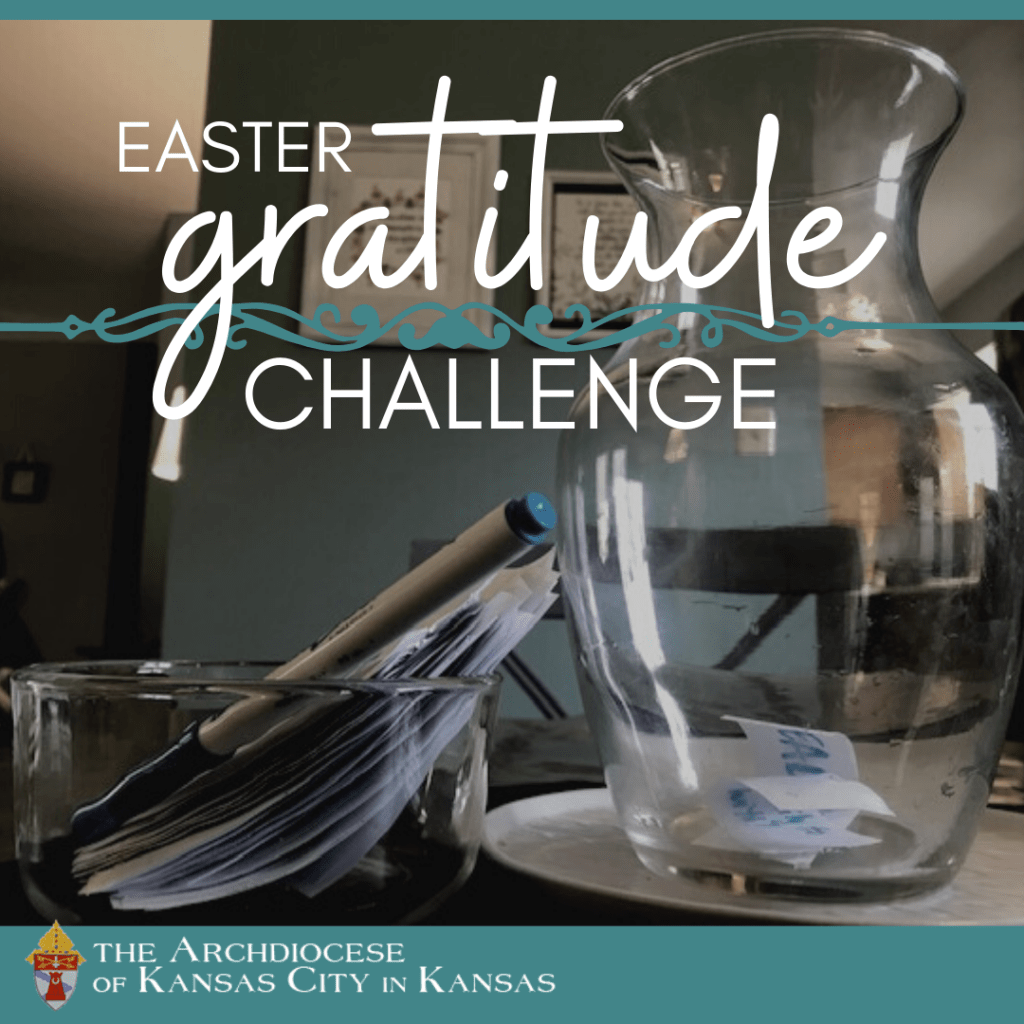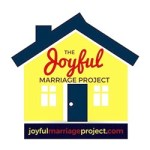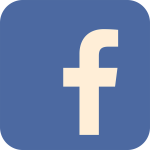 "Give thanks in all circumstances, for this is the will of God in Christ Jesus for you." 1 Thessalonians 5:18
Need a SUPER EASY way to help keep your family focus on gratitude? Welcome to the EASTER GRATITUDE CHALLENGE!
Simply:
Dust off a clear vase or jar
Cut up some scrap paper
Every time you pass by, or sit down to eat, (or whenever!) write one thing you are grateful for: no thing is too small
As your jar fills up, you have a visual reminder of how much you have to be grateful for
Tomorrow, Friday, is 9 days from Easter. It can be an Easter novena for your family.

Many of us are afraid that Holy Week- the moment of densest meaning and memory in the Church's life- will pass us by during this time of solitude the pandemic has given us. And yet this fear expresses our desire to be with Christ and live His paschal mystery within these very circumstances. St. Benedict tells us that "God is always with us, for All my desires are known to You (Ps 38:10)" (RB 7:23). In this confidence, the monks of St. Benedict's Abbey invite you and your household to join us in a Holy Week retreat in your own home. We will provide a suggested schedule, retreat materials, conferences, and guidance to help us each day enter together into the great reality of the life, death, and resurrection of the One who never abandons us, Jesus Christ.
The retreat will begin on Holy Wednesday (April 8) and conclude on Easter Sunday (April 12).
https://www.kansasmonks.org/new-blog/2020/3/28/2020-holy-week-retreat

We are a group of disciples committed to Enflaming Our Hearts, Homes and Communities with Christ's love. In creating this community, we hope to encourage each other as missionary disciples throughout the Archdiocese of Kansas City in Kansas in our efforts to grow closer to Jesus and bring others to know His love and His Church. Please use this space to share, connect, and support each other — in action and prayer — along this journey of faith! Check us out here –> https://www.facebook.com/groups/enflameLIVING LENT IN A TIME OF SOCIAL DISTANCING
DISCIPLES ON THE WAY
Spiritual Support During
the COVID-19 Outbreaks
LIVING LENT IN A TIME OF SOCIAL DISTANCING

Cancelled events and self-imposed social distancing are rare opportunities well-suited to spend some quality time with God, speaking and listening about the matters which reside within one's heart. Below are a few ideas to help take advantage of this time:
• While washing one's hands, recite an Our Father for the safety and consolation of the sick or isolated.
• Pray for the intercession of the saints when you hear of new infections. Consider the following saints who have interceded during outbreaks of the past: St. Anthony of the Desert, St. Edmund, St. Roch (pronounced like "rock"), St. Rosalie, and St. Sebastian.
• Grab a bible or pull up the daily Mass readings online and spend some time practicing lectio divina. The Book of Psalms is also a great choice during times of uncertainty.
• Ask Jesus to help increase trust in Him, followed by praying a Divine Mercy Chaplet.
• Reflect on the life of Christ and ask for the intercession of Mary and Joseph while praying the Rosary.
• Join in solidarity with the Universal Church by praying the Liturgy of the Hours.
• Engage in a time of recollection, meditation, and contemplation with such activities as journaling, drawing, painting, knitting, sewing, writing, or spiritual reading.

Through acts of fasting, one can lovingly offer their personal sacrifices for the physical, psychological, and spiritual betterment of others. Below are a few ideas for how to intercede for others through voluntary self-denial in a time of pandemic:
• Offer your Lenten sacrifice for those who are suffering with COVID-19.
• Offer one daily sacrifice, as an individual or as a family, for those who are sick or isolated.
• Avoid purchasing more than you reasonably need at this time. Unnecessarily depriving others of necessities is contrary to Christian charity.

When one gives alms to those in need, they affirm that all created goods come from God for the purpose of the common good. Below are a few simple ways to attend to the needs of others, which respect the need to avoid physical contact:
• Make a donation to your local parish or community charity. This can usually be done online.
• Volunteer to make and/or deliver care packages of food or necessities for the sick or isolated.
• Give words of encouragement by means of phone calls, text messages, mailed letters, or social media posts
For a printable PDF of this message click here

PRAYER FROM POPE FRANCIS DURING THE CORONAVIRUS PANDEMIC
DISCIPLES ON THE WAY
Spiritual Support During
the COVID-19 Outbreaks
PRAYER FROM POPE FRANCIS DURING THE CORONAVIRUS PANDEMIC
O Mary, you shine continuously on our journey as a sign of salvation and hope.
We entrust ourselves to you, Health of the Sick. At the foot of the Cross you participated in Jesus' pain, with steadfast faith.
You, Salvation of the Roman People, know what we need. We are certain that you will provide, so that, as you did at Cana of Galilee, joy and feasting might return after this moment of trial.
Help us, Mother of Divine Love, to conform ourselves to the Father's will and to do what Jesus tells us.
He who took our sufferings upon Himself, and bore our sorrows to bring us, through the Cross, to the joy of the Resurrection. Amen.
We seek refuge under your protection, O Holy Mother of God. Do not despise our pleas
– we who are put to the test – and deliver us from every danger, O glorious and blessed Virgin.
For a printable PDF of this message click here

MISSIONARY DISCIPLES: IDEAS FOR OUTREACH
DISCIPLES ON THE WAY
Spiritual Support During
the COVID-19 Outbreaks
MISSIONARY DISCIPLES: IDEAS FOR OUTREACH
With COVID-19 calling us to a different pace of life these next few weeks, one of the most beautiful ways to share our faith with others is through acts of love, generosity, and kindness. Here are some lovely ways to be Church in the world:
PRAYER: Take some time each day to pray for those who are sick, isolated, and worried. Write the names of friends, family, classmates, and co-workers on slips of paper and place in a basket on your table or a prominent place in your home. At mealtime, draw from the basket and say a prayer together for each person.
CARE FOR THE VULNERABLE: Several nursing homes, assisted living facilities, and places that care for the vulnerable have been closed off from visitors. Write cards to these residents, as well as the staff who try to keep everyone safe and healthy.
Even if you don't know anyone in a care center just address the card or note to "Dear Friend." That alone will brighten a day and bring a spark of joy!
CARE FOR FAMILIES: New parents, pregnant moms, and those with little ones at home could use some encouragement and help. If you are healthy and able, perhaps make a meal, share books/movies/toys that have been sanitized, offer to watch the little ones for a while so the parents can get out, run errands, and renew a bit! Gather some friends from church to reach out with support, love, and kindness!
YOUNG ADULTS: Gather healthy young adults to run errands,deliver groceries, and anything in between. Create a space on social media where people can list what they might need help with and be creative. Find ways to make it happen!
FOOD: If you know children or teens in your neighborhood who may need a lunch or snacks, offer to make and deliver them or bring them to a designated spot your schools may determine. An unexpected treat from the local parish will be amazing. Attach a little note for an added surprise!
THE CORPORAL WORKS OF MERCY: This can include yard work, meal creation and delivery, or collection of money to send a package of goodies to your local emergency room staff. Send thank you cards to all those in helping agencies or make a lawn poster campaign to bring hope and comfort to your neighborhoods!
CARE FOR THE ENVIRONMENT: Organize a park clean-up in your neighborhood for people of all ages. It's good to be outside, but keep a distance by assigning tasks around the area. Have gloves and trash bags available. Serve a snack when finished. What a beautiful way to care for God's creation. Begin and end the event with prayer or a quote from Pope Francis' Laudato Si!
CARE PACKAGES: Care packages with items such as hand sanitizer or toilet paper could be included for those who have compromised immune systems, those who are homebound. Share your abundance and plant seeds of hope.
CARE FOR OUR VISITORS: Are there people in your community who may be new to the area or speak a different language? This may be a very uncertain time for them. Seek out resources for them in your neighborhood and reach out with this information, as well as a treat or care package from your parish!
HOPE AND JOY: Finally, be a sign of hope and joy in your circle of influence at home, work, the store, appointments, and anywhere else you go. For those who are worried and a little panicked, we can be a source of peace, presence, calm, and faithfulness. It's the very best gift we can give our communities!

For a printable PDF of this message click here
Magnificat is a spiritual guide to help you develop your prayer life, grow in your spiritual life, find a way to a more profound love for Christ, and participate in the holy Mass with greater fervor.
Magnificat is a monthly publication designed for daily use, to encourage both liturgical and personal prayer. It can be used to follow daily Mass and can also be read at home or wherever you find yourself for personal or family prayer.
Magnificat is offering free online access to the faithful during the coronavirus pandemic

USCCB – Prayer for Solidarity
Specifically with Spanish materials
Download PDF prayer cards
The following publishers have generously made their resources available to support prayer during these difficult days. We thank them for their generosity and pastoral concern.
USCCB
Resources for Catholics at Home During COVID-19
Many Dioceses, parishes, and Catholics begin to feel the effects of remaining at home due to the coronavirus. Below is a list of websites for Mass, prayers, and daily reflections to help us all during this trying time. Please note, this list will be updated as more resources become available.
Online Mass
Prayers
Other good ideas and suggestions during this time:
Enter into spiritual solidarity with those who are ill or suffering. Our Christian faith reminds us that God himself entered into solidarity with sinful humanity by taking upon our flesh. In the person of Jesus, God visited his people. All of humanity was in a sense "sick" due to sin. And Jesus came to take our sickness upon himself and he paid the price for our sin by freely laying down his life on the cross.
Rather than binge-ing on non-stop coronavirus news coverage, Netflix, or videogames, spend quality time with family. Take time for family recreation, meals together, and meaningful conversation
Pray the family rosary. Join the thousands of people daily who pray the rosary together through the School of Faith rosary podcast
Take time for daily meditation on the Word of God. Remember the 1% Prayer Challenge for Lent!
Spend time reading something inspirational!
Take this as an opportunity to reconnect with your family…
" I think this could really be good for families actually. To kind of renew ourselves and to realize, 'Do we really need to do all these things that we are normally involved with?" Stepping back from that for a moment, could be a real grace in many ways. "