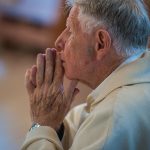 Praying: Prayer Resources – See Part four of the catechism, "Christian Prayer"
As Catholics, is it an important part of the spiritual life to acknowledge that what we are gifts from God. He likes to see us celebrate and enjoy all that we have, but He sent His son so we can have freedom from concern for things of the world. When we adore Christ in the Eucharist and participate in its Mass of Thanksgiving, our prayer becomes participatory in the Holy Sacrifice with the Priest interceding for us to God. The more we actively participate in the Holy Sacrifice of the Mass, when we are free from mortal sin, our souls will hold more graces and those graces will give us the desire to mange and work to multiply our financial gifts of treasure to help build up God's Kingdom here on earth. The Mass, the Eucharistic Prayer, is the ultimate prayer of thanksgiving.
Reading or praying the Psalms, is another way to pray in thanksgiving for His wonderful deeds and abundant gifts. Thanking God often through prayer will help remind you of what you have received and you will be ready to notice, often, new gifts you are receiving. We naturally want to thank those who give us gifts and "return the favors." Through prayers of thanksgiving, you will naturally grow to want to maximize the resources He has given you. We are reminded of this teaching in the Parable of the Talents, Mt. 25:14-30.
Outside of Mass and personal prayer, your parish will set an example for "praying always", as St. Paul taught, by pastors and parish and school staff leading prayer at parish meetings, before sporting events at school, and other gatherings. This will remind parishioners to be more regularly conscious about giving thanks to God throughout the day when they are with their families, with others, socially, and alone.
The archdiocese's Office of Stewardship and Development has "stewardship" prayer cards available. 
The International Catholic Stewardship Conference offers the following resources: