PATRON SAINTS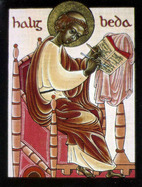 St. Bede the Venerable
Feast Day in the Roman Calendar: May 25
Saint Bede was born in the neighborhood of the Wearmouth monastery in A.D. 673. He was trained by Saint Benedict Biscop and later entered the monastery. Ordained to the priesthood, he spent his ministry in teaching and writing. Saint Bede wrote theological and historical works in the patristic tradition and explained Sacred Scripture. He died in A.D. 735. He is venerated as a patron saint of historians and those charged with historical preservation, education and scholarship.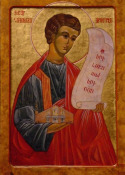 St. Thomas, Apostle
Feast Day in Roman Calendar: July 3
Saint Thomas is remembered for his incredulity concerning Christ's Resurrection from the dead. When confronted by the risen Lord, his disbelief gave way to belief and he proclaimed the Easter faith of the Church: "My Lord and my God!" Nothing certain is known of his life except for this evidence in the Gospels. He is said to have subsequently preached the Gospel to the people of India. Since the fourth century, the celebration of the transference of his body to Edessa has been commemorated on July 3. As one of the twelve pillars upon which Jesus founded his Church, he is venerated as a patron saint of architects, designers and builders.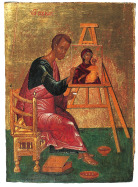 St. Luke, Evangelist
Feast Day in the Roman Calendar: October 18
Saint Luke was born of a pagan family. Converted to the faith, he became a fellow-worker of the apostle Paul. From Saint Paul's preaching he compiled one of the Gospels. He handed down an account of the beginnings of the Church in another work, the Acts of the Apostles, which tells of events up to the time of Saint Paul's first sojourn in Rome. Credited according to pious tradition with creating the earliest iconic images of the Lord Jesus and the Blessed Virgin Mary, he is venerated as a patron saint of artists.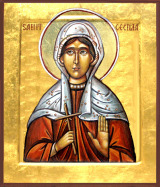 St. Cecilia, Virgin and Martyr
Feast Day in the Roman Calendar: November 22
In the fifth century a basilica dedicated to Saint Cecilia was erected at Rome. From that time devotion to her spread, largely owing to accounts of her sufferings. She is praised as the most perfect model of the Christian woman because of her virginity and the martyrdom which she suffered for love of Christ. Known through pious tradition as having possessed an extraordinarily lovely singing voice, which she used to sing the praises of God even during her suffering and martyrdom, she is venerated as a patron saint of musicians and poets.