Savior of the World Seminary officially began in 1960 when Archbishop Edward Hunkeler asked the people of the Archdiocese of Kansas City in Kansas to contribute financially and spiritually to help build the high school seminary in Kansas. In October 1962, Mr. and Mrs. Harry Darby gave the Archdiocese title to the 100 acre plot on which Savior was built and in 1964 groundbreaking occurred. In September, 1965, the first classes were held with 94 freshmen and sophomore young men. Starting in the early 1970's, weekend functions were held at Savior by the Family Life Office and other Archdiocesan offices and Wing B was remodeled to accommodate overnight events.
In 1987, the minor seminary program for the Archdiocese was transferred to Maur Hill Prep in Atchison and the facility was officially renamed Savior Pastoral Center. Renovation continued with the addition of meeting rooms and a small kitchen, followed by construction of new Chancery offices in the former classroom building. During the 1990's, Savior Pastor Center served as the focal point of spiritual formation and education for the Archdiocese of Kansas City in Kansas.

The new millenium began with plans to remodel two major areas, Wing B and the auditorium. With generous funding in the amount of 1.5 million from Archbishop's Future Full of Hope Campaign, the long-awaited transformation of Archbishop Strecker Suites includes forty (40) two-bed rooms and four (4) one-bed rooms, with private shower/bathroom, carpeting, climate control and a wide range of business services including wireless and high speed Internet access. Guests discover a simple elegance in this area that also has on each level a Board Room, small Meditation Room, Assembly, Kitchenette and Lounge.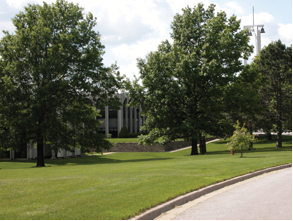 The auditorium, now renamed Archbishop Keleher Conference Center, is equipped with carpeting, state of the art lighting and technology, offers Wireless and internet accessibility and a wide range of portable electronic equipment. The Conference Center seats 350 guests and accommodates smaller groups when partitions are in place.
On September 6, 2006, Archbishop Joseph Naumann blessed the newly remodeled Archbishop Strecker Suites and Archbishop Keleher Conference Center, saying that these improvements will support the ministry of the church for years into the future as "a center of catechetical formation and spiritual reflection.
Today, the Center's services and hospitality extend beyond the people in the Archdiocese. We extend a warm welcome to the not-for-profit community and private businesses throughout the local area and Midwest, provided their purpose is consistent with our mission and environment.