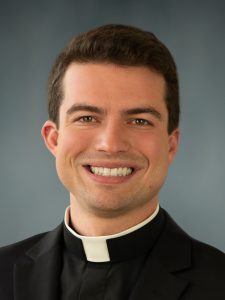 Birthday: June 25
Parish: Holy Spirit – Overland Park
High School: St. James Academy
Seminary: St. John Vianney Seminary
Year in Seminary: Theology IV
Favorite Saint:St. Patrick (my confirmation saint) St. Michael the Archangel, St. Kateri Tekakwitha, St. John Paul II
My advice to men considering the priesthood: God's plan for you is better than anything you could ever dream of. His plan will make you happy. let go and let the Lord!
Why I want to be a Priest: In a parish, the priest is able to participate in the lives of his parishioners and be with them in good and bad times. He administers the sacraments and helps people get to heaven.
Hobbies & Interests: I love to play any sort of sport or game. I love listening to music and I play the piano and drums. I enjoy going out to dinner and home cooked meals. I like quoting and watching movies. My favorite teams are the professional Kansas City teams:Sporting Kansas City, Chiefs, and Royals.
Influence: Jesus influenced my vocation as well as Doug Leikam, Msgr. Raymond Burger, and the theology teachers at St. James Academy.