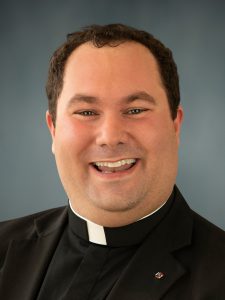 Birthday: September 8
Parish: Sacred Heart – Shawnee
High School: St. James Academy
Seminary: Kenrick Glennon
Year in Seminary: Theology IV
Favorite Saint: St. Dominic Savio
My advice to men considering the priesthood: Don't be afraid. Come and see. The Lord calls all sorts of people your not alone and please talk to someone about it.
Why I want to be a Priest: I have felt called by the Lord. I want to serve Him the way He asks of me.
Hobbies & Interests: I like watching movies, hanging out with good friends, reading, and talking.
Influence: Sacred Heart Parish, Kyle Chadwick, Msgr. Ray Burger, parents, Fr. Craig Maxim, St. Joseph, and St. Dominic Savio