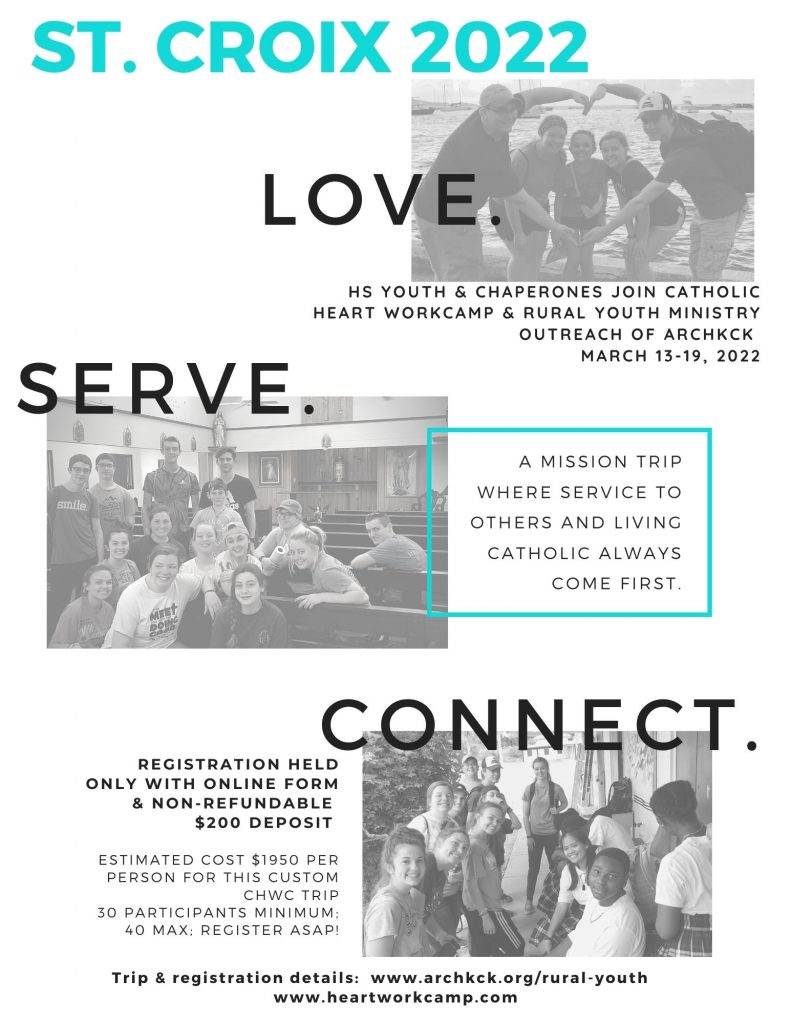 St. Croix details:
Open to High School Students (2021-2022 school year), young adults, and adult chaperones. Mature 8th grade students are eligible to join us as well. Non-Catholics are very welcome to join us; we will be participating in daily Mass, prayer, & sacramental opportunities as a group.
Initial registration and $200 deposit will hold your spot. The trip has a 30 person minimum (which must be met by September 25) and 40 person maximum. First come, First included!
Cost is $1950 which includes airfare, ground transportation, accommodations, most food, t-shirt & work supplies, and free day activities while in St. Croix.
Payments: (1) Initial deposit due by September 25. (2) Half ($1000) due by January 1, 2022. (3) Participants must be paid in full by March 1, 2022.
Fundraising is up to you and your family / parish. We will assist with ideas!
Please send all payments to RYMO at 12615 Parallel Parkway, Kansas City, KS 66109.
COVID-19 specific information:

The impact in the USVI has been less than the continental US with 3% of their population infected.
While their vaccination rates have been a bit slower due to availability, they are catching up in the percentage of population vaccinated.
St. Croix is currently in a "Safer at home" level.
To travel to the US Virgin Islands, each participant will need to submit an approved COVID-19 test result and get clearance through the Travel Screening Portal (www.usviupdate.com/travelportal)
We will not need a COVID-19 test to return to the US mainland
Should someone become ill while in St. Croix, we will have the ability to provide appropriate accommodations and an adult will stay back with them until they're well enough to travel. A nurse will be on the trip with us.
If an individual tests positive before going on the trip and cannot attend, we will refund their fees.
Faith in action is love, and love in action is service.
Saint Teresa of Calcutta