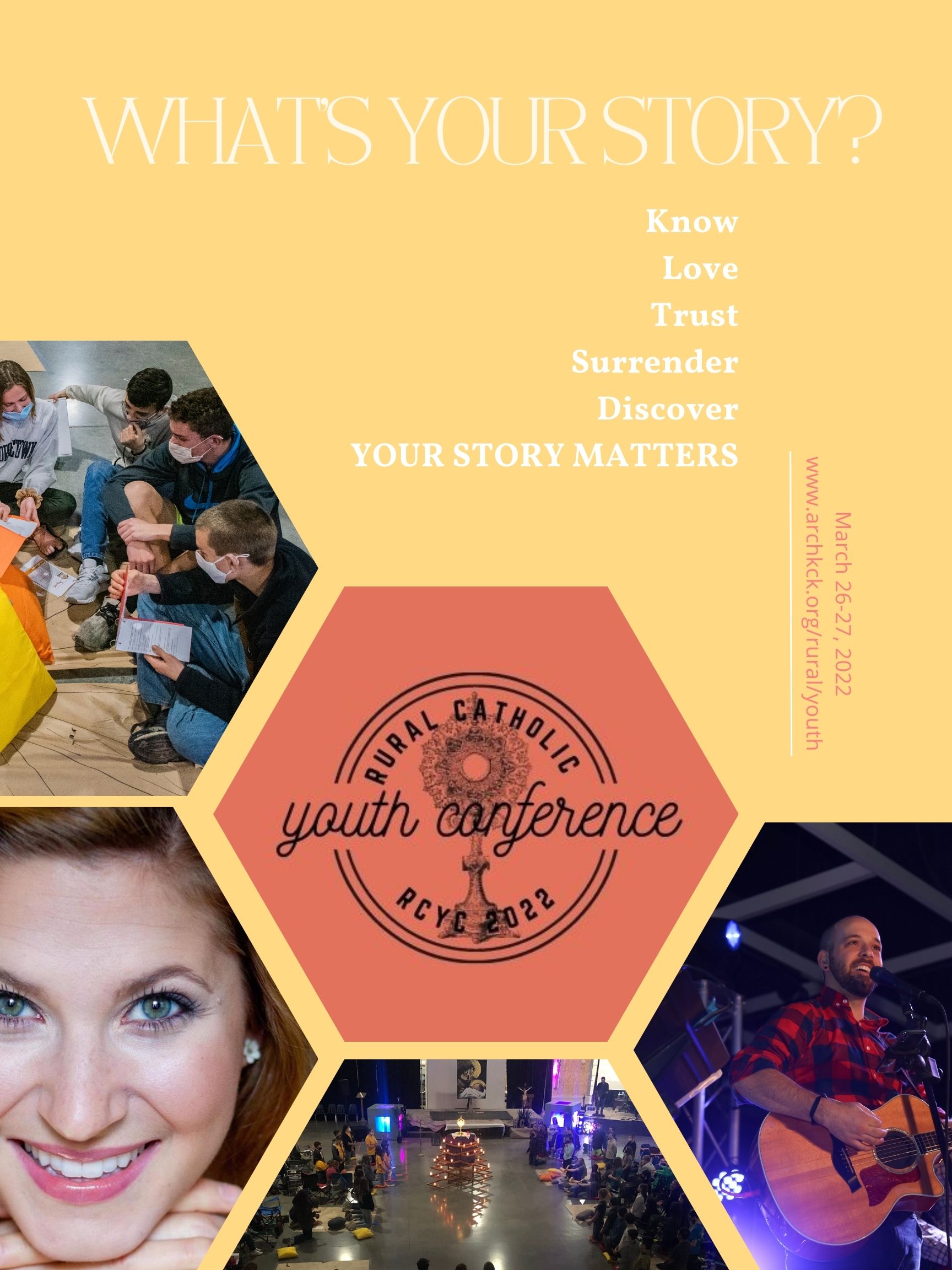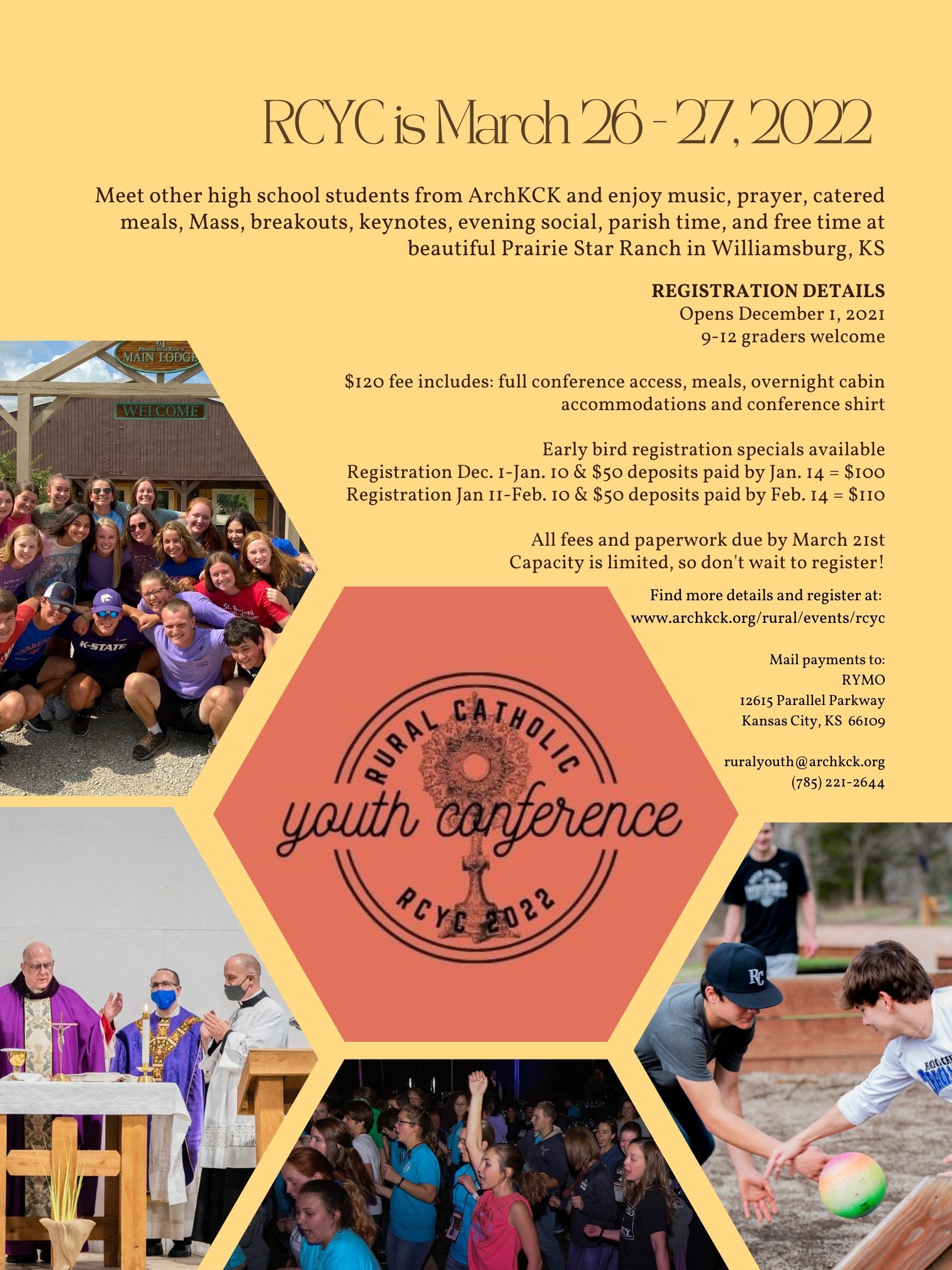 Make plans to join us for RCYC 2023 March 25-26 at Prairie Star Ranch! Details to follow soon.
Conference Schedule info

On-site check-in begins 9 am Saturday, March 26

Conference concludes with lunch Sunday, March 27
We're hoping to be able to provide more breakout sessions, moving around, and mixing with other parishes this year

Conference includes House band, prayer, catered meals, Mass, breakout speakers, evening social with entertainment, and keynote speaker Stacey Sumereau. Find more about her inspiring story here!

Accommodations

Bunkhouse and tent accommodations (we'll ask for those who would like to sleep in tents on individual registration forms and will use only if we exceed our cabin capacity)

Registration

Deposits are $50 per person
Final payments are due March 21
Early bird discounts ($20 off with registration before Jan 10 and deposits paid by Jan 14; $10 off if registered by Feb. 10 and deposits paid by Feb. 14) and Yes-I-want-to-stay-in-a-tent bonuses available
Please contact Angie (ruralyouth@archkck.org) if you need to coordinate a custom payment arrangement
Please send all payments directly to the ArchKCK Youth Office, ATTN: RYMO, 12615 Parallel Parkway, Kansas City, KS 66109

Planning

We will have an optional parish group shirt contest on Saturday
New information! Saturday evening's social theme is beach (of course, no swimming suits allowed), country, or country club. Prizes for participation.
Sunday, participants will be encouraged to wear their conference shirt and/or dress nicely for Mass
We ask that participants dress modestly (and comfortably). Please, no leggings and keep shorts at an appropriate length
New posting! Service opportunity: Bring hygiene items to help Catholic Charities pack kits for distribution in rural areas. Please bring any of the following items: full-sized shampoo; full-size body wash or bar soap; full-size deodorant; toothbrushes; full-size toothpaste.
This is a BYOLC event (Bring Your Own Lawn Chair)
Our number one focus is to provide an opportunity for our kids to encounter our Lord throughout this conference. Adults, please pray for your kids and for patience before and during the conference. Let us, as adults, not do anything that stands in the way.

Extras

Space is limited, so make plans with your group now
Each group needs to provide their own gender-specific chaperones (suggested ratio for this event 1:8)
CoVid considerations: We will be following mandates for Franklin County if there are any at the time of the conference. Any participants who wish to wear masks or keep extra distance from other participants will be welcome to do so.
Please let us know if you have any extra needs so that we may make appropriate accommodations

Questions or more info: ruralyouth@archkck.org or call/text (785) 221-2644
All are welcome, and we can't wait to see you!!