Sign Up for Email Updates
For Email Marketing you can trust.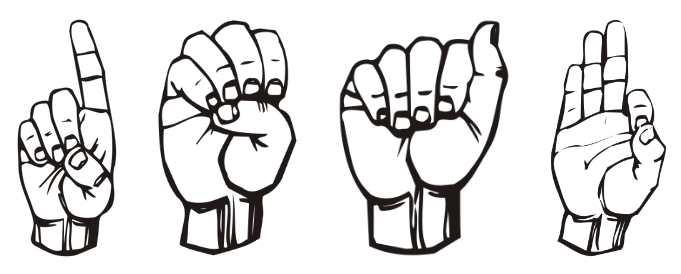 BREAKING NEWS:
Ep. 84: More Than Words (from Catholic News Agency!)
Monday, October 26 2020
The deaf Catholic community in the US is eager for the faith. In this episode, we take a look at some of the latest resources available to them, and a deaf Catholic priest shares his vocation story. This episode is available in American Sign Language (ASL): https://youtu.be/NW2deh1EEs4
Christmas Mass Schedules!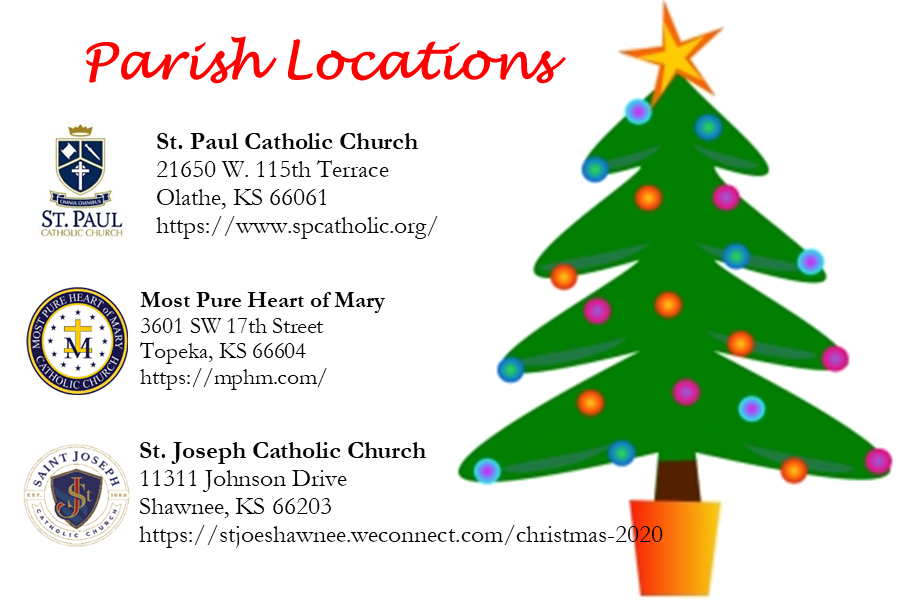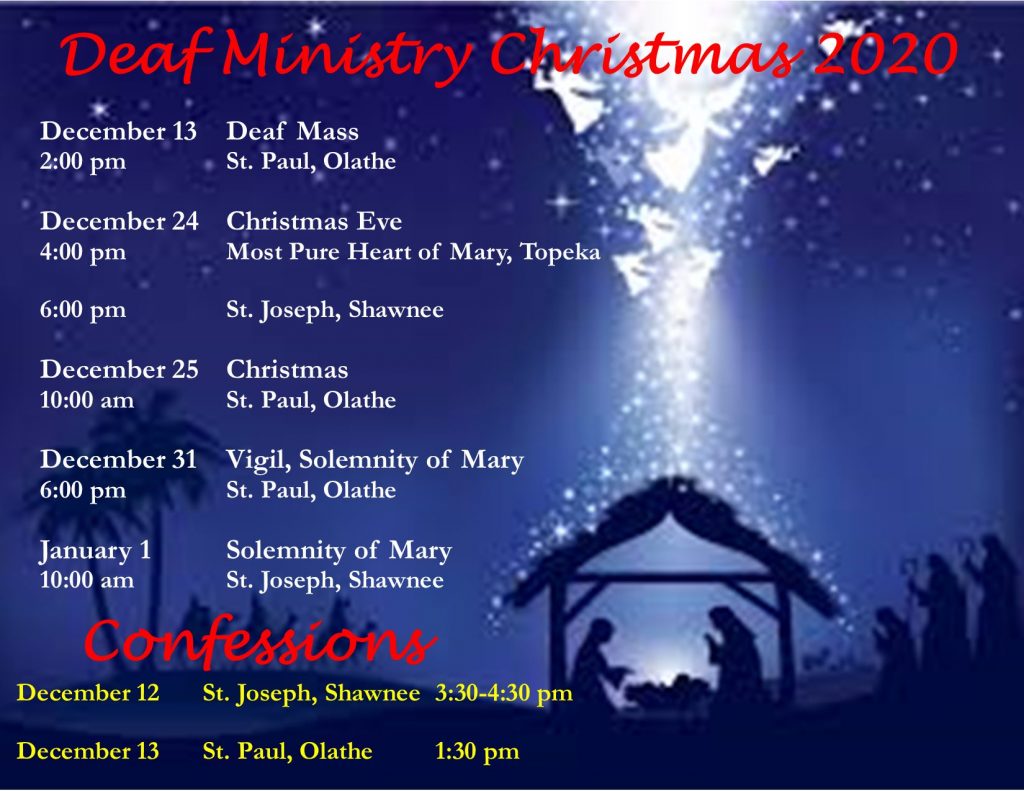 MASS Updates!
Livestreamed Masses:
All the ASL Masses are still livestreamed. Fr. Shawn Carey of Boston livestreaming Sunday at 11 AM (Eastern time).

Public Masses
First, Archbishop Naumann still has that dispensation for us so we are NOT required to attend Sunday Masses. If you're sick, taking care of someone who's sick, have health issues (high at risk), or not feeling comfortable with going to Mass, don't go to Mass! You're not committing a sin in not attending Mass.
When you feel ready to go to Mass, here is what you need to know.
Most Pure Heart of Mary in Topeka:
Interpreted Masses will begin July 5th at 9:30 AM. Go here to sign up during the week BEFORE July 5th. Try to sign up by Wednesday, July 1st. The church only allows 165 people in the church so you NEED to sign up at www.mphm.com. You will see a blue button that says "Mass Sign Up" on the website. Click on it, and then you can pick the day and time you want to attend Mass. Everyone, including the deaf and interpreters, need to sign up in order to attend Mass. I hope you'll take advantage of this opportunity!
You are required to wear a mask and bring hand sanitizer. You keep your mask on the entire Mass, except for Communion. When you receive Communion, keep your mask on when you say "Amen" and receive the Eucharist in your hands. Then you can take off your mask and consume the Host, and put it back on.
St. Paul Catholic Church in Olathe:
10 AM on Sunday
Sign up for Mass at St. Paul Catholic Church https://www.spcatholic.org/. Sign ups will be available every Wednesday at 12 PM. There will be an interpreter available at the 10 AM Mass.
See this video for details about what to do, how to enter the church, how to receive the Eucharist, and so on. There is captioning – make sure you turn it on. If you want an interpreted version of that same video, click here.
St. Joseph Catholic Church in Shawnee:
5 PM on Saturday
7:30 AM, 9:30 AM, 11:30 AM on Sunday
You can sign up for Mass on the weekend, but there will not be an interpreter. So, if you want to go to Mass at St. Joseph, you can still go to the parking lot in Lot F, the lot nearest the school. You can receive Communion there after Mass. Follow the signs.
Make sure you have a hand sanitizer with you to purify your hands before and after you receive the Eucharist. When you receive the Eucharist, you KEEP the mask on when you say "Amen". Keep your hands in a "throne" to receive the Eucharist, take the mask off CAREFULLY without touching the front, consume the Host, and put the mask back on. Then leave the church.

Prince of Peace in Olathe: Sign-ups are sent out only to registered parishioners. There are still no interpreters at this parish for the time being.
Deaf Mass: St Paul Catholic Church in Olathe
Date: July 12th
Time: 2 PM
We will follow St. Paul Catholic Church's procedures for Mass.
You don't need to register for Deaf Mass, BUT you are required to:
-wear a mask
-bring hand sanitizer
What will be different?
(1) You sit where the usher tells you to sit. If you arrive first, you sit in the front. If you arrive late, you sit in the back.
(2) You can only sit with your spouse or family. Otherwise, you sit 6 feet away from other people. Do not re-arrange the chairs to sit closer to your friends. We have to follow the 6-feet social distancing rule.
(3) No hugging for the Sign of Peace unless you're with your own family. Then you can hug your family. But for your friends, just wave.
(4) We're staying in our seats for Communion. When it's time for Communion, you stand up and Fr. Scott will come to you to give you the Body of Christ. Use your hand sanitizer. You will keep your mask on when you say "Amen". When Fr. Scott gives you the Eucharist in your hands, you can then take off your mask to consume the Host and then put your mask back on and sit down to pray.
(5) If you want to make a contribution to Deaf Ministry, that will happen after Mass because the basket for Mass will stay in the back of the church. You can drop off the money in the basket as you leave.
(6) Keep your mask on the entire Mass and try not to touch your mask or your face.
(7) When Mass is finished, the people who are sitting in the back will leave first. The people sitting in the front will leave last. When the usher comes to you and tells you it's time to leave, go ahead and leave. Don't chat with your friends in the church. Go to the parking lot and chat with everyone there if you wish – and follow the social distancing rule!
(8) We will not have potluck for at least SEVERAL months, due to all the guidelines and rules. We're abiding by St. Paul Catholic Church's rules since they're kind enough to allow us to use their church for our Deaf Masses and potluck gatherings.
Again, if you're sick; taking care of someone who's sick; have health issues; OR don't feel comfortable coming to Mass, don't come.
If you decide you don't want to come to Mass BUT you want Jesus in the Eucharist, contact Deaf Ministry and we'll make sure someone brings you the Eucharist on July 12th after Deaf Mass.
YOUCAT IS LIVE!
New videos are posted each Friday.
INTERPRETED MASS SCHEDULE – IN PERSON CANCELLED UNTIL FURTHER NOTICE
Masses are not interpreted on the 2nd Sunday of the month due to Deaf Mass.
Prince of Peace, Olathe
Saturdays, 5:00 pm (except the Saturday before the 2ndSunday of the month)
St. Paul, Olathe
21650 W. 115th Terrace, Olathe, KS. 66061
Sundays, 10:00 am

St. Joseph, Shawnee
Sundays, 10:30 am
*Signed Mass once a month. See Calendar for date.
Most Pure Heart of Mary, Topeka
Sundays, 9:30 am
Holy Trinity, Paola
Sunday, 10:00 am (1st Sunday of the month only)
Mission Statement
The mission of Deaf Ministry is to facilitate opportunities for people to encounter Jesus, be fully included in the life of the Church, and participate in programs that foster spiritual growth, leadership and family enrichment.
The Office of Deaf Ministry seeks to. . .
Assist persons deaf or hard of hearing in realizing God's presence in their lives through:
Signed and interpreted liturgies
Sacramental preparation
Spiritual direction
Annual retreats
Cursillo and group reunions
Marriage encounter
Arranging for interpreters for special occasions – baptisms, weddings, funerals and other events when requested.
Provide ongoing educational opportunities through:
Adult religious education
Bible study groups
Rite of Christian Initiation
Religious education for students attending the Kansas School for the Deaf
Assistance to teachers and/or parents of deaf students involved in parish programs
Provide support and assistance through:
Pastoral visitation to homes
Pastoral counseling
Support and referral services
Visitation to the sick, shut-ins and hospitalized
Ephpheta Newsletter and monthly bulletins
Awareness programs about deafness and other disabilities
Workshops on religious signs
Service to late-deafened adults
Resource center
Advocacy at Archdiocesan and parish levels
Retreats
Deaf Retreats are held annually during the second weekend in October. For more information contact Katie Locus (913) 324-5378 videophone (VP).

Interpreters needed
We have requests for interpreted masses throughout the Archdiocese. If you know of someone who has some sign skills and would be interested in signing the Liturgy, please have them contact Katie Locus.

Funding for this ministry is made possible through the Annual Appeal of the Archdiocese and organizational and private donations.
DEAF MASS SCHEDULE – IN PERSON CANCELLED UNTIL FURTHER NOTICE
Deaf Mass & Confessions*
*Deaf Mass does have a voice interpreter for attendees that do not know American Sign Language.
NO DEAF MASSES in April! This year, Deaf Mass fall on the same weekend as Easter weekend. So there will only be interpreted Masses, not Deaf Masses for Olathe or Topeka in April.
St. Paul, Olathe – 2:00 pm
21650 W. 115th Terrace, Olathe, KS. 66061
Potluck after Mass in room 103 at St. Paul Catholic Church
April / May – No Deaf MassJune 14
July 12
August 9
September 13
If you would like to join the potluck social, please bring a salad or vegetable dish that serves 10 people. A meat dish is prepared by volunteers.
MOST PURE HEART OF MARY, TOPEKA – 6:00 P.M.
Confessions at 5:30 PM
May 2nd: Deaf Retreat in Topeka and Deaf Mass
CONFESSIONS
Available on days when Deaf Mass is offered or by appointment.
ASL YOUCAT Videos
ASL YOUCAT Videos! Video Categories Testimonials This is very helpful for meto have materials to help catechize deaf people.I am in the seminary and still learning ASL and struggle with
Deaf Ministry Calendar
Bonfire http://l.ead.me/bawaMk