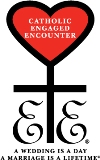 Catholic Engaged Encounter is a weekend retreat away with other engaged couples with plenty of time alone together to plan for a sacramental marriage. It is designed to give couples planning marriage the opportunity to dialogue honestly and intensively about their prospective lives together– their strengths and weaknesses, desires, ambitions, goals, their attitudes about money, sex, children, family, their role in the church and society–in a face-to-face way.
For general information, contact Tom & Chris Carroll, 816-966-0947
DATES FOR 2020:
Jan 31-Feb 2, March 13-15, April 17-19, June 12-14, July 24-26, October 9-11
To register, please download and mail this registration form.