Dec. 18-20, 2020 – Archbishop's Quo Vadis Retreat
Last year due to high demand, Quo Vadis had a wait list.
Please register early to ensure you have a spot, especially since COVID is limiting numbers this year.
Vocation Office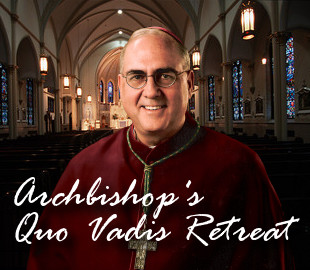 Quo Vadis means
"Where are you going?"
This intense question from Jesus made St. Peter change direction and go back to Rome to lead the early Church.
Do you want to take action to live in union with God's purpose for you? This FREE retreat is for single men high school seniors and older, and includes the chance to immerse yourself in liturgies, prayer, and time with our seminarians who are guys like you discerning their own call from the Lord. Join them in praying the Liturgy of the Hours, adoration, sports, games, meals, insightful retreat sessions, and just hanging out. This year's retreat is being led by the Very Rev. James Mason, the dynamic and highly regarded rector of Kenrick Glennon Seminary. Fr. Mason is a former prosecuter and has developed one of the leading seminary formation programs. There will also be a panel of priests and a panel of seminarians to share their discernment stories and experiences, and answer all your questions. Archbishop Naumann will be there to meet you and encourage you in your discernment.
A former attendee said, "I benefited greatly because I decided to go. It was a great way to meet other men who take their relationship with Christ seriously. Having the opportunity to get to know the Archbishop, Vocation director, and seminarians was a tremendous blessing. I would highly recommend this retreat to any man who is willing to open his heart to Jesus by asking "How have I been made to serve?"
The Quo Vadis retreat is Dec. 18-20, 2020 at Savior Pastoral Center, 12601 Parallel Parkway, Kansas City, KS. Archbishop Naumann will give inspiring reflections and meet with you personally to provide spiritual direction and advice.
You may register by signing up below, contacting the vocation office at 913-647-0303, or emailing vocation@archkck.org .
Take a couple of quiet days before Christmas to be with our Lord and some really amazing men.