Tweets by @saviorcenter
A Gracious Gathering Place
12601 Parallel Parkway
Kansas City, Kansas 66109
Phone: 913.721.1097 Fax: 913.721.2339
E-mail: savior@archkck.org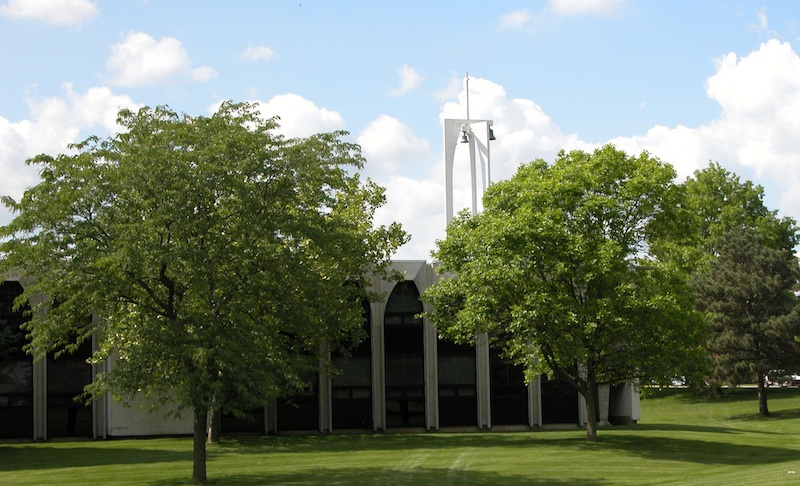 OUR MISSION
We are dedicated to providing hospitality, service and support for spiritual growth and renewal in the Archdiocese of Kansas City in Kansas and also for various events and programs in the non-profit and business communities.
The bell tower, soaring 85 feet toward the sky, is the well-known symbol of the Center that serves as an ideal and popular gathering place sought by a wide range of organizations for retreats and conferences.
Our diverse facility hosts a large number of events throughout the year. Savior Pastoral Center can accommodate up to 200 individuals in a variety of room types, and larger groups for day-time conferences in our meeting room spaces. Since there are two main dormitories in addition to the Vianney Suites (for retreat directors and visiting clergy), the Savior Pastoral Center is able to host multiple retreats or conferences at the same time, thereby serving more communities throughout the year. Savior's spacious campus also allows for multiple groups to meet at any of our 8 meeting spaces.
These meeting spaces are diverse, from the Keleher Conference Center which can hold as many as 350 people to the smaller meeting rooms, ranging from meetings of 6-10 all the way up to 70-80 attendees.The Savior Pastoral Center also rents out the use of the pool, gymnasium and athletic fields for the use of conference attendees or for area schools and organizations that wish to utilize them. Finally, Savior's spacious dining room can seat as many as 475 people and is available for rental for various functions. The delicious in-house catering can provide your group with all of your culinary needs, from a simple breakfast to a business lunch to a formal dinner. Our catering services are also available as part of a rental package for formal receptions in the Savior Art Gallery.