sat07may2:30 PM3:30 PMPublic Unveiling of the Pieta Statue2:30 PM - 3:30 PM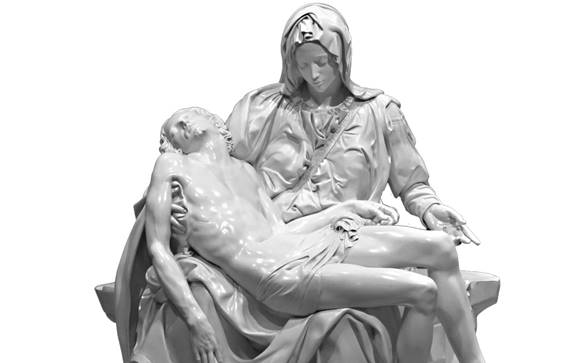 Event Details
THE ARCHDIOCESE OF KANSAS CITY IN KANSAS AND ARTE DIVINE LLC, ANNOUNCEMENT:
A LIFE-SIZE MARBLE CASTING OF MICHELANGELO'S 'PIETÀ' UNVEILING AND BLESSING CEREMONY.
When:
Saturday May 7th
2:30pm to 3:30pm
Where:
Savior Pastoral Retreat and Conference Center
12615 Parallel Parkway
Kansas City, Kansas 66109
The Carrara marble, exact casting of Michelangelo's Pieta will be the 57th of only 100 authorized to be created and placed. Five hundred years ago Michelangelo unveiled what would come to be regarded as one of the world's great masterpieces of inspired art and perhaps the most beautiful sculpture ever created. 
The Pieta was both the consummate expression of Michelangelo's artistic abilities and an embodiment of the divine inspiration that guided his work. This famous work of art depicts the body of Jesus on the lap of his mother Mary after the crucifixion. The Pieta is the only piece of art Michelangelo ever signed.
Arte Divine has recreated Michelangelo's masterpiece, Pieta in cast marble using a mold derived from the original Pieta c1498-99, St. Peter's Basilica, Vatican City. This posthumous Pieta is a precise "1 to 1" casting that is faithful in every detail to Michelangelo's original. These exquisite castings are being acquired by generous corporate and private benefactors, and donating these legacy gifts to select Catholic locations, like the Savior Pastoral Retreat and Conference Center.
Time

(Saturday) 2:30 PM - 3:30 PM