symposium topic: The spirituality of fundraising
Symposium Committee:
Bill Maloney, Executive Director – Office of Stewardship and Development and CFNEK
Libby Knox, Development Director l Catholic Education Foundation
Lisa Runnels-Nevins, Development Director l School of Faith
Terri M. Lynn, Associate Director l Planned Giving – Office of Stewardship and Development
Please use this form to RSVP and select your Boxed lunch for your attendance at the Symposium to be held, courtesy of Donnelly College in their Event Center, Tuesday, September 13, 2022, 608 N. 18th Street, Kansas City, KS 66102. 
11:00 am – 11:15 am – Check-in and Social.
11:15 – 11:30 am – Pick up your lunch. Opening prayer and Welcome.
11:30 am – 12:15 pm – Luncheon Presentation: "The Spirituality of Fundraising" with Monsignor Stuart Swetland
12:15 – 12:30 pm – Closing and Networking
Speaker photo below: Monsignor Stuart Swetland is the Seventh President of Donnelly College, where he is also Professor of Leadership and Christian Ethics.
Monsignor was ordained a priest in 1991. He graduated from Oxford University where he studied Politics, Philosophy, and Economics, earning a Bachelor of Arts and Master of Arts. He earned a Master of Divinity and Master of Arts from Mount St. Mary's Seminary; and earned his Sacred Theology Licentiate and Sacred Theology Doctorate from the Pontifical Lateran University, in Rome. Msgr. Swetland was named a Prelate of Honor in 2000 by St. John Paul II.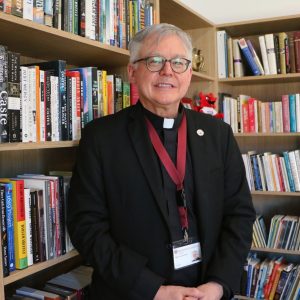 REGISTRATION IS CLOSED ON THIS PAGE. PLEASE CONTACT Terri Lynn at 913-647-0365, if you would like to attend. Hope to see you there!
NOTE: The Boxed Lunches are from Jimmy John's. Each Boxed lunch will include Jimmy Chips, Pickle, and Chocolate Chip Cookie. Extra 
condiments and toppings will be available and supplied by the Office of Stewardship and Development.