As of today, March 12 2021, all diocesan safety protocols relating to COVID are rescinded.  Pastors should be aware of guidelines in their particular county or municipality and develop parish guidelines as appropriate, given the demographics of their respective congregations as well as their own personal health situation.  Likewise, there are no longer any diocesan guidelines for music ministry in the Archdiocese.
Statement of Archbishop Joseph F. Naumann Regarding Dispensation from the Obligation to Attend Sunday Mass
Effective immediately, and until further notice, I have dispensed the faithful of the Archdiocese of Kansas City in Kansas from the obligation to attend Sunday Mass.
Despite the suspension of the obligation to attend Sunday Mass, all regularly scheduled Masses will remain open to the public for those who wish to attend. I encourage those who can attend Mass to do so and join together in prayer for the health and protection of our entire community and for an end to this crisis. In addition to attending Mass, if able, I encourage all families and individuals to pray the rosary, invoking the intercession and protection of our Blessed Mother, Health of the Sick, for these intentions and for the health and well-being of our brothers and sisters who are ill, for their caretakers, and for all doctors, nurses, medical and emergency preparedness personnel.
Do not come to Mass if you are sick, if you have been exposed to the coronavirus, if you suspect you have been exposed or if you have been advised by your doctor not to attend Mass.
4 Stages of Virus Endangerment
We are now in stage 4. You must follow local directives issued by legitimate public authorities in your county or city if they are more stringent than the attached.
Focus on containment and mitigating the long-term impact of the virus. Our priorities right now:
Reducing chances of transmission among our communities.
Protecting people who are at a higher risk for adverse health complications.
Minimizing disruptions on essential services provided to the community.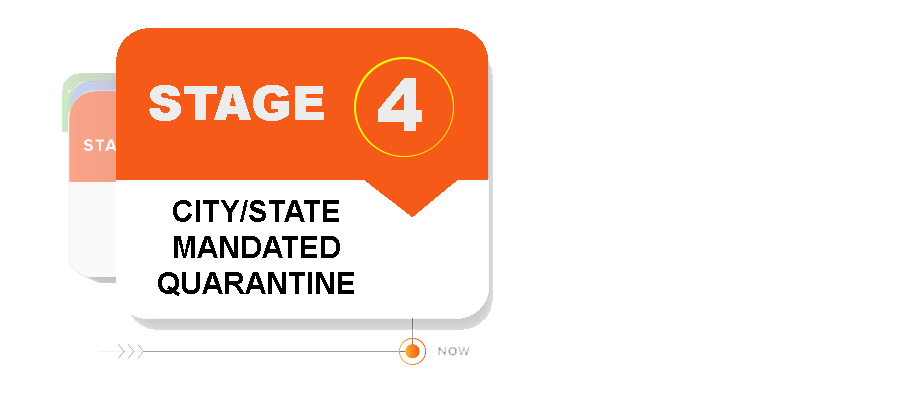 Fourth Stage Recommendations For:
Above all, Archbishop Naumann reminds all clergy and the faithful that this is a time for greater prayer, not less. Families and individuals are encouraged to pray the rosary, asking our Blessed Mother to intercede for the health and protection of our families, our loved ones, our community and our nation.