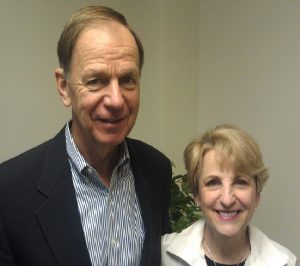 "Everything we have is a gift from God.  You just rent it here on earth."
Rita Lavery
Mel and Rita Lavery discovered Donor Advised Funds (DAF) while Rita worked at the Greater Kansas City Community Foundation. When Rita joined the board of the Catholic Foundation she and Mel decided to move the DAF they had set up at the community foundation to CFNEK. The transfer was simple, and they were able to continue giving to the same charities. "We can support non-Catholic charities with our gifts, but I can't remember the last time we used our fund to give a gift to a non-Catholic institution. What can I say? We love the church," Rita said.
Even though their income wasn't always the same year-over-year, Mel and Rita found that they could ensure their charitable giving was more consistent by funding their giving account with appreciated stock during good years and spreading their recommended gifts to charities they supported over time. They benefited from a tax deduction based on the full market value of the stock, and appreciated the flexibility to spread out the distributions.
The Laverys found that moving the giving account to CFNEK gave them the same functionality with the added knowledge that their fund was invested according to Catholic teaching, and that they were helping to build the Kingdom with their gifts. "We are also teaching philanthropy by assigning our sons as the successor advisors when we die," said Mel. "They know where our charitable interests lie, and we want to teach them to be an example of support of the Catholic church.
"We've been very blessed," said Rita. "Finding each other was the biggest gift," Mel added.