WELCOME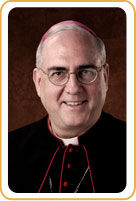 The Catholic Foundation of Northeast Kansas, a separate 501 (c) (3) organization established in 1989, has become a key source for education, support, and training that helps ensure the continuation of the mission of the parishes and organizations across the Archdiocese of Kansas City in Kansas through effective, ethical leadership.
The Catholic Foundation works with donors and their advisors to design gifts to fit their individual needs while minimizing taxes to maximize the impact of that person's gift.  Whether you are simply looking for bequest language, contributing to a Donor Advised Fund, or considering a gift annuity to provide lifetime income, you are in the right place.
The Catholic Foundation also helps set the pace for investment and planned giving education and service to individuals, parishes, schools, and institutions concerned about the assets that will be available to further the mission of the Catholic Church in Northeast Kansas, both today and in the future. We do this by helping these parishes, schools, and other Catholic institutions in the Archdiocese of Kansas City in Kansas create and grow endowments and philanthropic funds.
COVID 19 Information
To our fund holders:
All chancery offices are closed to outside visitors until further notice. We encourage you to use other means available to communicate and send information at this time.
Our employees are available via email, phone, online meetings and video conferencing to continue to serve you.
We highly encourage you to use trusted technology for the safe and secure transfer of documents.
If the above methods are not an option for you, the drop-off of documents is allowable currently as a last resort. Please use the dropbox or slot WHERE at the entrance to Savior Pastoral Center. CHECK ON THIS
There will be no signing of documents on-site. We will electronically send documents for signature or mail required.
We are monitoring and watching for further details of this extended shutdown of workplaces in our archdiocese.
All nonessential client visits are suspended until further notice.
Your CFNEK staff will help coordinate the handling of needed documentation to maintain workflow as best as possible.
Other steps we are taking to help prevent the spread of the virus include respecting social distancing. Our staff will work remotely from home during this time, while others are working alternate hours, creating social distancing for those in the office.
Our systems ensure that your information will remain secure, even when we are working remotely. All staff are directed to stay home if they or a family member are sick. Further measures are in place should a team or family member be exposed or contract the virus.
These steps are necessary to preserve the health of our employees and help curtail the spread of the virus while upholding our commitment to you. As we continue to monitor the impact of the coronavirus, we will keep you informed of further changes, including possible date changes of the above measures.
We will update this regularly as new information develops.
On behalf of all of us at CFNEK, we thank you for your understanding and support during this challenging time. Remember, we are all in this public health situation together. We wish you, your families and much good health.