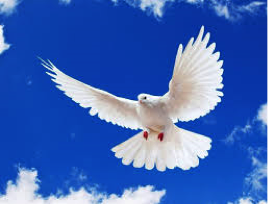 Songwriter Allen Shamblin remembers singing the words that stopped his wife dead in her tracks — and inspired a future hit.   "It was, I'm a man on the corner begging for food … Don't laugh at me," explains Allen, who was noodling around with some lines when his wife walked into the room. "My wife, Lori, walked in to get something out of the clothes dryer and said she loved that line." 
Her ringing endorsement sparked the idea for "Don't Laugh at Me," which Allen wrote with frequent collaborator Steve Seskin. It hit the Top 5 for Mark Wills in 1998 and later became the subject of a children's book. The song drives home a simple theme of accepting people for who they are.
The refrain from the song Don't Laugh at me became the foundation for Perfect Wings:
Don't laugh at me
Don't call me names
Don't get your pleasure from my pain
In God's eyes we're all the same
Someday we'll all have perfect wings
Don't laugh at me

The goal of Catholic education is to help all students to get to heaven.  So, one day, "we'll all have perfect wings".